Lori Loughlin's Daughter Olivia Jade Complains About Going To School & How Being Famous Is A 'Blessing' In More Awkward Resurfaced Videos!
Olivia Jade's old vlog account continues to make things look worse for her and her family.
It's no secret that the YouTube star has been under intense public scrutiny, ever since her parents Lori Loughlin and Mossimo Giannulli were busted for reportedly paying up to half a million dollars in bribe money to help get her and her sister into college at the University of Southern California.
But as the investigation into the college admissions cheating scandal continues to develop, Olivia's old vids appear to give us the real tea on the girl's feelings about school, WAY before this controversy began.
Related: Olivia Jade's Former Classmate Speaks Out Amid College Cheating Scandal
In the video (above), the 19-year-old takes her followers along for the ride for her first day of senior year in high school, back in August 2017.
It's pretty awkward from the start as Olivia remains silent for the first few minutes or so, and appears almost physically ill by the thought of returning back to school. After complaining through her morning skin care routine and deciding on an outfit, she's finally ready to head out.
Lori chimes in to tell her daughter to "have a lovely day." When the vlogger quips, "I won't, I will not," the Fuller House star responds with the most cringeworthy line of the entire video:
"Don't put that out there for the little kids who love school."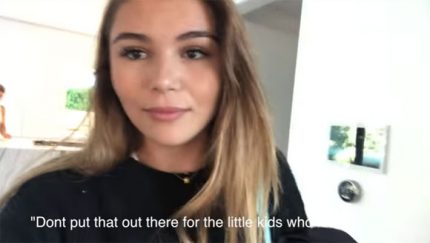 The rest of the video follows the high school senior and her friends throughout their day, from complaining through class to walking around campus together.
Later on when she gets home, Olivia continues her ranting about formal education:
"I'm home and I've never been so happy to be anywhere in my whole entire life. On a real note though, I know that I complain about school. I mean, who actually enjoys going to school? If you do, I'm very jealous. But I also feel the need to say that, for all of us who like to complain about school, 'cause I get how much it sucks, we have to remember how lucky we are to have an education and how many people would kill to have a good education or an education at all. So, as much as I hate it … I still hate it but I'm grateful that I get to be educated, even though I hate it. You know?"
Nah. We don't know, girl!
And the millions of kids out there who are deprived of even an education on the most basic level (which she did briefly mention) probably don't feel the same way either.
Related: Olivia Jade Allegedly Did Not Fill Out Her Own USC Application!
But even though the entire idea of school seems to be a pain in Miss OJ's side, she apparently knew how to navigate the highs and lows of it all thanks to her famous parents.
LOLz, no. We're not referring to the fact that they "paid" for her education.
In another resurfaced video (below), the social media influencer recalls a time when she wasn't sure if her peers really liked her, or wanted to be her friend because of her famous momma.
She explains:
"I think there are different aspects and, like, worrying about your friends when you're 6 years old. I remember when I was 6, 7, 8 years old, I would always think about, like, 'Oh, do they want to be my friend for me or my mom or my dad?' So I think that's probably not normal thoughts a 6-year-old, 7-year-old, 8-year-old child would have."
Olivia continues that her parents' fame was a "blessing" in disguise, and helped her and her 20-year-old sister Bella figure out who was "genuine," saying:
"I remember I used to play soccer when I was little and there was this girl on my sister's soccer team … she just gave me the vibe that she wanted to be my sister's friend and my friend because of our mom. And I just remember, when I was 8 years old, like, red flag. So I feel like it's almost a blessing. I can tell who actually wants to be my friend, which is cool, and it prepped me now for what I do, so I can see who's genuine."
WATCH her tell it all (below):
Perezcious readers, do YOU think it's time for Olivia Jade's vlog account to be taken down?
Sound off in the comments below!
[Image via Brian To/WENN.]
Mar 20, 2019 12:15pm PDT