Rosie O'Donnell Says Working With Whoopi Goldberg On 'The View' Was 'The Worst Experience' She's Ever Had On Live TV!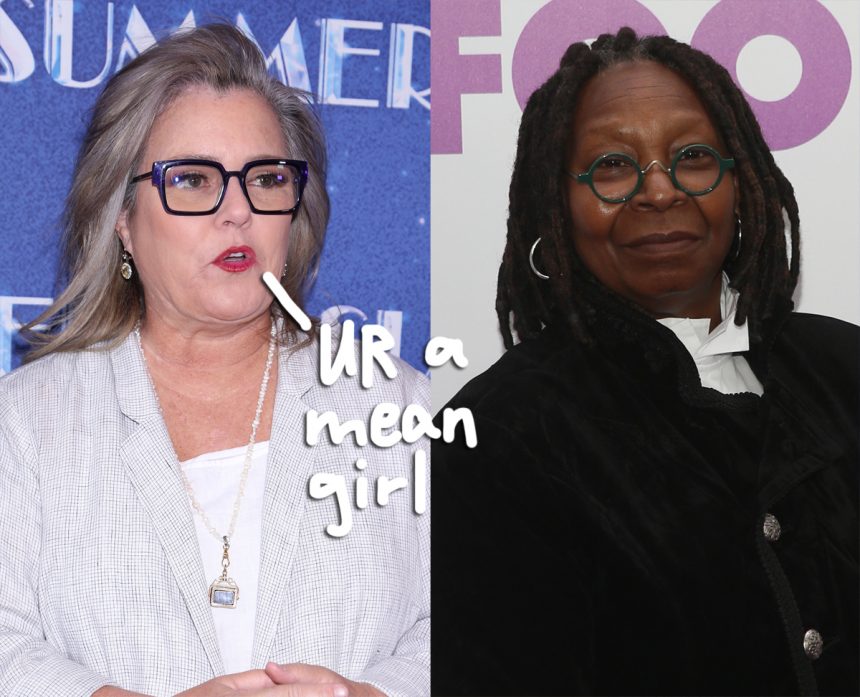 Rosie O'Donnell is getting candid about another one of her former cohosts on The View: this one, she did not have a crush on.
In a new excerpt from Ramin Setoodeh's upcoming book, Ladies Who Punch: The Explosive Inside Story of The View, the comedienne gets candid about clashing with Whoopi Goldberg during her second stint on the ABC program — which she describes as "the worst experience I've ever had on live television."
Years after Rosie left The View in 2007, she was brought back on in 2014 after Barbara Walters' departure "to save the show," according to the book. Goldberg had to be given a heads up, because the two comediennes had previously butted heads years earlier in 2009.
As Rosie explains in Ladies Who Punch, she expressed her disagreement with the Sister Act star's opinion that director Roman Polanski hadn't committed "rape rape," despite having pled guilty to statutorily raping a then-13-year-old girl in 1979.
Related: Rosie Had Different Feelings About Former Cohost Elisabeth Hasselbeck
Goldberg was apparently miffed by O'Donnell's disagreement and supposedly sent her an "angry letter" — to which the SMILF actress claims she responded diplomatically. She said she wrote back at the time:
"I'm sorry if that hurt your feelings. I have different feelings about it than you. And I stand up for what I believe, but I'll never bet against you, Whoopi Goldberg."
That set the stage for when they were both brought together five years later on the morning show, where their relationship only grew more tense.
The 57-year-old alleged that, upon returning to The View, she offered up contributions to the production — like starting the morning meeting a half-hour earlier and covering the Bill Cosby rape allegations — but Goldberg apparently shut down her ideas.
The tension became so palpable, people started to notice. Rosie recalled:
"Some people would say, 'What's going on with you and Whoopi?' I was like, 'Are you watching the show? It's pretty much right there.' I have no desire for a public feud."
Staffers noticed that Rosie had been more "on edge" during her second go-around, the book alleges, noting that she would even complain about the Ghost actress to celebrity guests.
Related: Jenny McCarthy Was Also Afraid Of Whoopi
And for good reason, the TV personality asserts. Rosie told Setoodeh that Whoopi was one of the meanest people she's ever worked with — even "worse than Fox News"! She explained:
"Whoopi Goldberg was as mean as anyone has ever been on television to me, personally—while I was sitting there. Worse than Fox News. The worst experience I've ever had on live television was interacting with her."
Despite their strained working relationship, Rosie insists she still respects the hell out of the EGOT winner. She added:
"She's a minority, feminist, smart, funny, groundbreaking legend who is black in America. I'm never going to not have respect for Whoopi Goldberg. But that was a painful experience, personally and professionally."
The mother-of-five left The View for a second time in February 2015 after six months back on the show, due to family and health reasons.
Goldberg continues to serve as panel moderator.
[Image via Derrick Salters/WENN]
Mar 27, 2019 7:40am PDT