Celebrations are in order for Scott Disick!
Friday marks the Talentless founder's 40th birthday — and the Kardashian family is showing him lots of love on the Big 4-0! While not everyone has taken the time to publicly praise Kourtney Kardashian's ex yet, Kris Jenner and Kim Kardashian led the charge with two very heartfelt posts.
Related: Kim Gets Real About How Fame Is Affecting North West & Her Other Kids!
The momager began by sharing a series of photos, including many of Disick in daddy mode with his kids, Mason, 13, Penelope, 10, and Reign, 8. Reflecting on their years-long friendship, she captioned the post:
"Happy birthday to our fabulous @letthelordbewithyou Scott!!!! Scott, you are so amazing! I have known you for a couple of decades now and I can't believe how fast time flies by. I want you to know you are loved and appreciated always. You are an amazing son, dad, uncle, friend, and will always be a special part of our family."
Aw! Check out the throwback photos HERE.
Scott has notably struggled to find his place in the group ever since calling things off with Kourt and having to watch her move on with Travis Barker. As the model got serious with the Blink-182 drummer, there were rumors Scott had been excommunicated from the family, but Kris has always been quick to insist otherwise. Back in August 2022, she told the world:
"Scott will NEVER be excommunicated from our family… he's the father of my grandchildren and a special part of our family… we love him and not true!"
She's proving it with this adorbz tribute — and the fact the birthday boy is returning to Season 3 of the Hulu show with a more active role, or so reports claim.
Related: Khloé Goes IN On Fans Who Keep Confusing Her With Kourtney!
The 67-year-old went on to list the many things she loves about the Flip It Like Disick alum, adding in her b-day post:
"You are so funny, kind, creative, strong, smart, collaborative, generous, and adventurous. Thank you for all of the memories we have made and the ones that are yet to come!! I love you!!! ‼️"
So sweet!
Meanwhile, the SKIMS founder took to her Instagram Story to share a cute snapshot of her and her fellow socialite, reflecting:
"Happy Birthday @letthelordbewithyou I know you're always down for some late night snacking and advice giving life talks. I can always count on you for anything anytime and that's the best feeling. The other day I was thinking about our NYC adventures to the Hamptons and Miami and now Calabasas for life! I want you to know that in your soul that I always got you too! You're truly the best dad and uncle to my babies. I love you life Lord Disick"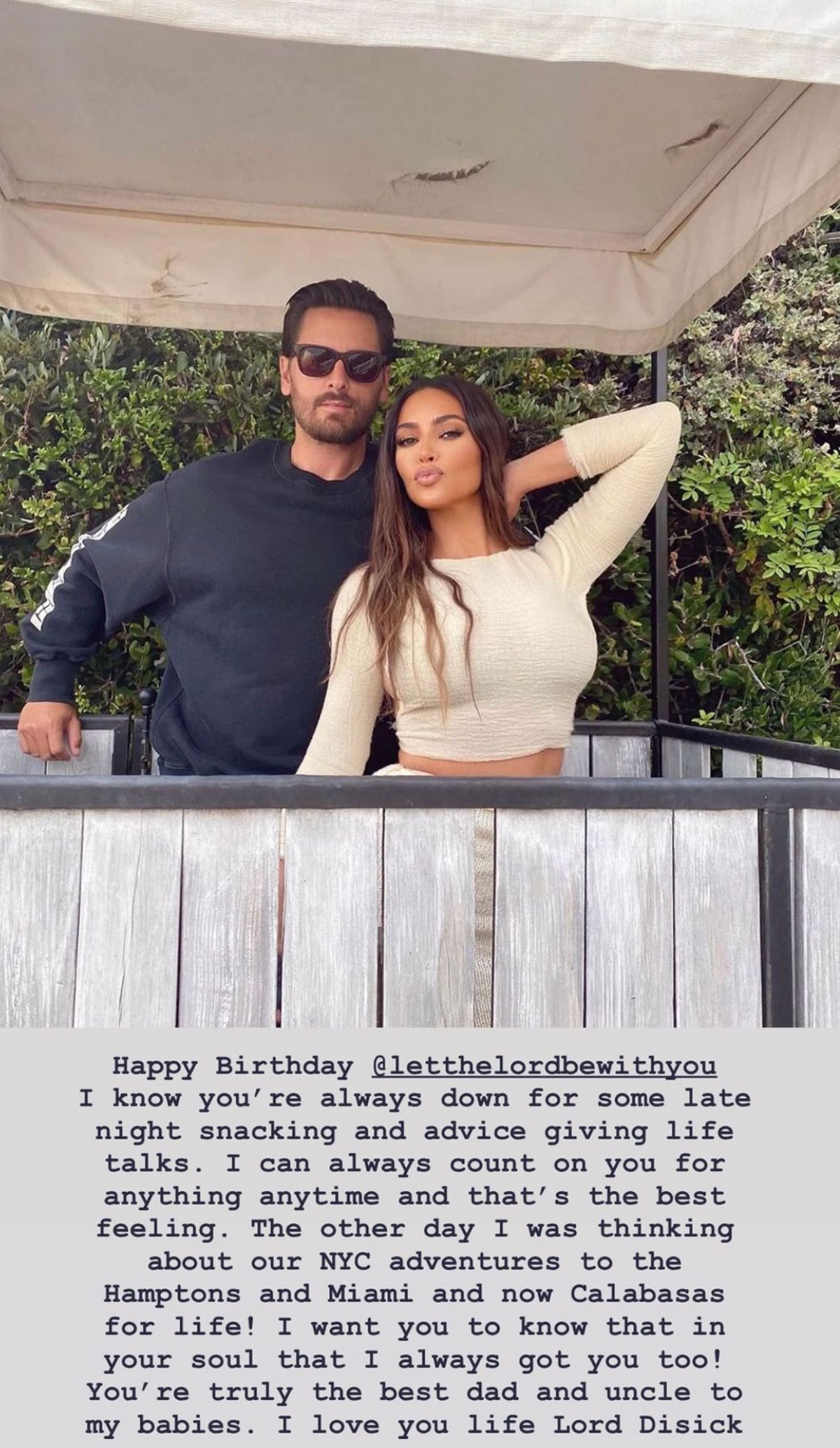 Whoa! Such a glowing message!!
While things may be a little strained with his baby momma, at least he's got these two on his side! And hopefully, the others are showing him some love in private, too. Thoughts?! Do U think he's feeling snubbed by the others' silence? Let us know (below)!
[Image via Hulu/YouTube & Kourtney Kardashian/Instagram]
Related Posts
CLICK HERE TO COMMENT
May 26, 2023 15:09pm PDT