Tamra Judge does not want to see any more "disgusting" comments from critics amid her ongoing health issues!
Days after returning home from filming season two of The Traitors in Scotland, The Real Housewives of Orange County star revealed over the weekend that she suffered from stomach pain so intense that she ended up in the hospital. There, she was diagnosed with an "intestinal obstruction." Oh no! According to Johns Hopkins Medicine, there are many reasons for an intestinal obstruction, including abdominal adhesions, hernias, scar tissue formation, tumors, or even Crohn's disease.
Related: Tori Kelly Gives Health Update After 'Crazy' Hospital Stay!
While Tamra didn't reveal what may have caused her medical scare, the reality star did hint to fans that she will need to get more testing done in order for her to know more. She said in a selfie of herself in a hospital bed with a tube up her nose:
"Praying I won't need surgery. Unfortunately I will not be back on @two.ts.inapod tomorrow. I'm so sad @teddimellencamp miss you so much."
Hopefully, everything will be OK!
This isn't the first time Tamra has experienced intestinal problems. She needed life-saving surgery to remove a strangulated hernia in 2012 after it was impacting her intestines. Following the procedure, the Bravolebrity was left with a damaged and off-center belly button. She eventually got abdominoplasty in December 2022 to correct it after undergoing several other operations to address her intestinal issues.
Despite being so open about her health over the years, Tamra had to set the record straight and clap back at the critics amid her latest hospitalization. When someone asked if it was caused by the Type 2 diabetes and popular weight loss drug "Ozempic," she slammed the commenter, saying:
"These comments are disgusting! I've suffered from intestinal problems for years. I've had multiple surgeries in the past 12 years. Remember when you all made fun of me for not having a belly button? That was due to emergency life saving surgery. Part of my intestines were being strangled. My grandmother died of intestinal problems. I've never been on Ozempic and personally wouldn't use it for weight loss!"
Clearly, her medical issue is very serious, so these remarks she's received about the situation are not cool at all. See her posts (below):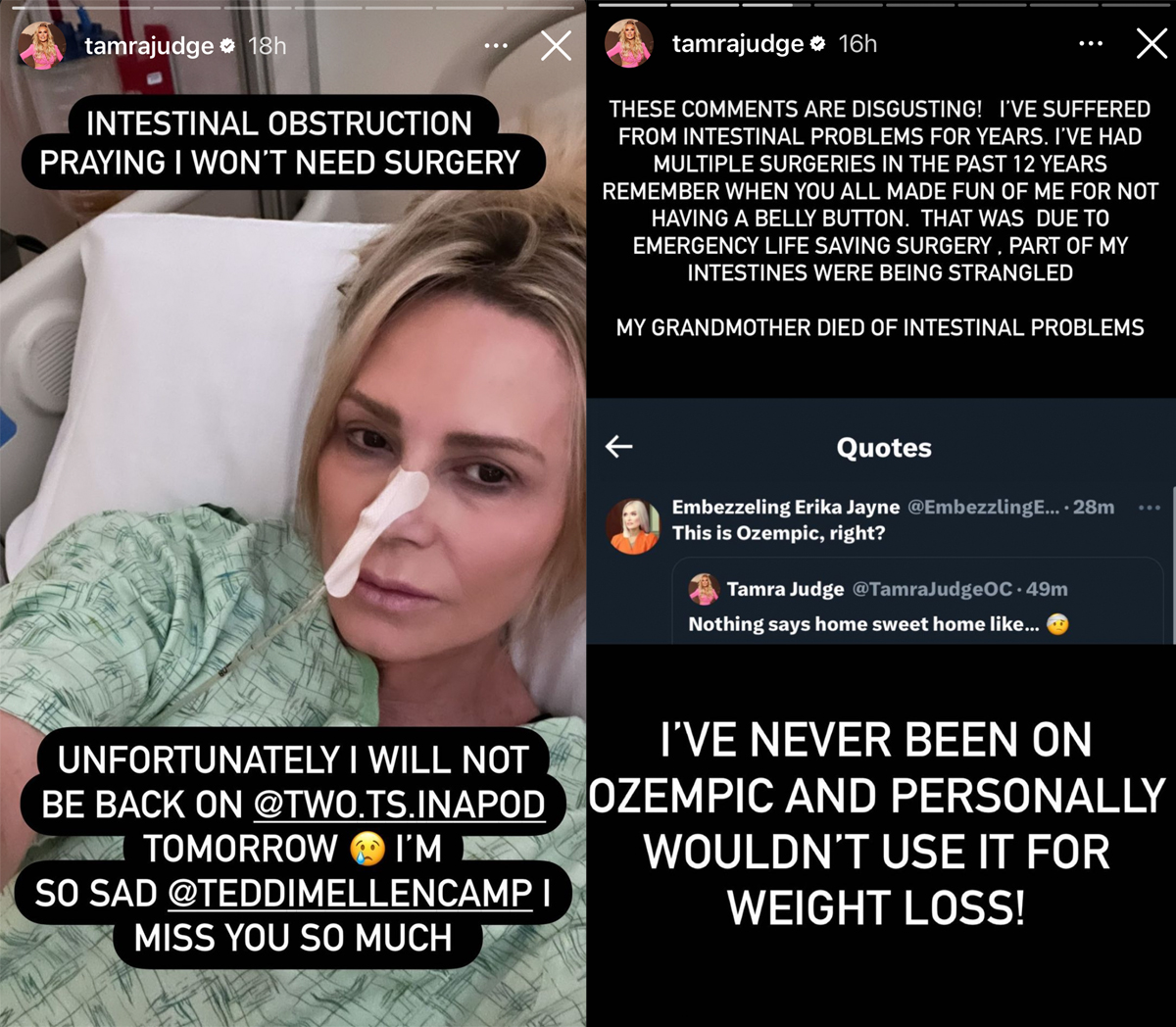 Fortunately, Tamra has also received a lot of love from fans and friends, including Teddi Mellencamp and Taylor Armstrong. So she's still receiving support even amid the "disgusting" comments.
We're sending positive vibes to Tamra amid her health scare! Reactions, Perezcious readers? Let us know.
[Image via Tamra Judge/Instagram]
Related Posts
CLICK HERE TO COMMENT
Oct 10, 2023 15:22pm PDT