Will Smith is proud of Jada Pinkett Smith's bestselling memoir Worthy!
Yeah, you read that right! It's a bestseller now! The 52-year-old took to Instagram on Thursday to announce her book made it onto The New York Times bestsellers list, debuting at number four on the combined print and e-book nonfiction charts Wow!
Related: Will Adresses 'Sloppy' & 'Tumultuous' Relationship With Jada
In the video, she expressed her gratitude to everyone who actually read the memoir – not just the coverage surrounding it. Jada also gave a shout-out to three other female authors who made it in the top five, including Rachel Maddow for Prequel, Cassidy Hutchinson for Enough, and Dolly Parton for Behind the Seams:
"I found out yesterday that we made it to number 3 on The New York Times' bestsellers list, and I'll tell you what's even more dope is that it's four women at the top of the bestsellers list right now. … I was sitting here thinking that there was a time where women actually had to take on the names of men in order to be published, and here we have four women at the top of the bestsellers list … I'm deeply grateful."
Such great news for Jada! Watch the video (below):
Of course, Jada received an outpouring of love and congratulations from fans for her accomplishment. Even Will applauded Jada, despite her exposing their six-year-long separation! He wrote in the comments section of the post:
"'New York Times Best Selling Author, Jada Pinkett Smith' CONGRATS, MAMA! Big Looks"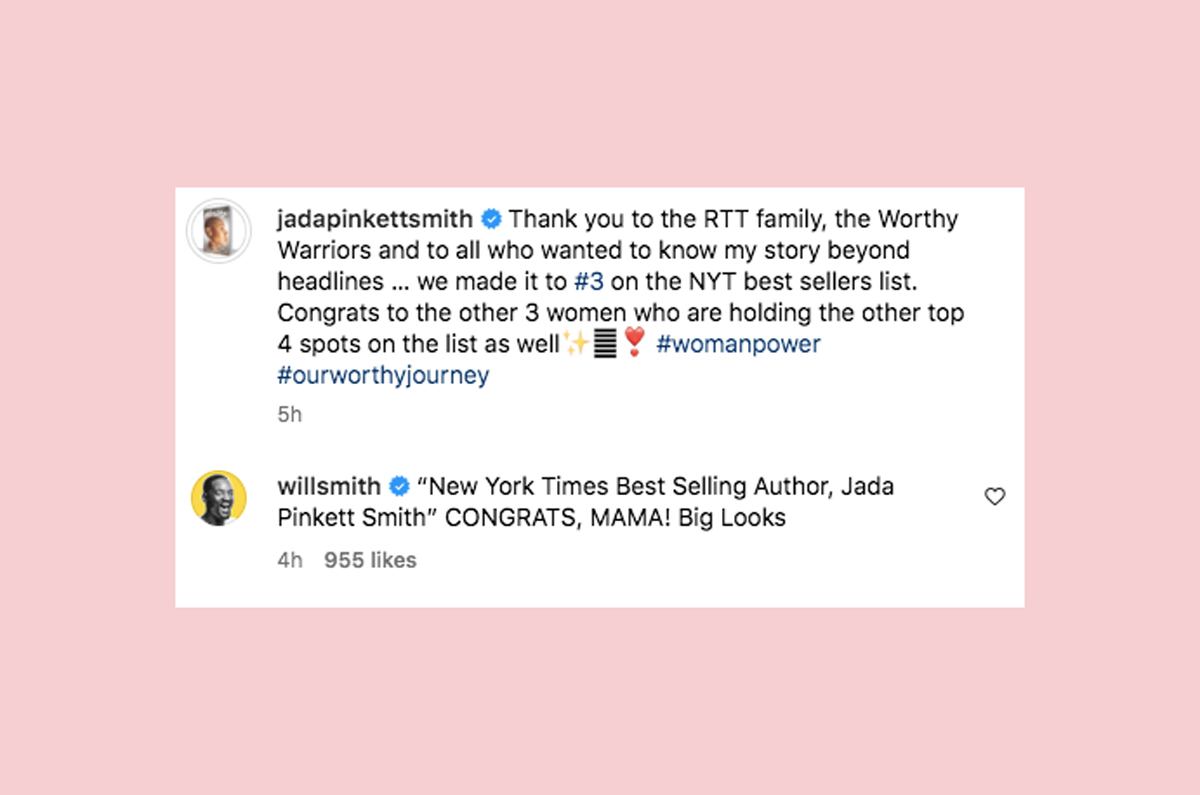 Amazing! It's great to see Will have so much love and support for Jada after what seemed to be a few tumultuous years for them! Reactions, Perezcious readers? Let us know!
[Image via Jada Pinkett Smith/Instagram, Peacock/YouTube]
Related Posts
CLICK HERE TO COMMENT
Oct 26, 2023 16:40pm PDT