WWE superstar Becky Lynch is known as "The Man," but pretty soon, she'll be going by "momma" instead!
On Monday night's episode of Raw, the 33-year-old professional wrestler announced she is pregnant with her and fiancé Seth Rollins' first child together! Telling fans why she "has to go away for a while," the starlet said:
"Tonight is no ordinary night for me. I'm torn between joy and sadness, 'cause I'm at a place in my life where things are about to change and I needed to do something about it."
Related: YouTube Star Desi Perkins Is Pregnant After 'Beyond Difficult' Fertility Journey
The longest-reigning Raw Women's Champion relinquished her title to Japanese competitor, Asuka, saying:
"You go and be a warrior, because I'm going to go be a mother."
Aww! The Irish-born athlete, whose real name is Rebecca Quinn, continued sharing her pregnancy thoughts on Instagram, writing this (below) alongside a photo of her iconic wrestling jacket:
"I have no idea what happens from here, but I do know that you've made all my dreams come true. I entered the PC in 2013 not knowing anyone, I left that same building tonight with my new family."
The baby announcement was met with excitement from fans and her peers, including WWE Diva Nikki Bella, who shared:
"Chills everywhere! So beyond happy for you! So beyond proud of you! Forever the GOAT! Love you Becky!!!"
Lynch and Rollins started dating early last year and by August 2019, the two got engaged in a romantic beachfront proposal, which she called the "happiest day of my life." And now, they're about to start a beautiful family together, and we couldn't be happier for them!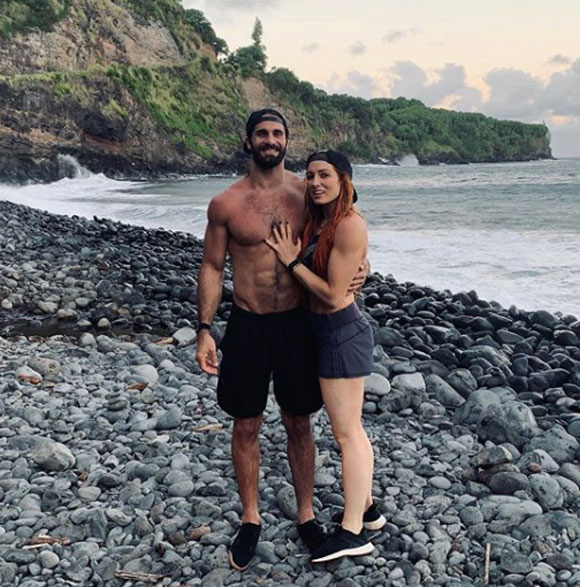 As you may be aware, Becky's been professionally wrestling since 2002, but she's got more than a baby in the works right now!
TMZ reports she has plans to kickstart an acting career after enjoying a guest role on Billions this season and reportedly has John Cena and Dwayne "The Rock" Johnson in her corner as mentors. Those are a couple of guys who definitely know a thing or two about making the transition from the square ring to the big screen! Not to mention, she's also following in fellow WWE superstar Ronda Rousey's footsteps, as she made the crossover into acting at one point, too.
For now, we're wishing the happy couple well as they prepare for their baby's arrival and hope they continue to bask in this sweet news in the midst of a pandemic!
[Image via Nicky Nelson/WENN]
Related Posts
CLICK HERE TO COMMENT
May 12, 2020 08:50am PDT