One of the most upsetting stories we've read in a long time — and sadly indicative of what's going on in the USA right now…
A 12-year-old in Keene, Texas has been arrested and charged with murder in connection to the death of a fast food employee. On Saturday night around 9:40 p.m. according to a statement from the Keene Police, 20-year-old Angel Gomez was acting "disorderly" along with some other patrons in the parking lot of a Sonic Drive-In. Apparently, he was urinating in the middle of the parking lot! 32-year-old Matthew Davis, an employee of the chain, stepped over to try and diffuse the situation. Sadly, the incident only escalated from there…
Related: Smoking Gun Evidence Revealed In 'Cult Mom' Child Murder Case?
According to Keene Police Chief James Kidd, the confrontation between Davis and Gomez turned physical. But what happened next no one could have seen coming. As the two men were fighting, a 12-year-old boy who was in Gomez's car jumped in, pulling an assault rifle from somewhere in the vehicle and unloaded six rounds. Davis was struck multiple times and air lifted to a hospital. Sadly he succumbed to his injuries.
The fact that they were at Sonic of all places and had an assault rifle in the car, loaded, and handy for a child to grab and use. What a nightmare we're living in!
Quickly after the shots were fired, Gomez and the young boy went on the run. Hours later, the 20-year-old returned to the scene and was taken into custody. It wasn't until later that police tracked down the little boy, 20 minutes away in the neighborhood of Rio Vista. He was also arrested. Both Gomez and the unidentified minor have been charged with murder. Murder… at just 12 years old.
The drive-in where the murder took place remained closed until Monday morning. Over the weekend, the local community made a memorial for Davis by leaving flowers outside the restaurant. Local resident Jane Baggett said of the situation to NBC:
"I wish there was more that we could do, but right now if they could just see that support and love, and maybe, even if we didn't know him, [know] his life mattered to many of us."
A GoFundMe has been started to support the final expenses of the victim, where his mom Leigh-Anne (pictured below, next to Davis) said he leaves behind a 10-year-old son of his own. Just heartbreaking. If you'd like to donate to the family, you can click HERE.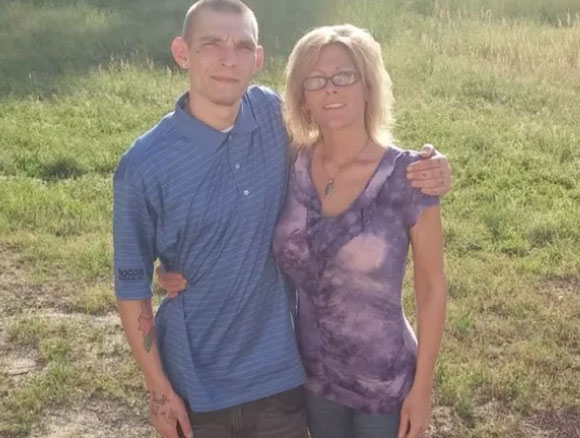 Such an awful and avoidable circumstance! There is no excuse for needing such heavy artillery outside of war — much less at a Sonic Drive-In. Our hearts go out to Matthew's family and loved ones.
As for the child with access to such a weapon… we can't even begin to think how to handle that one.
Related Posts
CLICK HERE TO COMMENT
May 16, 2023 16:30pm PDT