Chrishell Stause wants to put her fight with Nicole Young to bed once and for all! But, you know, by winning it.
For those who don't know, the two real estate agents at The Oppenheim Group have been feuding ever since filming Season 6 of Selling Sunset. It all started when Nicole claimed Chrishell took credit for listings they worked on together three years ago after only getting it due to Jason Oppenheim's "massive crush" on her when she joined the real estate company.
Tensions escalated on the new season to the point where the 41-year-old former soap opera star accused her co-worker of being "on drugs" – even claiming she witnessed her doing weed, mushrooms, and ecstasy before. Chrishell said about Nicole during a girls' trip to Palm Springs at one point:
"I don't know what is in your drink or what you're on, but I'm just saying I'm good with not having this conversation because it doesn't seem like there is just wine in your glass. You've been acting a little cracked out all night."
Related: Chelsea Lazkani Claims Bre 'Wants To Kill' Her Over Nick Cannon Comments
Yikes! Of course, Nicole wasn't too happy! Rather than letting the accusation slide, she got drug tested the next day to prove she never took anything. Nicole also warned Chrishell that she would file a lawsuit against her for defamation if she didn't stop with the drug claims. Things got so nasty between them! However, the two women didn't keep their drama on-screen! Once the new season dropped last Friday, Chrishell and Nicole continued to duke it out online.
Chrishell — who has been shocked by the seemingly random drama — took to Instagram to drop screenshots of her messages with Nicole before they started filming last year, which proved they were friendly with each other before. Check it out (below):
After that, however, sources revealed to TMZ that Nicole has been receiving death threats from fans. People even went as far as to get her home address and personal phone number, and they've even contacted her family members. Terrible. Chrishell spoke out about the scary situation and asked everyone to "keep it fun" – instead of threatening her co-star's life.
And now, the Netflix personality has hopped on social media once again to address the whole situation. Chrishell said in a video posted to her Instagram Stories on Thursday night:
"Thank you so much for watching Selling Sunset, and making it a huge success. You guys are the best. I do not ever think that death threats are OK… You guys, please, that's going way too far. So not OK — please don't do that."
That being said – Chrishell then took a moment to defend herself against the incorrect "narrative" being purposefully spread by Nicole!
Amid the death threat situation, a source for People shed some more light on the alleged feud. While Chrishell had insisted things were fine between her and Nicole before filming Selling Sunset, the insider told the outlet that the DMs she dropped last week do not tell the entire story, saying:
"The girls have been feuding for years about the listing that Chrishell took credit for."
The source claimed Nicole was "extending an olive branch after a long time of arguing and disagreements" by reaching out to Chrishell last year to meet up with her and their coworkers for lunch to talk about being on the show. The lunch with the cast did happen – but Nicole supposedly never received an invite. The People source said:
"Nicole saw Chrishell and the girls out for lunch a few weeks later where she was not invited."
That's pretty brutal! (In the fun reality show way, obviously, not the online threats way.) But according to Chrishell, all of these details from "Nicole's camp" are LIES — and she has more receipts to prove it! RIGHT AFTER telling everyone to stop the insanity with the threats, she went right back to the feud, explaining:
"I have to say, I am going to correct a narrative – from now on, any time someone lies about me, I'm correcting it. And I have the receipts to do it and I'm not playing this. The stories are coming out now from Nicole's camp that the DMs don't tell the full story. We've been feuding a long time and this was Nicole extending an olive branch. Here's some receipts."
She then dropped screenshots of some emails where she seems to be working with Nicole in January 2022. One email read:
"I am connecting you with Nicole Young who is an incredible agent I have worked very closely with to help make sure you get the most dedicated attention! We will tag team this for you and find your next amazing home!"
She then dropped another screengrab where she gushed about Nicole to another client, describing her as "amazingly hard working and overall a lovely person." You can ch-ch-check it out (below):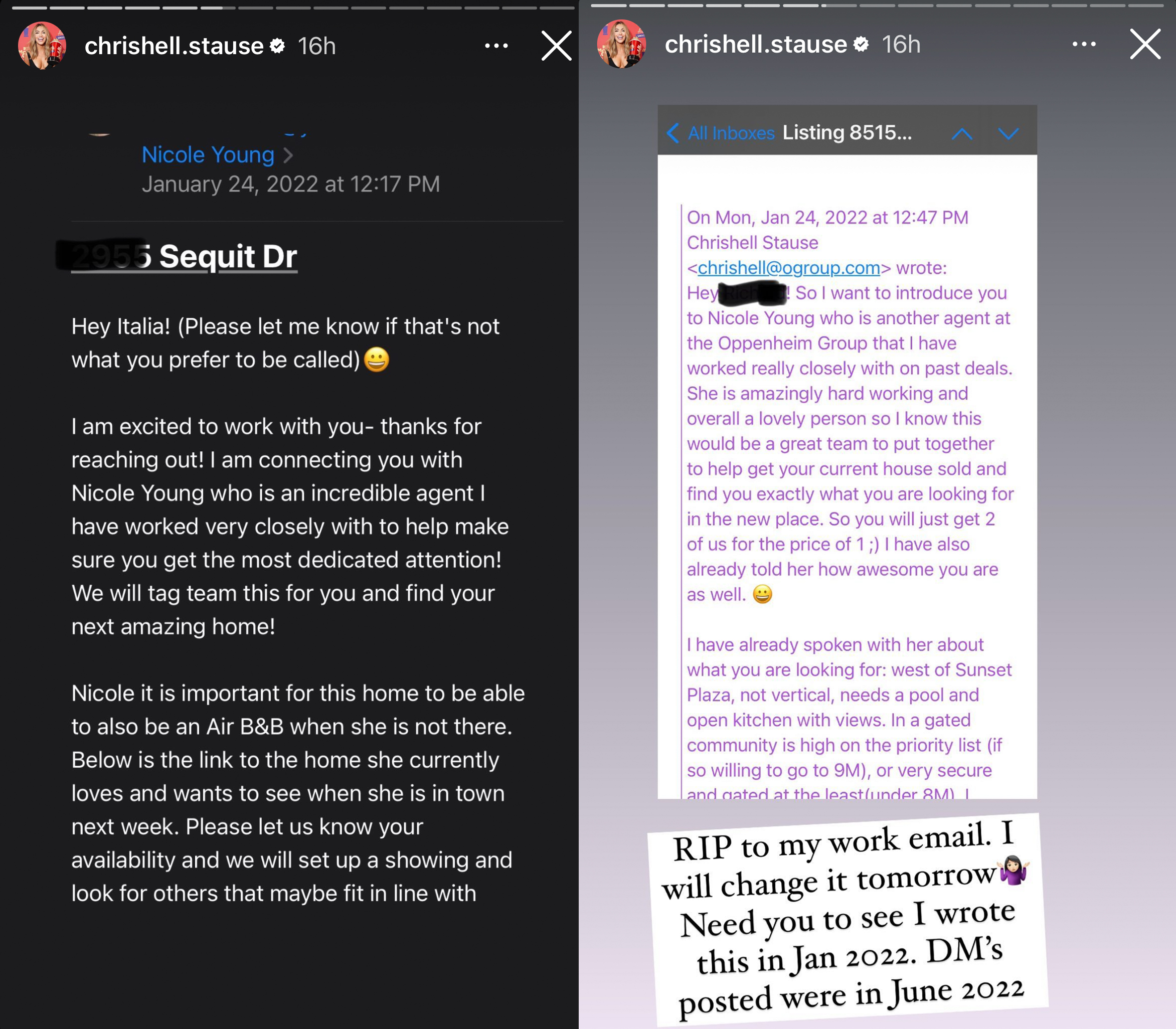 It definitely seems like they were on good terms here… Chrishell went on to say:
"I'm not trying to keep this going. I think this is as stupid as you guys do. But here we are. I just want to end this, and I don't want there to be two sides when I have this to show you. Then, the next part was that that was the last of our interactions and I never talked to her again. That's not true."
Chrishell then shared pictures of their DM exchanges from June and July, which showed Nicole complimenting the actress and wishing her a happy birthday. Along with the screenshots, she told her co-star to "stop lying." See (below):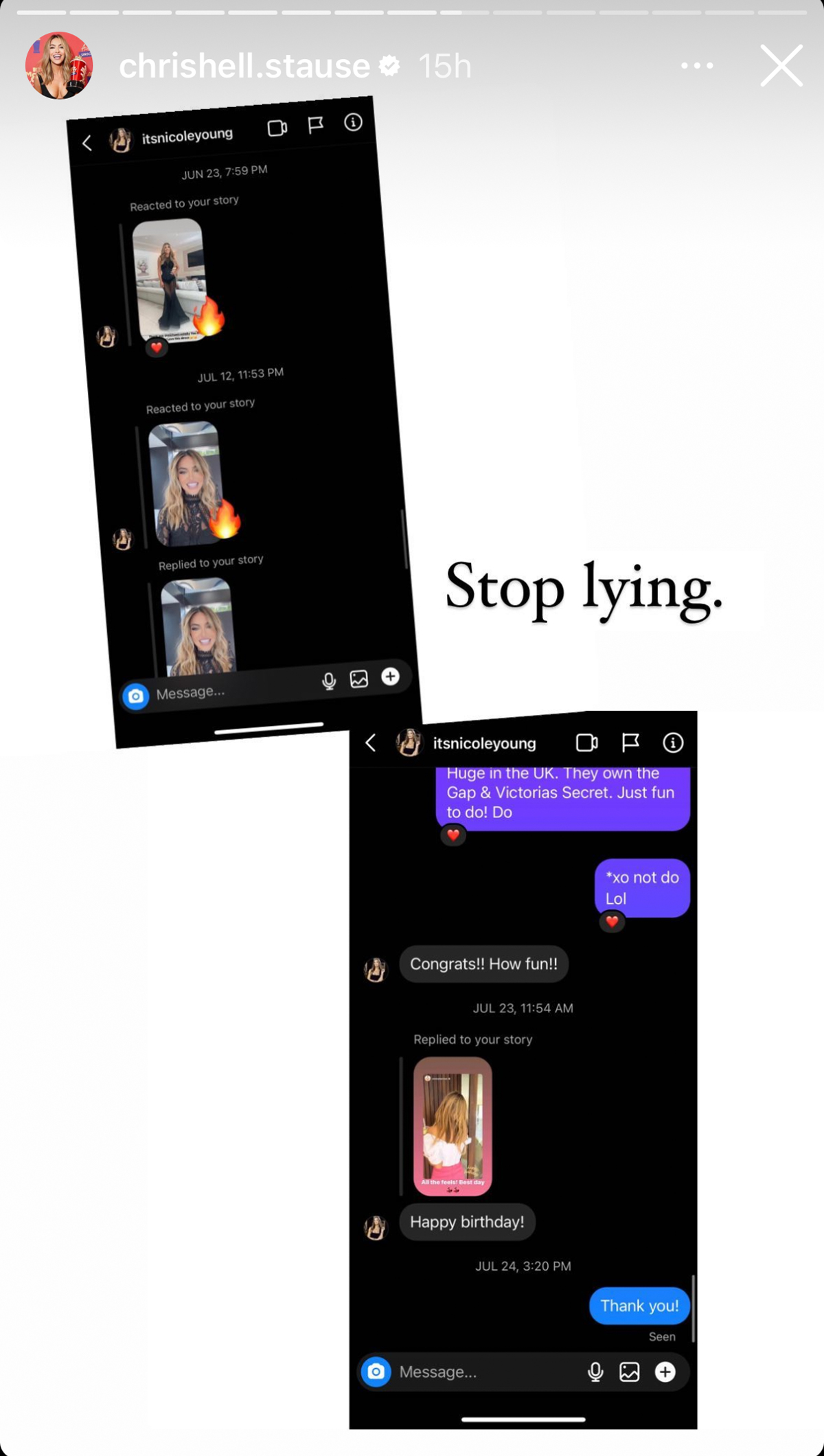 As for the lunch situation? Chrishell insisted "that isn't true" and "is just trying to make a narrative that she was being targeted or she's a victim in some way or in something." Wow…
Clearly, Chrishell is not letting this go, threats or not! Reactions, Perezcious readers? Do you think Nicole started their feud to get a storyline on Selling Sunset? Let us know in the comments below.
[Image via Chrishell Stause/Instagram, Netflix/YouTube]
Related Posts
CLICK HERE TO COMMENT
May 26, 2023 13:02pm PDT