Are we about to see the return of a former housewife to the Real Housewives of Beverly Hills?!
With Lisa Rinna exiting the beloved show earlier this year, there has been a spot left wide open for someone to join the cast – and it might be a very familiar face returning soon. Who is that you might ask? None other than Denise Richards!
The comeback rumors started circulating online after Kyle Richards posted a video of what appeared to be a dinner party on her Instagram Stories over the weekend. In the clip, the 54-year-old reality star could be seen zooming in her camera on E! News personality Justin Sylvester's face. But that is not what caught fans' attention! Nope, it was a card on the table that seemed to spell out the name "Denise." You know, as in, Denise Richards! And there was a camera crew could be spotted in the background!
Related: Kyle and Kathy Hilton Are Still On The Outs!

Obviously, the 52-year-old actress could have just been invited to a dinner party with friends. There is no confirmation that Denise is returning to the show as a cast member, BUT she was definitely filming with some cast members as Dorit Kemsley could be seen in the background and a name card for Garcelle Beauvais was on the table. So there is a chance she could be in at least one episode of the show's upcoming season! Or perhaps this was just for a completely different project? Who knows! But our money is on that Denise was filming for RHOBH. Ch-ch-check out the evidence (below):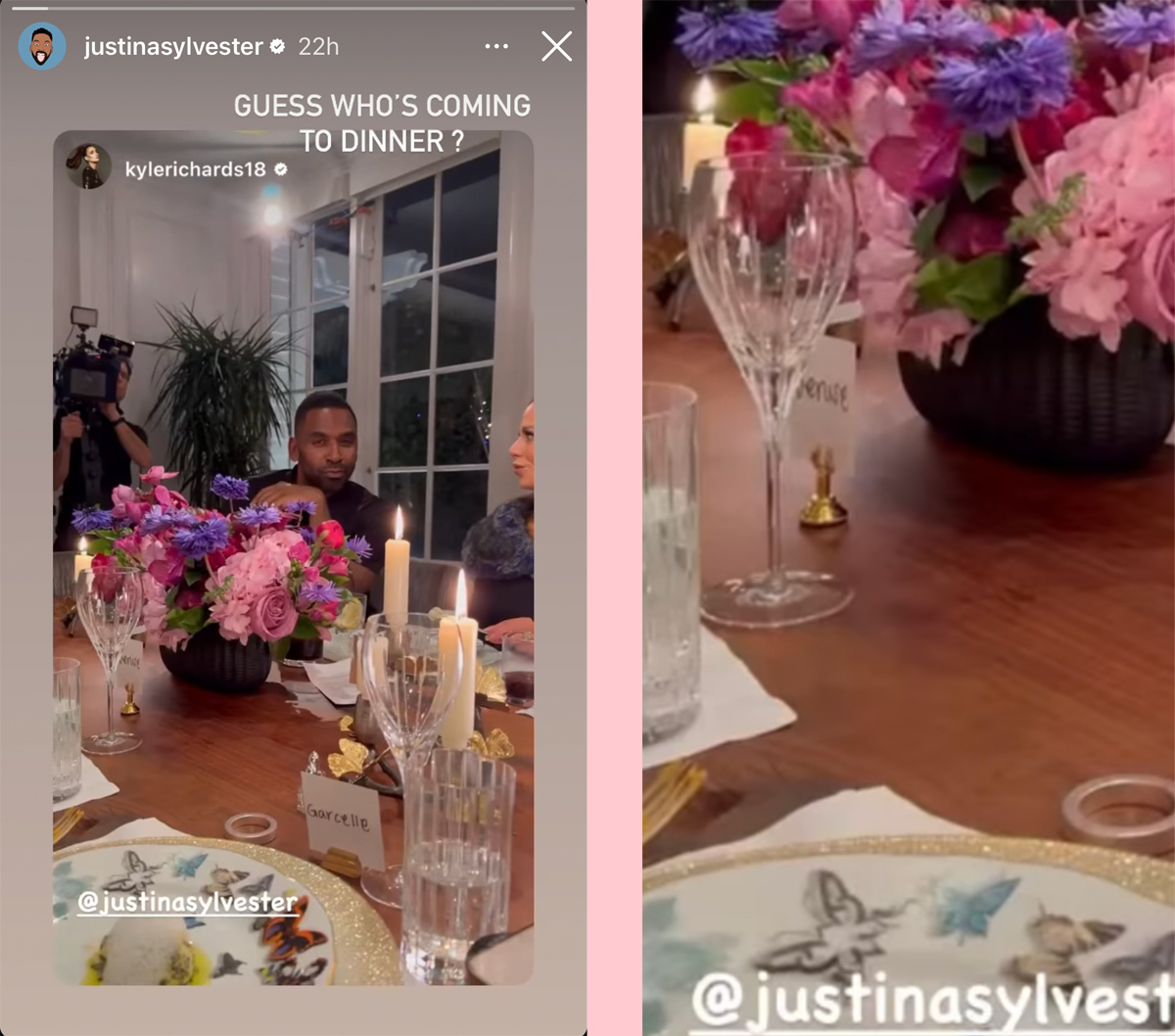 OMG!!!
Again, there is no official word from Bravo or Andy Cohen about Denise making an appearance or returning to RHOBH. But the Wild Things has been open to the idea of coming back to the series after she quit in 2020!
Back in September 2022, she told SiriusXM host Jeff Lewis that she would be down to come back to the series – even if Rinna was still a cast member. As you may recall, the former friends and co-stars had a falling out on season 10 over the rumors that Denise hooked up with Brandi Glanville, which she denied. Despite their drama, the former model said she would join the show and work with Lisa again:
"Definitely! I would be even fine with working with Lisa and filming with her. I never said I wouldn't go back because of her."
Of course, Lisa announced in January that she was leaving RHOBH after eight seasons – so Denise has plenty of room to make a splash with a possible return! Lolz. But what do the fans think? Well, it seems like a lot of people on Twitter were surprisingly happy about the news, writing:
"Im actually pretty happy Denise Richards is back #RHOBH she had a lot of potential. I know she has the fire in her."

"I might be in the minority, but I adore @DENISE_RICHARDS and I'm happy to know she's filming scenes for #rhobh Also bring her to #bravocon 2023, Bravo!"

"BREAKING NEWS!!!! I WAS LOOKING AT KYLE RICHARDS STORIES AND I SAW THIS! A PLACE CARD WITH THE NAME DENISE AT KYLE'S DINNER PARTY! SO DENISE RICHARDS IS BACK ON #RHOBH"

"Me knowing @DENISE_RICHARDS got the last laugh since Rinna is now gone Welcome back Denise #RHOBH"

"Bravo finally did something right. Rinna out, Denise Richards in. Season 13 is starting to look up. Let the games begin!"
What do YOU think, Perezcious readers? Would you want to see Denise return to RHOBH? Sound OFF in the comments below.
[Image via Bravo/YouTube]
Related Posts
CLICK HERE TO COMMENT
Mar 26, 2023 14:30pm PDT