Just a few days ago, Doja Cat's fans were coming to her defense after Lana Del Rey name-dropped her and several other female artists in a poorly-received open letter about double standards that exist within the music industry.
However, the swift and stern backlash Lana faced quickly pivoted to the 24-year-old rapper for her own controversial comments that have recently surfaced and sparked the #DojaCatIsOverParty hashtag online Friday. What the heck happened here?!
Related: Lana Del Rey Responds To Racism Accusations In Another Fiery IG Rant
Social media users were stunned to see alleged video evidence of Doja engaging in a discussion with mostly white men in a TinyChat message forum, reportedly captured only six days ago. It has been said the group was made for men in the alt-right, white supremacist community, so, many were understandably shocked the Black entertainer was at all involved! Ch-ch-check out the clips gathered by Hollywood Unlocked (below):
Additionally, receipts of the singer (real name is Amalaratna Zandile Dlamini) condoning the use of hurtful gay slurs before she was famous was also unearthed!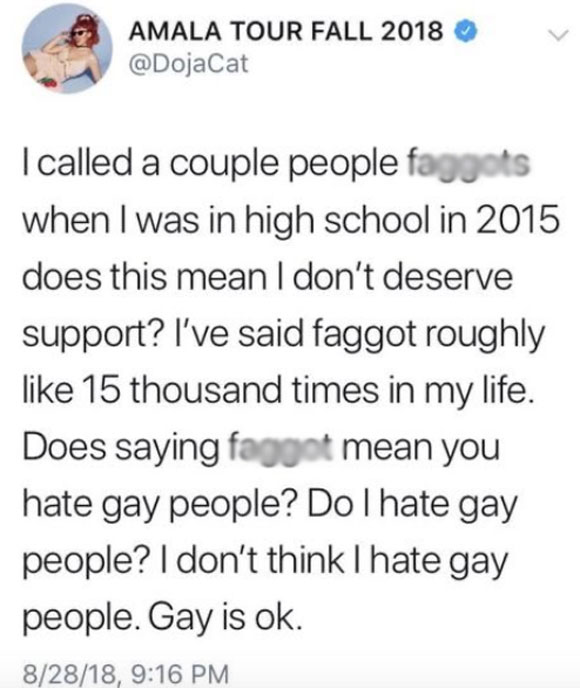 Yikes… not a good look at ALL! As we mentioned, this was all drugged up just as people were going to bat for the star whose smash hit, Say So, recently earned a #1 spot on the Billboard charts and a nod from rapper Nicki Minaj on the remix. She was starting to garner a real buzz and recognition from her peers (except for Lana, of course!) in the industry.
But if you can believe it, things only got worse from there. Doja Cat saw a rise in popularity over the last year so new fans might've missed her old 2015 track, Dindu Nuffin. However, the song also came under scrutiny in light of her comments because for those unaware, the title is actually a racial slur used to describe people of color who've committed crimes and the excuses they come up with for them.
As Doja's past remarks came to light, fans began to share their own comments and receipts about the situation like this tweet (below), full of "info" this activity wasn't a one-time occurrence for the star:
For those who want info on the doja cat situation #dojacatisoverparty pic.twitter.com/oC5l4wcE9x

— Fuck the cops ???????? (@skinnybtingz) May 22, 2020
And more continued sharing their disappointment in her behavior:
https://twitter.com/UZUMADl/status/1264217228712513538?s=20
me to doja cat after she ruin half of my playlist #DojaIsOverParty #dojacatisoverparty pic.twitter.com/IQfSnO82zu

— unthickysticky (@mrsshmoney) May 23, 2020
I just know doja cat's publicist is having a heart attack right now #dojacatisoverparty pic.twitter.com/eIwbSJJa9n

— Tina Snow ❄️???? (@InternetThott) May 23, 2020
me watching my little cousins tiktoks dancing to say so, with the caption being: 'i love doja cat sm????✨' not wanting to tell her #dojacatisoverparty pic.twitter.com/IqgEL160fe

— unthickysticky (@mrsshmoney) May 23, 2020
me sad asf right now because i really liked doja cat 🙁 #dojacatisoverparty pic.twitter.com/xlRsk89k1C

— cloey (@HickmanCloey) May 23, 2020
As we touched on earlier, many called LDR racist for criticizing Doja, among others, for their chart-topping success on IG, writing:
"Now that Doja Cat, Ariana [Grande], Camila [Cabello], Cardi B, Kehlani and Nicki Minaj and Beyoncé have had number ones with songs about being sexy, wearing no clothes, f**king, cheating, etc – can I please go back to singing about being embodied, feeling beautiful by being in love even if the relationship is not perfect, or dancing for money – or whatever i want – without being crucified or saying that I'm glamorising [sic] abuse???????"
Now, it seems, both women are on their way to being canceled! Right when the starlet was surely on her way to doing even more big things in the music scene…
Doja has yet to address the recent backlash but we want to know, what do U make of this, Perezcious readers? Is this something her career can bounce back from and should it??
Sound OFF in the comments!
[Image via WENN/Instar]
Related Posts
CLICK HERE TO COMMENT
May 23, 2020 17:07pm PDT