Jeremy Renner is showing his gratitude to the people that saved his life!
As you know, the 52-year-old actor was left in critical condition on New Year's Day after a 14,330-lb PistenBully snowplow crushed him while he was trying to dig his nephew's car out of the thick snow. He sustained over 30 broken bones and a collapsed lung! So scary.
Related: Jeremy Reveals His 'Eye Did Pop Out' During Snowplow Incident!
During his interview with Diane Sawyer, which premiered earlier this month, he revealed some harrowing details of where his mind was after the accident — and it really puts a perspective on things. The Avengers star revealed as he was lying in the ICU, unsure if he'd ever recover, he wrote down his final goodbyes to his loved ones:
"So I'm writing down notes in my phone — my last words to my family."
So heartbreaking! He wasn't giving up without a fight, though, and bravely said of his recovery:
"I chose to survive."
And survive he did! Just four months after the incident, he's back doing interviews and he even made a trip to go back to the hospital he was treated in. Not for a checkup, mind you — he was there to thank the workers there for saving his life!
On his Instagram Stories Friday, The Bourne Legacy star shared some photos of himself and the staff of Reno, Nevada's Renown Regional Medical Center — and he couldn't be more thankful. In the pics he filled with prayer-hand emojis, he wrote:
"I got to revisit the amazing group of people who saved my life. Thank you."
Ch-ch-check out the pics (below):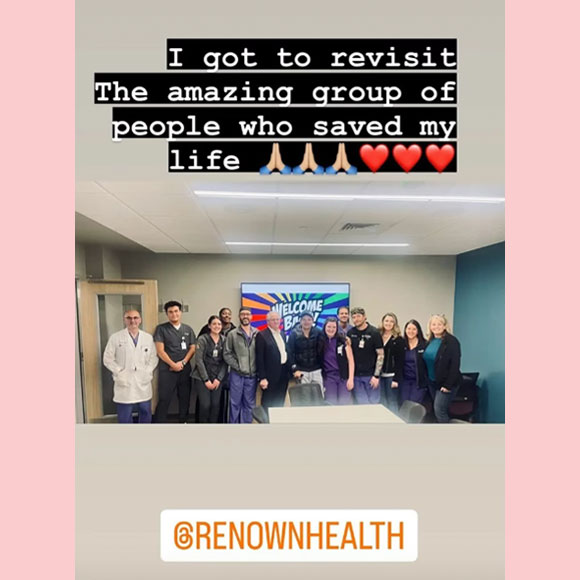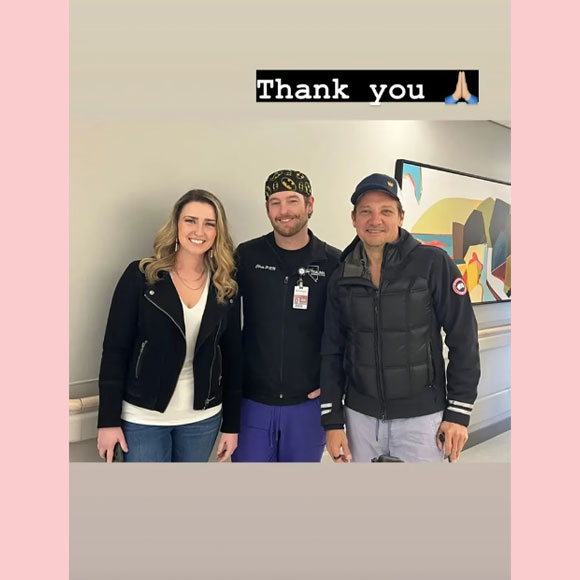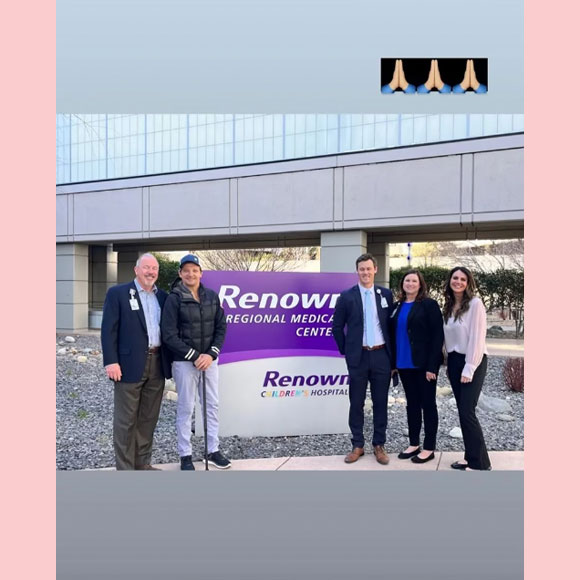 We're all so very thankful to the staff for saving Jeremy's life!
Last week, the Hawkeye actor mentioned to Jimmy Kimmel he didn't enjoy his time in the ICU:
"I kept trying to get out of the hospital as soon as I was in it. I'm like, 'I'm out of here.' I hate what I was wearing, gross. It was terrible … They weren't done with the ICU area when I got there, so they put me like, in a janitor's closet, like it was a a VIP thing. It had no bathroom in it. The lights are flickering, everyone here is moaning, like they're dying in the ICU."
But of course, in true Renner fashion, he found a humorous side:
"I'm like, 'This is like a haunted house and it's called ICU like, 'I seeee youuuu,' which is creepy. I'm like, 'I want out of this place! I'm not going to get better here!'"
LOLz!!
Regardless of his not-so-happy time spent in the hospital, he's been sure to extend his gratitude to the hardworking doctors and nurses who kept him with us. We love to see it! Reactions, Perezcious readers?
[Image via Jeremy Renner/Instagram/ABC News/YouTube]
Related Posts
CLICK HERE TO COMMENT
Apr 17, 2023 16:26pm PDT