[Warning: Potentially Triggering Content]
The woman who accused Jonah Hill of emotional abuse and being overly controlling during their ill-fated relationship has just revealed she was placed on an "involuntary mental hold" in a Hawaii hospital this week.
We've been covering the sordid tale of Jonah and his ex-girlfriend, pro surfer Sarah Brady, all summer. And while this new update has nothing to do with the Wolf Of Wall Street actor, it's arguably even more concerning than anything that has come before it.
Related: Sarah Brady Says She Has 'PTSD Style' Flashbacks From Jonah Hill's 'Emotional Abuse'
On Monday, the 24-year-old Hawaii resident took to her Instagram Stories to reveal a long series of slides alleging she'd been committed to the psychiatric ward of a hospital on the islands and treated "like a street dog" once inside. Tagging the Queen's Health System in Honolulu in several of her messages, the law student began by sharing a picture of her arm that showed it covered in nasty, dark bruises. With it, she wrote:
"injection bruises from an invulontary [sic] trip to the ER due to me breaking zero laws. Just followed gate attendant's instructions, drive thru an open gate and parked in an open park spot."
Whoa. What??? She went on to add:
"They told me I was intoxicated. I told them I was not. I told them I have a mental health diagnosis"
And continued:
"They treated me like a violent animal whilst I remained a human being."
Before concluding:
"I asked for water. They did not give me any. They dragged my by my arms and strapped me down on a gurnie [sic] WITHOUT MY CONSENT"
On the next slide, she alleged that medics covered her face with "some mesh s**t" and supposedly laughed at her while administering injections to her arms that resulted in those bruises:
"@queenshealthhi medics strapped me down, shoved a mask in my mouth, put some mesh s**t over my face, LAUGHED AT ME… medics INJECTED ME WITH DRUGS INVOLUNTARYILY, and didn't give me water. I'm sure the bill for the ambulance will be a fat one."
She then hinted at the possibility of pursuing legal action:
"maybe I'll sue. … I bet you they'll be coming to me with a settlement offer soon."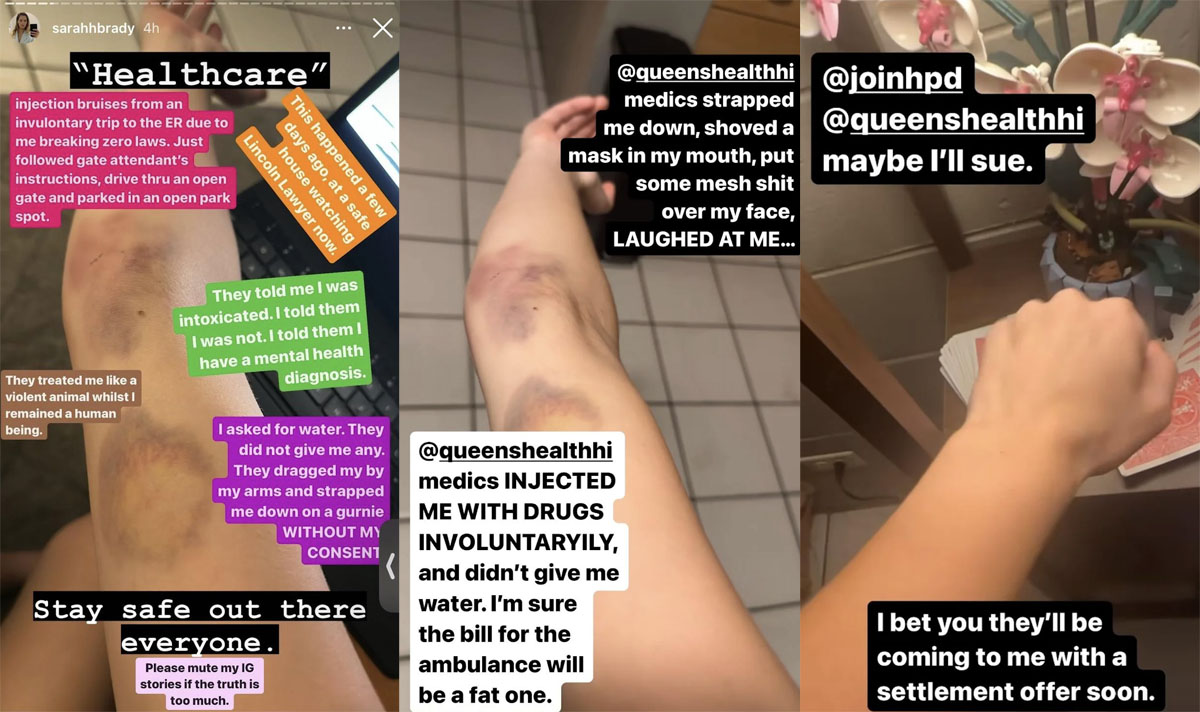 OMG…
In more slides, the Superbad star's ex shared screenshots of text messages she'd sent to friends about the alleged ordeal.
Related: Sarah Brady Admits She Violated Jonah Hill's Privacy — But THIS Makes It OK!
First, she claimed first responders at the scene were "violent" with her before sending her off to the "psychiatric section of the ER" for observation:
"The cops ask the questions and the ambulance nurses and EMTs were violent with me, the psychiatric section of the ER was not violent with me, but they left me to sleep in a concrete floors and concrete wall room with a mat on the floor and a blanket and that's it"
Then, she claimed doctors demanded both blood and urine samples, while noting they diagnosed her at the time with some sort of "abuse disorder" that she scrawled over in black marker to redact from view:
"And I had to give them a sample of my urine and my blood in order to leave, which is nothing new, but because they found [REDACTED] in my system from multiple days prior they decided to diagnose me with a [REDACTED] abuse disorder."
She concluded that spree by explaining how she chose to finally go along with what doctors said just to get out of the psych ward and away from the harrowing experience:
"i've learned from the past that the quickest and safest way for me to get out of psychiatric hospitals is to go along with whatever diagnosis they decide play the part and take the meds, so that's kind of what I've been doing since then"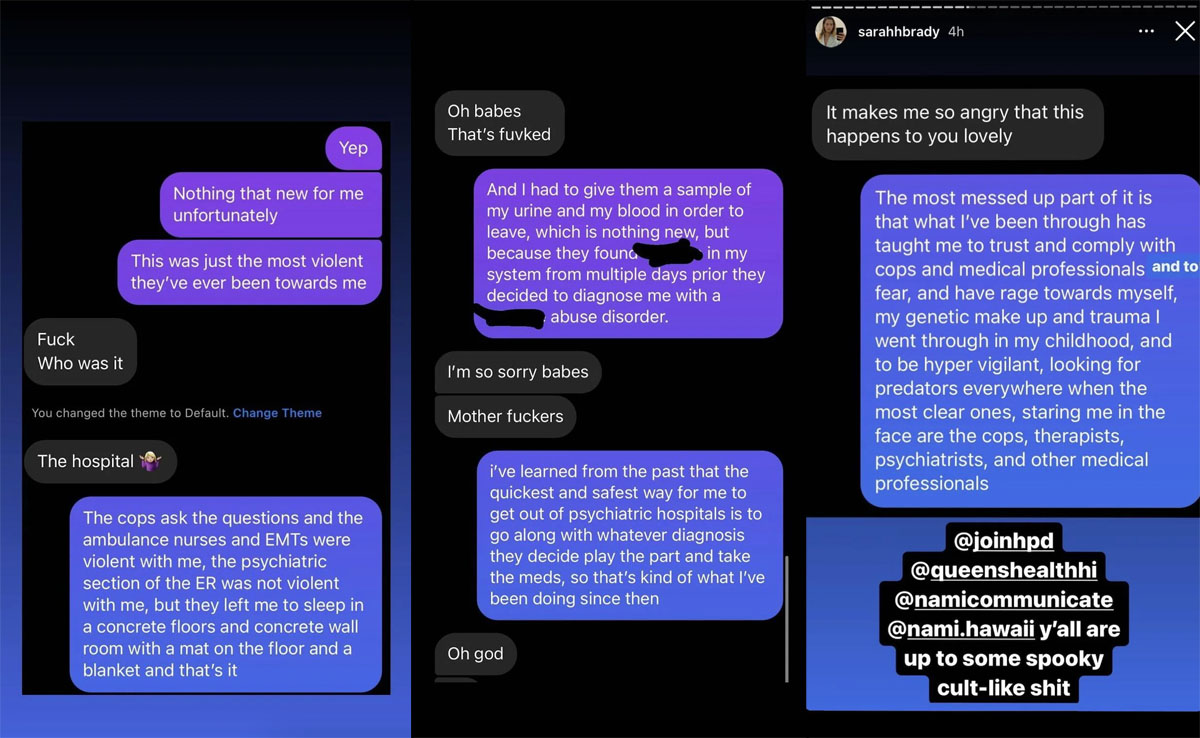 Then, in a third series of messages about the ordeal, Brady asserted she was "treated like a street dog" while in the hospital.
Related: Jonah Hill Is Exactly Like Keke Palmer's Boyfriend?! Sarah Highlights Viral Comparison!
She began by writing:
"This is like my fourth or fifth time being put in the hospital and treated like a street dog so I wasn't very shocked but it was the most violent I've ever experienced and I think it's been long enough of me, believing in all of these diagnoses, and playing along that now I'm just like f**k it. What do I have to lose?"
Then, she noted her move into different hospital accommodations:
"After about an hour of me being cooperative they moved me to another room where the same type of bed was in a plastic stand"
Before allegedly agreeing to an injection:
"I agreed to an injection without knowing what or was. I didn't care. I knew I had to play their game to get out."
And lamenting the patronizing way in which she was apparently spoken to by staffers on the inside:
"Everyone talked to me like I was a child and continually called me 'dear' in the same tone as the big bad wolf"
In a final slide, Brady claims to have been caught "reckless driving" on a golf course the night before the hospitalization:
"To be fair, I know I was guilty of 'reckless driving' on a golf course the night before, but I was not stopped for that at that time and I was not informed of that as the reason for my involuntary hospitalization."
And she then concluded with one more note:
"I actually chose to go with cops over ambulance when I was offered the choice but then the officer said I'd get to drink water if I went in the ambulance so I did that as I was extremely dehydrated."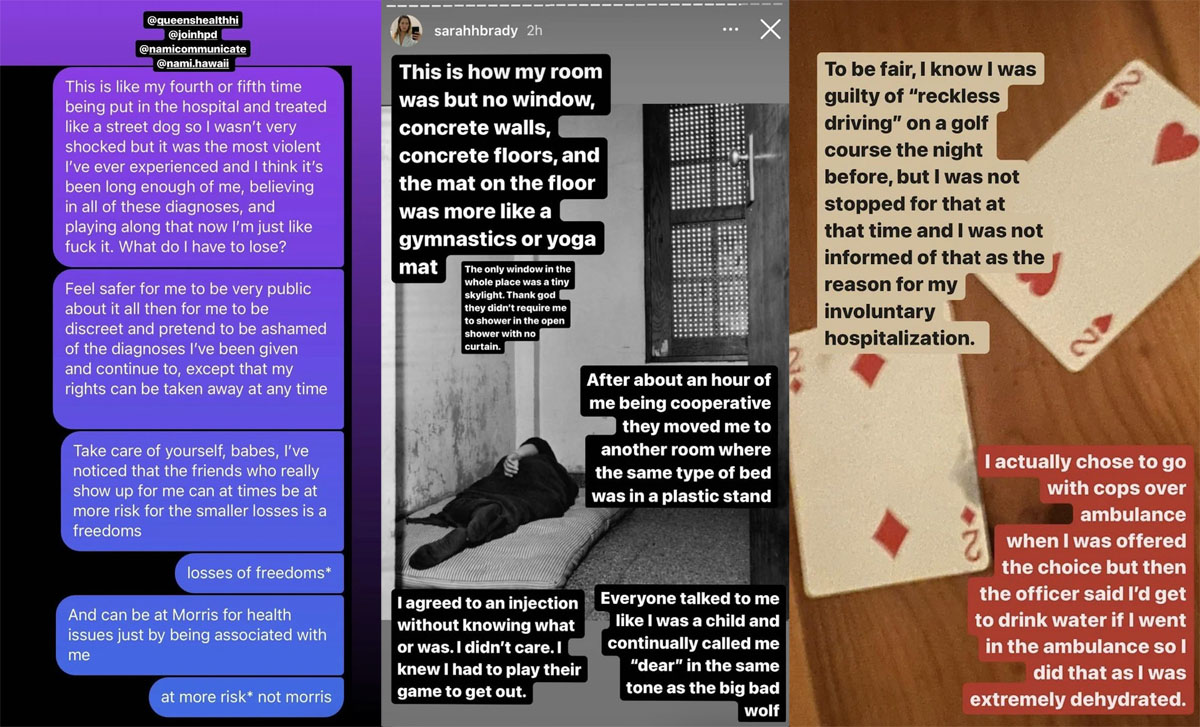 Wow.
Whatever is going on, we sincerely wish for the best for Brady with the aftermath of all this.
What an awful and unsettling situation…
Related Posts
CLICK HERE TO COMMENT
Aug 22, 2023 10:08am PDT