Jonah Hill's ex-girlfriend is explaining exactly why she came forward when she did.
Of course, we've been covering the ongoing saga between the Superbad alum and pro surfer Sarah Brady. The couple dated for nearly a year before splitting in early 2022. For more than a year after that, they both appeared to have moved on. The 39-year-old actor got with new partner Olivia Millar, and that couple recently welcomed a child together.
But late last week, Sarah suddenly and unexpectedly popped up on Instagram with a series of text screenshots purporting to be misogynistic exchanges with the actor back during their tempestuous relationship. In the series of snaps, she accused the Wolf Of Wall Street star of "manipulation," "coercion," and "emotional abuse." She claimed he tried to prevent her from seeing friends, asked her to set boundaries around people in her life, and even allegedly requested she take down swimsuit pics from her social media accounts. Reminder: the woman is a pro surfer.
Related: Leonardo DiCaprio And Gigi Hadid 'Were Flirty' While Partying For 4th Of July?!
While many supported Sarah, some couldn't help but wonder about the timing of exposing her ex just after he had a kid. Now we're hearing from her directly about why she came forward with those allegations when she did. It turns out it was intentional!
Late Sunday night, Sarah returned to her IG Stories to share two new voice memos. In them, she explained she purposely waited "until after" Olivia had Jonah's baby — which happened early last month — before opening up about her relationship troubles with the Moneyball star.
In her first voice memo, the 25-year-old said she does hope Olivia will "receive some of these screenshots" through friends who are watching the drama unfold:
"I mean, at this point, there's no going back. And I'm not trying to slander someone's reputation, I'm literally sharing their own words. And I'm not going to lie, part of me waited until after she had given birth. Like, not right after, but a little bit after, so that his current fiancée and the mother of his child Olivia would — I just hope that she would receive some of these screenshots somehow through friends. Like, friends of mine that I met through him that I know are good people, and I know would make an effort to protect her."
So she spoke out in part because she was trying "to protect" Olivia from Jonah's behavior? OK. But why not sooner? Well…
In the second voice memo, Sarah then went on to add how she waited to air the dirty laundry specifically because she "didn't know what kind of stress that would cause on [Olivia] and her baby." The surfer explained:
"I didn't want her to have to see all this while she was pregnant, because I didn't know what kind of stress that would cause on her and her baby physically and everything. I'm sure the timing can seem bad, like, 'oh, yeah, I waited until he had a kid.' But, like, I waited until she had her baby! So, I knew they were physically not impacted by me sharing this shit. And she could be informed, and make an informed decision for how she wants to care for herself and her baby which she birthed, and she created. Yes, it is his child, but that is that woman's infant. That's how I see it."
Wow.
Then, about an hour later in another follow-up IG Stories post, Sarah shared a screenshot of a message exchange between her and an unidentified person.
In that back-and-forth, Brady added this additional commentary about Millar's pregnancy:
"There's already been talk about the timing and how I did it right after she had her child and I feel like this clears up why I didn't do it once I had some of these realizations a few months ago. I didn't want to put any physical or psychological stress on a pregnant woman"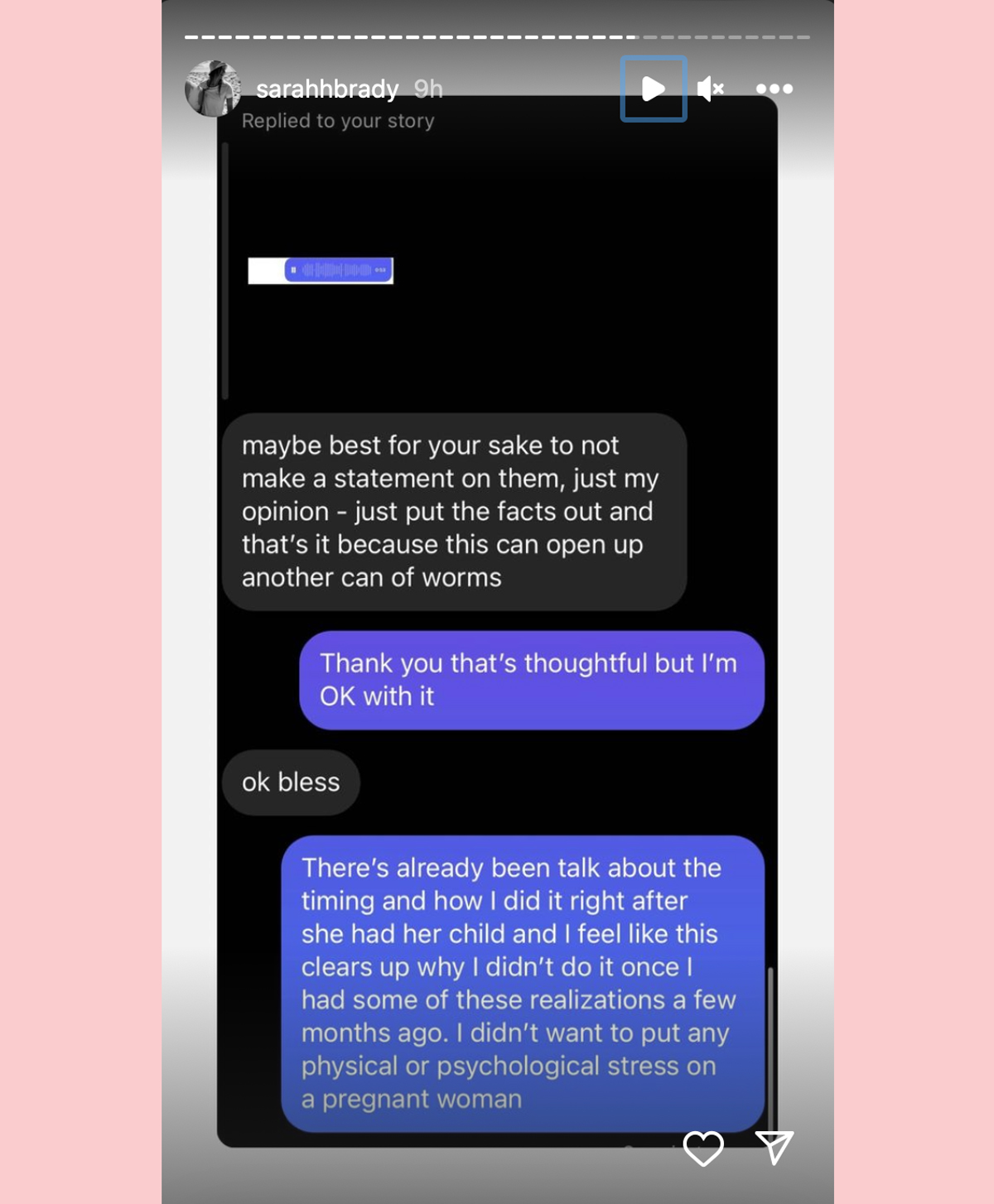 OK, so she didn't realize until fairly recently just how badly she'd been treated — and she didn't want to come out with it at that time while the poor girl dating Jonah after her was pregnant. We guess that makes sense! Frankly there was probably no good time to put her ex on blast, but at least she didn't do it at the worst time?
Related: Is This Legit Evidence That Kim Kardashian And Tom Brady Are Dating??
As for the 21 Jump Street star, he hasn't publicly commented on Sarah's posts about his actions towards her as a "narcissistic misogynist."
Well, OK, that's not entirely true. Hill hasn't offered up a public comment specifically regarding these allegations. But he has sent an unspoken message with some curious new merch he's now pushing in the days after this thing blew up. Yeahhh seems pretty unapologetic to us…
Anyways, what do U make of Brady's reasoning here, Perezcious readers? Do U understand her side in waiting until after Millar gave birth, or not? Sound OFF with your thoughts down in the comments (below)…
Related Posts
CLICK HERE TO COMMENT
Jul 10, 2023 11:22am PDT