Katy Perry & Orlando Bloom Have Talked Engagement For A 'Long Time' — Are Kids Coming 'Soon'??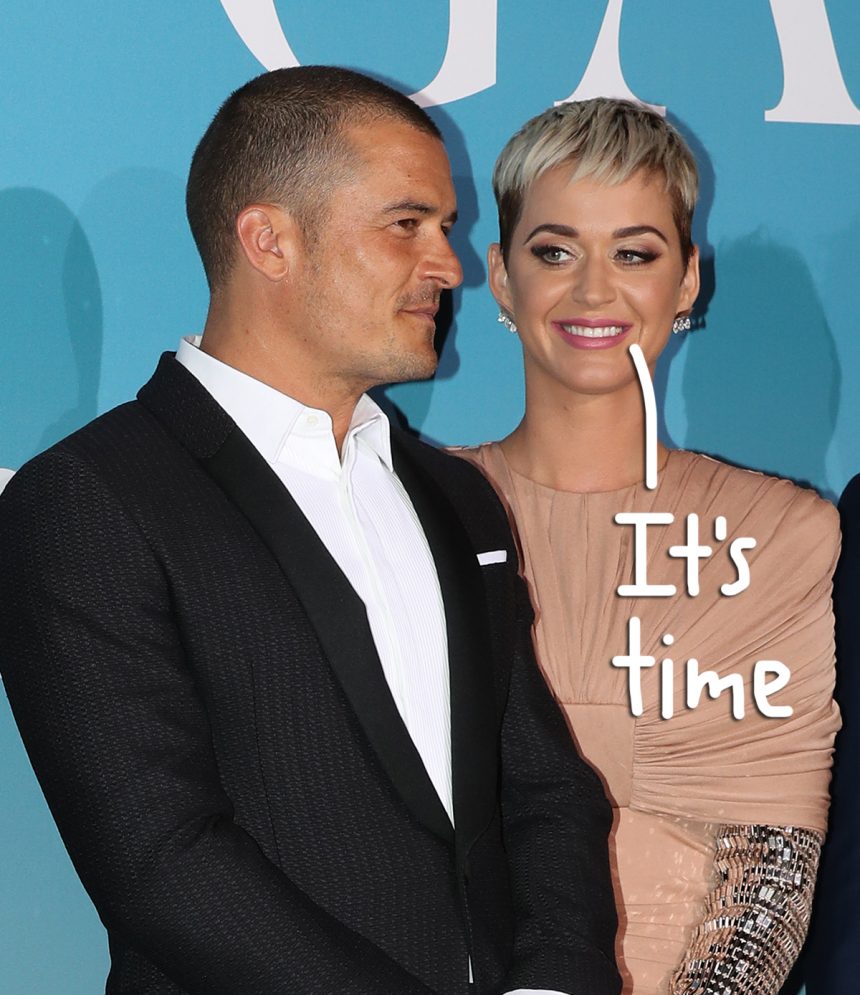 Katy Perry and Orlando Bloom's engagement was a long time coming!
According to multiple sources, the couple, who got engaged on Valentine's Day, have been talking about settling down for quite some time now — even before their split in 2017!
An insider dished to ET:
"Katy and Orlando have been looking forward to this day for a very long time and they are over the moon to embark on their lifetime commitment. They talked about an engagement even before their breakup in 2017 but Katy wasn't ready. She just wasn't ready at first but soon after some time away, she knew Orlando was the right man for her life."
Not everyone in Hollywood wants to rush down the aisle — especially those who've done it before!
Video: Katy Is A Lovesick Robot With Zedd In '365' Video!
Naturally, the singer's 2-year marriage to ex-husband Russell Brand played a big part in her hesitance to settle down with the Pirates of the Caribbean star.
But when the couple reunited in January 2018, they both knew it was the real deal. A People source explained: 
"She was in such a bad place after her split from Russell, so to be getting married again is a huge deal… After reconciling Katy has felt very secure with Orlando and they both knew it was different this time."
The fact both put in a ton of effort to keep their relationship healthy also helped, as the insider continued: 
"They made their relationship a priority and both of them literally flew all around the world to keep their relationship strong."
Both sources noted that the couple's friends and family are all ecstatic for them, but the ET source insisted that "no one is more excited than Orlando's mother," revealing:
"She has wanted them to tie the knot since the moment she first met Katy. She literally can't stop talking about it, and telling all her friends."
Who wouldn't!?
While the road to engagement was a long and winding one, the People insider says the couple is more than ready to start a life together, adding:
"Katy is slowing down her career this year… [they] want to get married and start a family sooner rather than later."
When it's time, it's time!
Related: Justin Bieber Seeking Treatment To Be A Better Husband For Hailey!
An Orlando source confirmed to People that the two will "prioritize" their desire to have children together. The actor is already a father to 8-year-old son Flynn, whom he shares with ex-wife Miranda Kerr.
As we reported, the couple announced their engagement on Friday, a day after throwing an engagement party on Valentine's Day.
The ET source shared some details about the bash, which was apparently just the latest "top secret" soiree Katy's apparently known to throw:
"Katy is actually notorious for having top secret parties, she has it down to an art form. She did one for Orlando's birthday in Palm Springs and also one in Coachella, where she didn't allow any cameras or phones into the party. She loves her privacy… When they planned this party, they only told their very closest friends it was their engagement party. Most people thought it was just a Valentine's Day party. They finally decided it was the right time."
Sounds like it!
We're so happy for them!
[Image via Jean-Charles Vinaj/News Pictures/WENN]
Related Posts
CLICK CLICK CLICK Next Article
Feb 15, 2019 3:44pm PDT