How did Katy Perry and Orlando Bloom end up here?
Both stars had been single for a while after highly publicized splits, Katy with Russell Brand and Orlando with baby momma Miranda Kerr — and they just met at the right time! Well, almost the right time.
Related: Justin & Hailey Bieber's Timeline 
It's a long journey full of ups and downs, PDA and politics, spirituality and sex. And we have a breakdown of all the mile markers (below):
First Flirtations
January 2016
It all began with a little harmless speculation in the rumor mill after Katy and Orlando were seen getting their flirt on at the Golden Globes in 2016.
After the ceremony, they arrived separately to Harvey Weinstein's after party — oh man, that really was a long time ago! — where they reportedly flirted up a storm in the VIP section.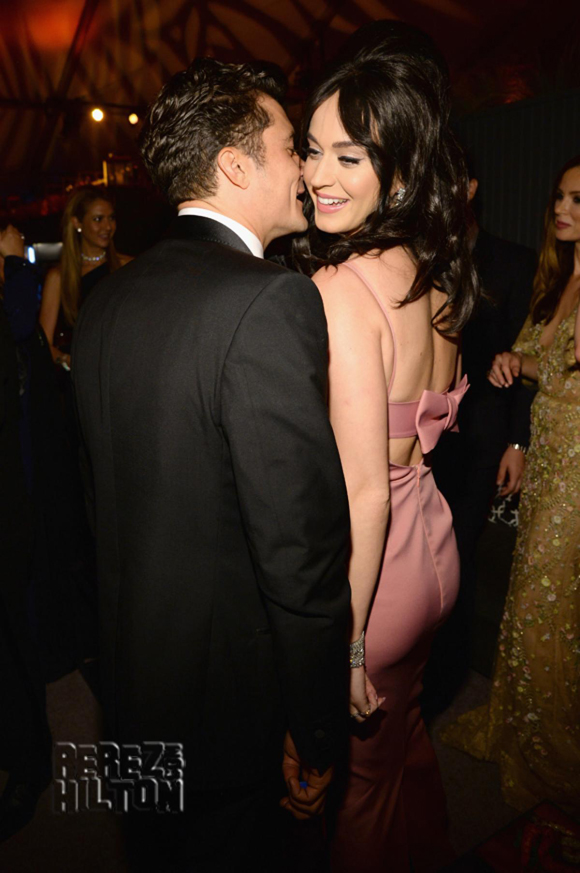 According to an eyewitness Orlando "would lean in to whisper into her ear and touch the small of her back as they chatted." Hot. They also eventually left together to make an appearance at the Fox party.
We were instantly obsessed at the idea of this scorching hot potential power couple. And apparently they were, too!
Date Nights
January-February 2016
Just a couple weeks after the Globes, the two were spotted together on social media — no, not theirs.
An actor named James Lecesne shared a selfie on Instagram of some guests at his play, The Absolute Brightness of Leonard Pelkey.
Fans who had been paying attention to the rumors were quick to pick up on the "coincidence" of Katy and Orlando attending the same play on the same night after their flirt session. No, this was a date!
And what's even more romantic than sitting next to one another in the dark during a great play? How about watching a concert by one of the most romantic singers of all time, Adele!
https://giphy.com/gifs/queue-concert-winehouse-6p6B77pyhtWXC
They were even photographed kissing at the February 13 show — so romantic in time for Valentine's Day!
Later that month the actor and the singer full-on went on vacation together; they were spotted in Hawaii holding hands!
Met Gala
May 2016
Innerestingly, despite having been photographed so much, the couple chose not to officially debut their romance at May's Met Gala and showed up separately.
However, they gave the game away with the matching Tamagotchis they sported!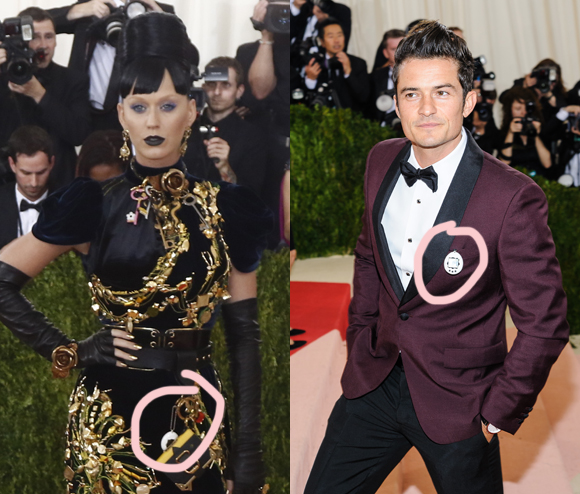 We wonder if they already had electronic pet names for each other by then! LOLz!
I'm With Her
July 2016
Katy famously performed at the Democratic National Convention in support of presidential candidate Hillary Clinton, and fans fanned themselves when they realized what a doting boyfriend Orlando was being in the audience.
https://twitter.com/itslaurenyap/status/758848507818029056?ref_src=twsrc%5Etfw%7Ctwcamp%5Etweetembed%7Ctwterm%5E758848507818029056&ref_url=https%3A%2F%2Fwww.cosmopolitan.com%2Fentertainment%2Fcelebs%2Fa21349741%2Fkaty-perry-orlando-bloom-relationship-timeline%2F
So cute!
But the less said about how that campaign ended the better…
Penis-boarding
August 2016
In a completely unforgettable relationship moment, the couple went paddleboarding together — and Orlando decided to ditch his board shorts and go au naturel!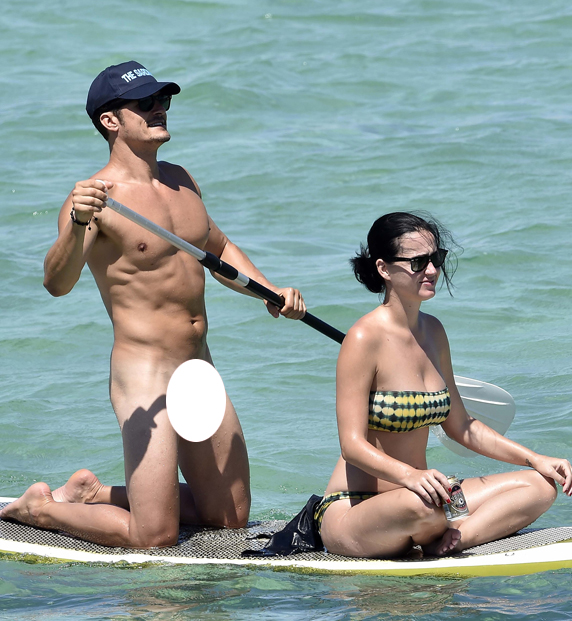 The photos spread quickly, to the joy of millions! But what was Orlando thinking?? Katy later tried to explain:
"He wanted to show off for the people on the shore. He thought it was funny!"
Sure, LOLz!
Holidays
December 2016-January 2017
In one of the cutest celeb dates we've ever seen, Katy and Orlando shared the love outward with the kids at the Children's Hospital in El Lay.
The kids at CHLA received a much-deserved visit from Santa & Mrs. Claus, aka @katyperry & Orland Bloom. More photos: https://t.co/uZ7BuF16Oa pic.twitter.com/66hYbG4eas

— Children's Hospital LA (@ChildrensLA) December 21, 2016
He also spent that Christmas with Katy's family instead of his own back in the UK — but the next month, Katy threw Orlando a surprise 40th birthday party and flew in his mom!
The Breakup
February 2017
After a sort-of award show anniversary at an Oscars after party following what seemed like a year of bliss, the couple surprisingly split, releasing a joint statement to People, saying:
"Before rumors or falsifications get out of hand, we can confirm that Orlando and Katy are taking respectful, loving space at this time."
The next month Katy goes out of her way to shut down speculation the breakup wasn't as amicable as they were putting out, tweeting:
"U can still b friends & love ur former partners!"
Nail In The Coffin?
June 2017
Katy seems to preclude a reconciliation from EVER happening by ranking her ex-lovers for James Corden during her Witness installation stunt — and putting Orlando SECOND behind John Mayer.
Keepin' It Casual
August 2017-May 2018
Orlando and Katy were still apparently broken up but were spotted kissing at an Ed Sheeran concert in August.
That same month, there were rumors the Lord of the Rings star was casually dating Nina Dobrev, with whom he'd had a fling three years previous.
https://giphy.com/gifs/nina-dobrev-gif-gifs-hunt-rB9OIAz2D9CnK
Dear Vampire Diary, by January Nina is history.
Orlando and Katy are photographed on vacay in the Maldives. In March she visits him on the set of Carnival Row in Prague. A source tells People "they are dating but not necessarily putting a label on it."
In April they meet THE POPE together. Kind of the opposite of casual, actually…
Finally in May during an episode of American Idol, Katy casually mentions:
"I'm not single."
And they're for good back together after that!
Red Carpet Official
September 2018
The couple finally went red carpet official at the Monte-Carlo Gala for the Global Ocean. No PDA to speak of but considering the gravity of the event — in which Orlando was receiving a Good Samaritan award — probably appropriate.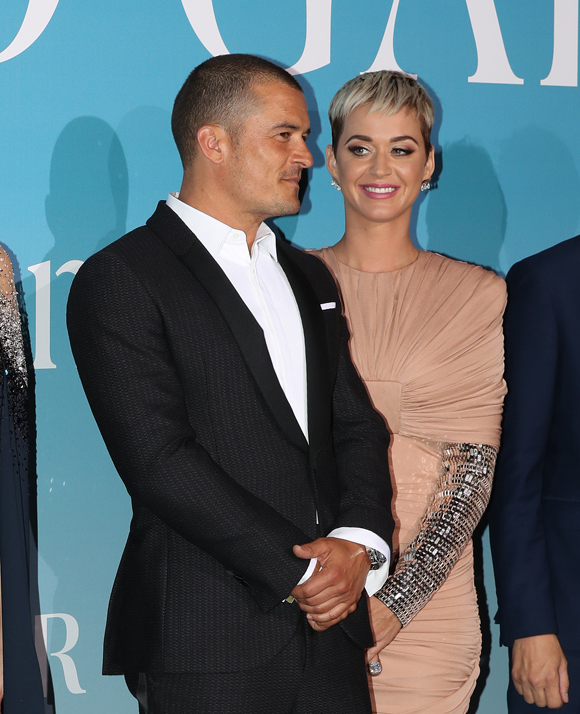 Put A Ring On It
February 2019
For Valentine's Day, Orlando went totally traditional with heart-shaped balloons and a proposal — but also very specific to Katy with the adorably flower ring:
Oh, she said YES btw.
A Very Long Engagement
Over the next several months we hear pops and squeaks about their wedding plans, but nothing seems to pan out, including reported September and December dates which both zoom by. An E! News source says:
"They wanted to get married quickly but scheduling and pulling everything together has proven to be difficult."
However, an Us source assuages any worries for the couple's relationship, saying they're "beyond in love."
Soulmates
January 2020
If you were wondering what was so special about Katy and Orlando's relationship, she broke it down in an interview in Vogue India, saying:
"I have a partner who is also all about finding a balance. Orlando, who is on a spiritual journey of his own. He's an anchor who holds me down, and he's very real. He's not the number one fan of Katy Perry, but he's the number one fan of Katheryn Hudson… Orlando is like a sage. When we first met, he said we would pull the poison out of each other, and we really do. It's exhausting, but we really hold each other accountable. I've never had a partner who was willing to go on an emotional and spiritual journey like Orlando. It's challenging, because you're facing all the things you don't like about yourself. It's like a never-ending cleanse."
Awww! A never-ending cleanse sounds horrifying, especially for the colon, but hey it's probably healthy. And at least they're facing it together!
Baby On Board
March 2020
Katy used her Never Worn White music video to make a huge reveal — she was pregnant with Orlando's baby! And a ways along as well, as she confirmed many details, including that she was due in the summer!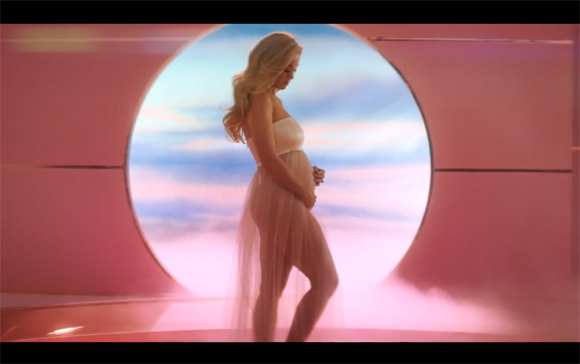 Such exciting news!
Oh, sadly it's also reported the wedding is delayed AGAIN due to coronavirus fears, something even more worrisome to an expectant mom.
But you know what? That's just a piece of paper. It's clear after all they've been through these two love each other!
[Image via Charlie Steffens/WENN/Avalon.]
Related Posts
CLICK HERE TO COMMENT
Mar 06, 2020 17:24pm PDT