Kim Kardashian Talks Studying To BECOME A LAWYER, Kanye's Mental Health, & More In First Solo 'Vogue' Cover Issue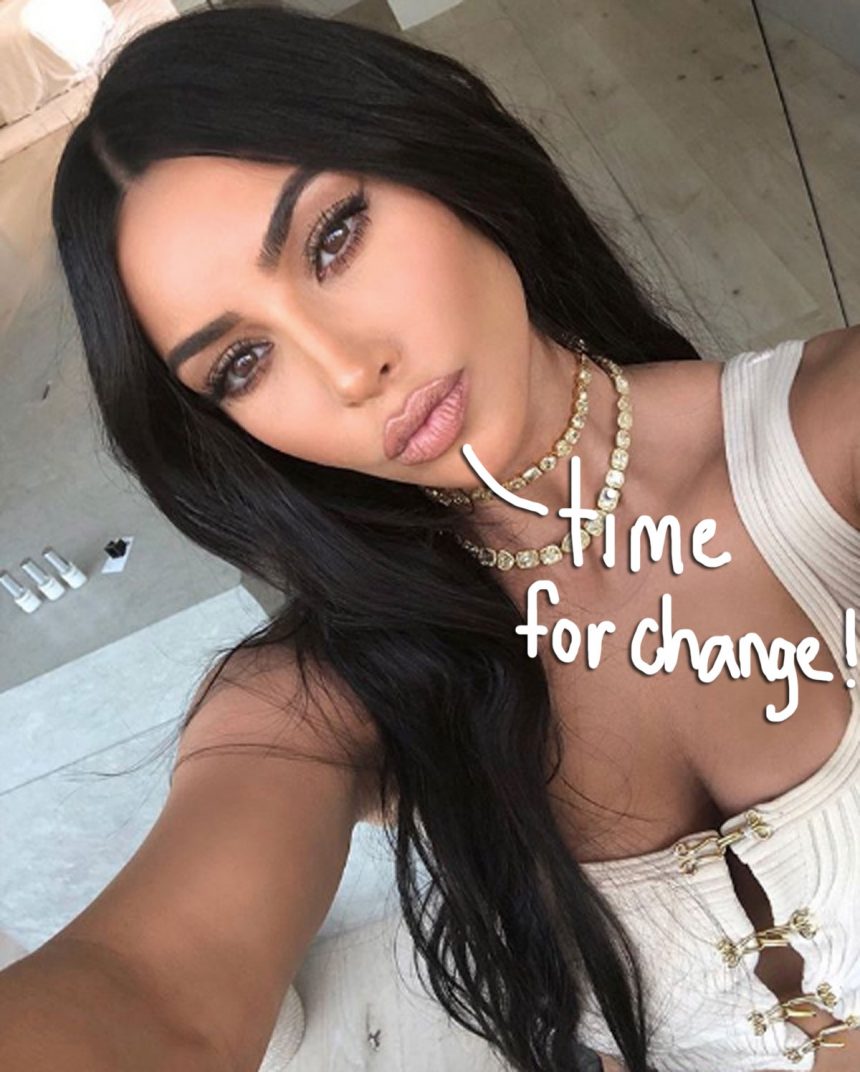 Kim Kardashian West has a major announcement to share, y'all!
The momma of three (soon-to-be four!) graces the cover of Vogue solo for first time, as its May issue cover star, and she's ready to take her side passion to the next level.
Related: Kim Says She Will 'Never' Try To Change Kanye West After Pro-Trump 'SNL' Rant!
The 38-year-old is undoubtedly busy right now, prepping for baby number four on the way via surrogate. But between her growing family and multiple business ventures, she's finding a way to focus on herself and keep growing.
The publication refers to their conversation with Kim as an "awakening" and it couldn't feel more accurate.
SEE the gorgeous cover shot (below):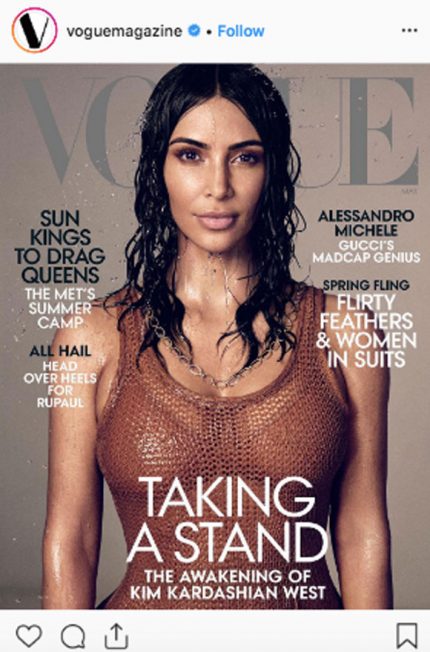 The business mogul is taking her passion for law and affecting social change a step further… by enrolling in a four-year apprenticeship with a law firm in San Francisco, with the goal of taking the bar in 2022!
Wait, seriously? Didn't we hear about this law school rumor before?
Yes, we did!
A rep for Kanye West's wife previously shot down any rumors of her attending law school, after Ye's comments about his wife's prison reform work last summer went viral.
For those who need a refresher, Kim worked with CNN's Van Jones and several other lawyers to present a solid case for former Alabama prison inmate Alice Marie Johnson's release to President Trump. Johnson had been in prison for a non-violent drug charge since 1996. All of their efforts payed off, as the 63-year-old was eventually granted clemency and released. She then returned to her home of Memphis, TN where Kim met up with her to film an interview for TODAY.
However, in this new interview, Kim dismisses any previous rumors, and explains that "seeing a really good result" come of her work with the former inmate is the reason why she's taking law seriously now.
She thought "long and hard about" it, before coming to a decision:
"The White House called me to advise to help change the system of clemency, and I'm sitting in the Roosevelt Room with, like, a judge who had sentenced criminals and a lot of really powerful people and I just sat there, like, Oh, s**t. I need to know more. I would say what I had to say, about the human side and why this is so unfair. But I had attorneys with me who could back that up with all the facts of the case. It's never one person who gets things done; it's always a collective of people, and I've always known my role, but I just felt like I wanted to be able to fight for people who have paid their dues to society. I just felt like the system could be so different, and I wanted to fight to fix it, and if I knew more, I could do more."
And so she's backing it up, and doing more!
The KKW Beauty mogul says she now gets piles of letters every week from prisoners pleading their case. 
For her next plight, Kim wants to make a direct appeal to California's new governor, Gavin Newsom, on behalf of an inmate who isn't up for parole until 2021. She's scheduled to meet with the lawmaker soon.
Related: Kim Kardashian Raves About Kanye West's Mysterious Sunday Service!
The conversation eventually shifted to Kim's superstar husband, whose controversial political views haven't go over well with the public lately.
Y'all know that SNL rant and MAGA hat are super hard to forget…
After Ye's very public questionable behavior, and meeting with Trump in the Oval Office last October where he revealed he suffers from sleep deprivation, many speculated that there was actually something way more serious going on with West. Doctors reportedly diagnosed the Chicago native with bipolar disorder.
Kim was eager to offer more insight on her beau's state of mind, since he's recently accepted the diagnosis:
"I think we're in a pretty good place with it now. It is an emotional process, for sure. Right now everything is really calm. But we can definitely feel episodes coming, and we know how to handle them."
North West's momma explained the frustration that comes when she read hurtful comments about her man online, because she knows his heart and understands what triggers his mental health struggles.
"For him, being on medication is not really an option, because it just changes who he is. Traveling a lot does set it off, so he doesn't travel as much as he used to. But honestly, I never want to speak for him, because I am not in his mind. But I think some of the hurtful things that I read online . . . . What is she doing? She's not stopping him. . . . Like it's my fault if he does or says something that they don't agree with? That's my husband. I share every opinion that I have and let him know when I think something's wrong. Or if it comes to him being in the middle of a bipolar episode, I'll do everything to be supportive and help to calm the situation."
She also set the record straight about his political views, again:
"He doesn't represent either side. But he doesn't want to be told what he should be. It can be confusing. I get it. The one thing that I respect so much is that he is who he is, no matter what anyone tries to tell him to do. I can be sitting there crying: OH, MY GOD! TAKE OFF THE RED HAT! Because he really is the sweetest person with the biggest heart. I stopped caring, though. Because I used to care so much. I was making it such an issue in our relationship. And in my life. It gave me so much anxiety."
WOW. Sounds like such a carefree (but focused) Kim! We're loving the way these two continue to stick by each other through it all.
Thoughts, Perezcious readers?
[Image via Kim Kardashian West/Instagram]
Apr 10, 2019 12:34pm PDT