Lori Loughlin and her husband are lost out there and all alone amid their alleged involvement in the nationwide college admissions bribery scam.
According to a People source, some friends of the Fuller House star and hubby Mossimo Giannulli have been distancing themselves from the couple in the days since it was reported that they had allegedly paid $500,000 to get their daughters fraudulently designated as part of the USC crew team.
Related: Felicity Huffman's 'Desperate Housewives' Character Also Bribed Schools!
The insider explains:
"Lori and Mossimo are finding out quickly who their real friends are. It's not like they are the victims of a crime. They are the crime."
A crime that most of their social circle wants no part of, per the source:
"Many of their friends don't want to be associated with them right now. Their friends are shocked at the allegations."
LOLz. As was the entire nation!
The insider went on to say that both parents "always wanted the best" for their daughters Olivia Jade, 19, and Isabella Rose, 20, and tended to put pressure on the girls to succeed at academics.
Apparently, the girls had different interests, like vlogging and Instagram influencing. The source revealed:
"Olivia and Isabella's personalities were always very different from their parents. They are average students. They have never been obsessed with school and didn't seem to care that much. They attended school because their parents made them. Their focus was never about getting straight As. It was always clear that it was the parents that pushed them to go to school. Olivia always talks about her vlog. This is her passion. She never really understood why she needs to go to school."
We bet gurl will be changing her tune now that she's losing her Instagram sponsorships…
Neither of her daughters have been charged in connection with the scam, and it's unclear whether or not they even knew what their parents were up to.
But now, the whole world knows — and Loughlin is said to be "devastated" that the illusion of her seemingly perfect family is shattered. A second source dished:
"Lori has always been a no nonsense, seemingly together woman who knows what she wants and goes for it with zest. She exudes both confidence and folksy charm at the same time… This issue is shocking and greatly saddens many people. I've heard she is devastated, and the whole family wants to hide from the world."
Who could blame them? Especially since Loughlin isn't just losing friends over this scandal: she's losing jobs, too!
On Thursday, Hallmark announced it was cutting ties with the 54-year-old actress following her arrest this week.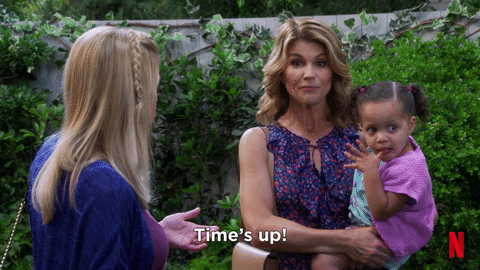 Speaking to the AP, the network said it will no longer work with the starlet and has stopped development on all of the productions she was involved in — including her beloved movie series Garage Sale Mysteries.
The company said in a statement:
"We are saddened by the recent news surrounding the college admissions allegations. We are no longer working with Lori Loughlin and have stopped development of all productions that air on the Crown Media Family Network channels involving Lori Loughlin, including 'Garage Sale Mysteries,' an independent third party production."
As we reported, Loughlin and Giannulli were out on $1 million bond after surrendering to the FBI this week. The couple were allowed to put up their home as collateral to walk out of prison until their shared court date of March 29.
We bet Aunt Becky could use a Danny Tanner lecture about morals right about now. 
[Image via WENN]
Related Posts
CLICK HERE TO COMMENT
Mar 14, 2019 14:18pm PDT