Wow, we just heard there was no repairing the rift between Prince Harry and Prince William — and now we may have a better idea of why.
If this new report is anything to go by, the relationship between Meghan Markle and Kate Middleton is basically non-existent at best.
Once again a "close friend" of Meghan's is spilling to DailyMail.com, and according to the insider she is NOT pulling punches among her inner circle. The source says the Duchess is telling all to her friends about the "bittersweet" recent trip to the UK:
"She said [the trip] has been a confirmation that they made the right choice in parting ways. There's no warmth between the family members and she wants to raise Archie in a household that is filled with laughter and joy and lots of hugs."
Wow, that is cold. Does she really think the Royal family is so lacking in warmth? We can understand an American thinking so from an outsider's point of view, but if she's part of the family and still getting that vibe?? We're not sure if that reflects more poorly on them or on her.
Related: Prince Harry Tricked By Greta Thunberg Impersonator?
The harshest criticism was reserved for her counterpart, the Duchess of Cambridge.
"It's still weird to her that no one hugs and that everyone is so uptight, especially Kate."
Whoa! The shade! The insider continued:
"She said it's obvious that Kate and William do not approve of their choices and that you could cut the tension with a knife. Kate barely even looked at her and their interaction was kept to a bare minimum."
Is that the sense everyone got from seeing them together at their public appearances? The Sussexes and Cambridges sat together (well, sort of) at the Commonwealth Service at Westminster Abbey on Monday.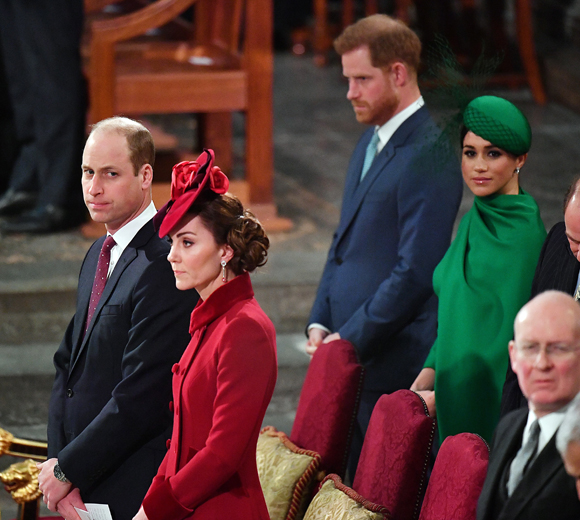 While they exchanged brief hellos, they certainly didn't seem to have that old brotherly laughter they used to share when it was just the three of them…
The source also said Meghan was telling friends she was "relieved" she hadn't brought baby Archie — something we've heard Queen Elizabeth might have considered a slight. However, according to the insider:
"She said it's not like she was intentionally keeping [Archie] away, but it made no sense to bring him and put him in harm's way."
"In harm's way"?? Is that really how she feels about her in-laws? Yowza.
Obviously, another reason Meghan is "eager to get back home to Archie" is the international health scare. The source says the Duchess is wary, but she "hasn't had the time to fully educate herself" on it.
"Regardless, Meghan said the whole thing is alarming and that she'll be glad to get home and be with Archie."
Well, soon she won't have to attend public events with people she finds cold and "uptight." Until her first press junkets for all those Disney movies we guess?
What do YOU think about these reported statements by the Duchess??
[Image via WENN/Avalon.]
Related Posts
CLICK HERE TO COMMENT
Mar 11, 2020 15:41pm PDT