The royal family won't be doing Prince Harry any favors to avoid more drama.
Ahead of King Charles III's coronation on Saturday, many have been wondering if the Duke of Sussex will somehow manage to get a role in the festivities at the last minute, but royal expert Gareth Russell thinks that's unlikely — and not just because Harry isn't a working royal anymore.
Related: Was King Charles 'Bullied' Into Hiding His 'Sausage Fingers'?!
Speaking to Us Weekly on Tuesday, the insider said it's not "surprising that Prince Harry hasn't been given a role" in his father's ceremony, musing:
"He has not exactly been the monarchy's most enthusiastic cheerleader for the past few years."
LOLz! That's putting it lightly!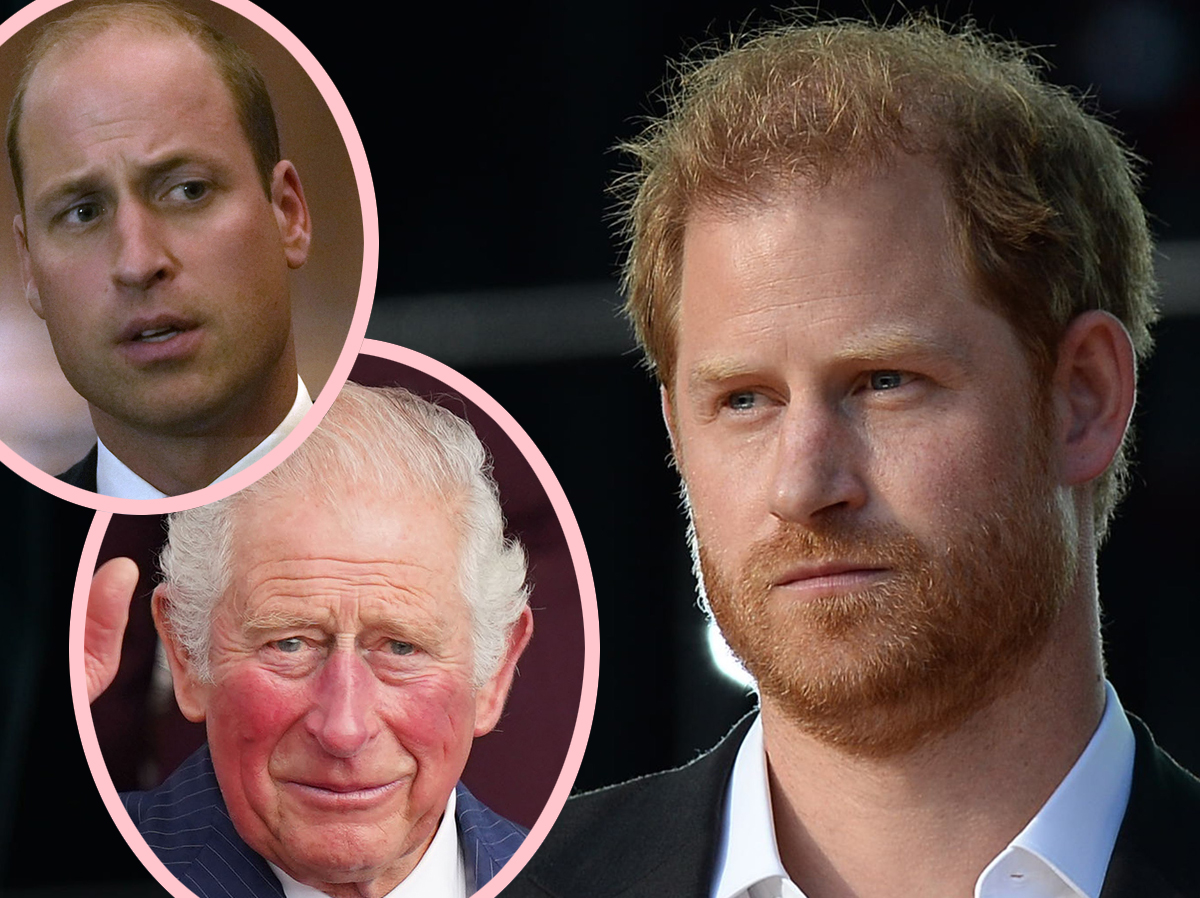 Gareth did note it's important to point out the 38-year-old has been "very, very clear that he is a monarchist and he believes in the continuity of the monarchy." That said, the "spare" has still separated himself from the royal family, and that will come with a consequence:
"I think it's probably for the best not to complicate matters further by having him involved in some sort of working royal capacity. Simply because, maybe, I think the royals are hoping that they can draw a line under the recent controversy with the Duke of Sussex."
Draw a line under it? Like, to call attention to it? Make it clear this is a consequence? Huh. The historian continued:
"Prince Harry, as would the king and Prince William, would regret if he wasn't there. So I think, generally speaking, the consensus is it's right that he's there. It's probably best that he's there as King Charles' son rather than as a working prince of the United Kingdom."
As for how the public feels about the Archewell founder's decision, he added:
"It certainly seemed to be a generally popular decision here that he was coming back."
Interestingly, the source revealed that some in the UK were hoping the coronation would be a chance for the relatives to reconcile, but they no longer believe that — not after Harry divulged family secrets in a recent lawsuit over phone hacking.
Related: Did Kim Kardashian Shade Kourtney With Quickly-Edited IG Caption?! 
But TBH, a reconciliation was feeling like a long shot considering everything else Harry has done to alienate his fam! First, there was the Oprah interview, then the release of his Netflix doc, Harry & Meghan, then his explosive memoir Spare.
The rift has gotten so bad, Prince William wants nothing to do with his brother — who he probably won't even speak to at the event! It helps that the heir will be busy with a prime role in the ceremony, where he will present the 74-year-old with the Stole Royal and the Robe Royal at Westminster Abbey and will cite "The Homage of Royal Blood."  His eldest son, Prince George, will be one of four Pages of Honour.
Meanwhile, Charles is said to be "thrilled" Harry will be attending and "sad" Meghan Markle will be staying home with her kids to celebrate Prince Archie's 4th birthday on the same day as the crowning. As for Harry, he's reportedly planning to pop in and out of the country as fast as possible, so it doesn't sound like he's looking forward to the reunion either. Just a few more days until we see how this all plays out! Thoughts? What do you think will happen on Saturday? Let us know (below)!
Related Posts
CLICK HERE TO COMMENT
May 03, 2023 11:55am PDT