Selena Gomez doesn't take herself too seriously! She can have a little bit of fun when the time warrants it!!
Over the weekend, the pop star proved that with her reaction to a reaction to a newly-posted social media snap. In the original Instagram Stories picture from the weekend, the Disney Channel alum could be seen sitting while wrapped warmly in a blanket. She had a serene, content look on her face in the shot as she gazes off into the distance and a gorgeous Fendi bag sits in front of her on a table. Very calming!!
Related: Francia Raisa Addresses 'Beef' With Selena Gomez While Reacting To Birthday Tribute!
But the fallout was far more noteworthy than the original picture. Hours after the Lose You To Love Me singer posted the pic, it was already being sent around as a source of meme material. And the results were HIGHlarious! So hilarious, in fact, that the 31-year-old singer herself reacted approvingly to a few of them!
On Monday evening, Selena took to her IG Stories once more to re-share two very funny memes that had been made of her original blanket-wrapped snap. In the first, a social media user joked that Selena's serene look was like that of the surviving character at the end of a horror movie:
"Horror movie characters sitting in the back of an ambulance after almost dying"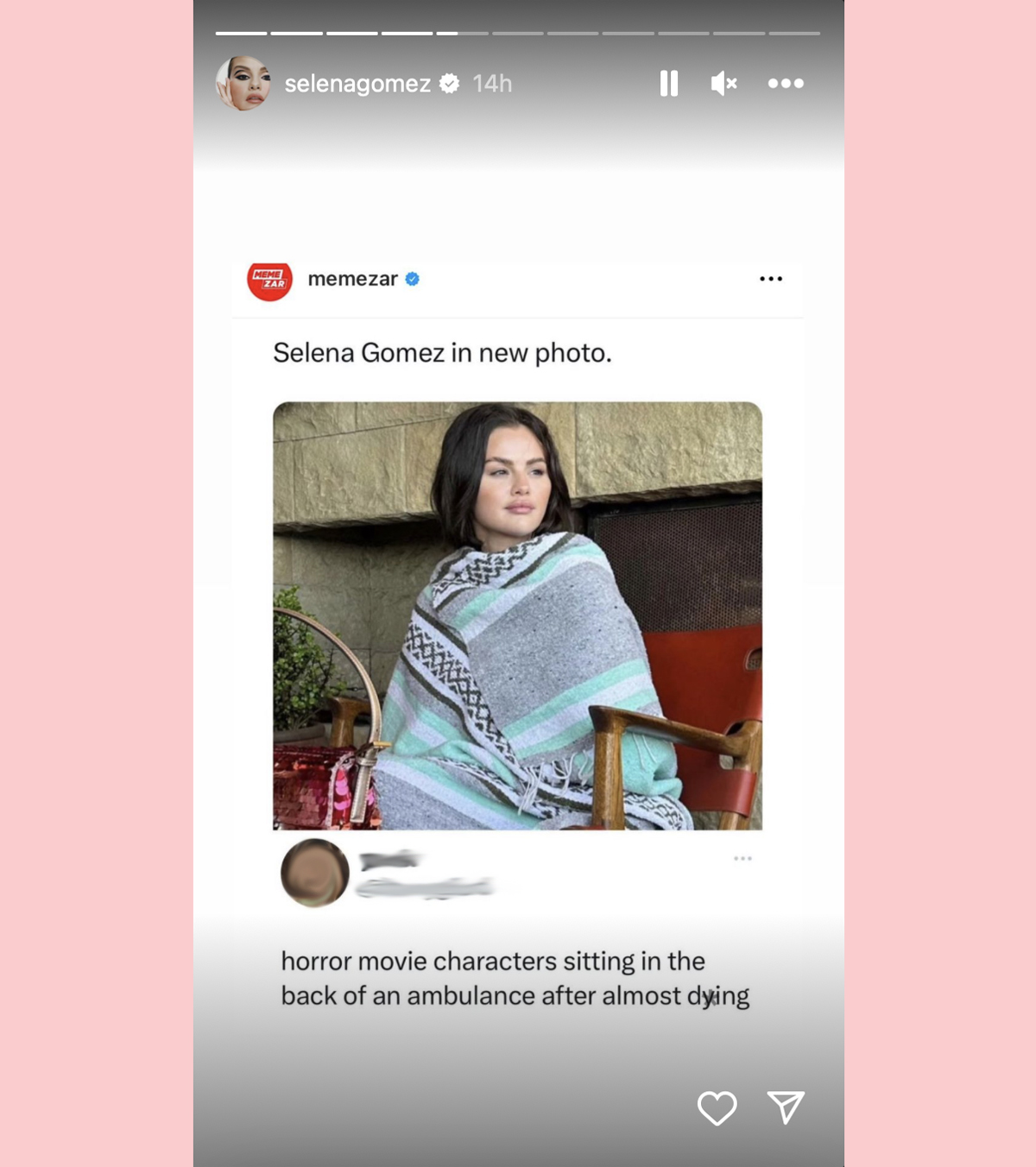 While the second cracked a joke about a supposed year-long drought that their abuela had suffered decades ago south of the border:
"My mom just sent me this old picture of my Abuela from when she was still living in Mexico. This was taken during a year without rain."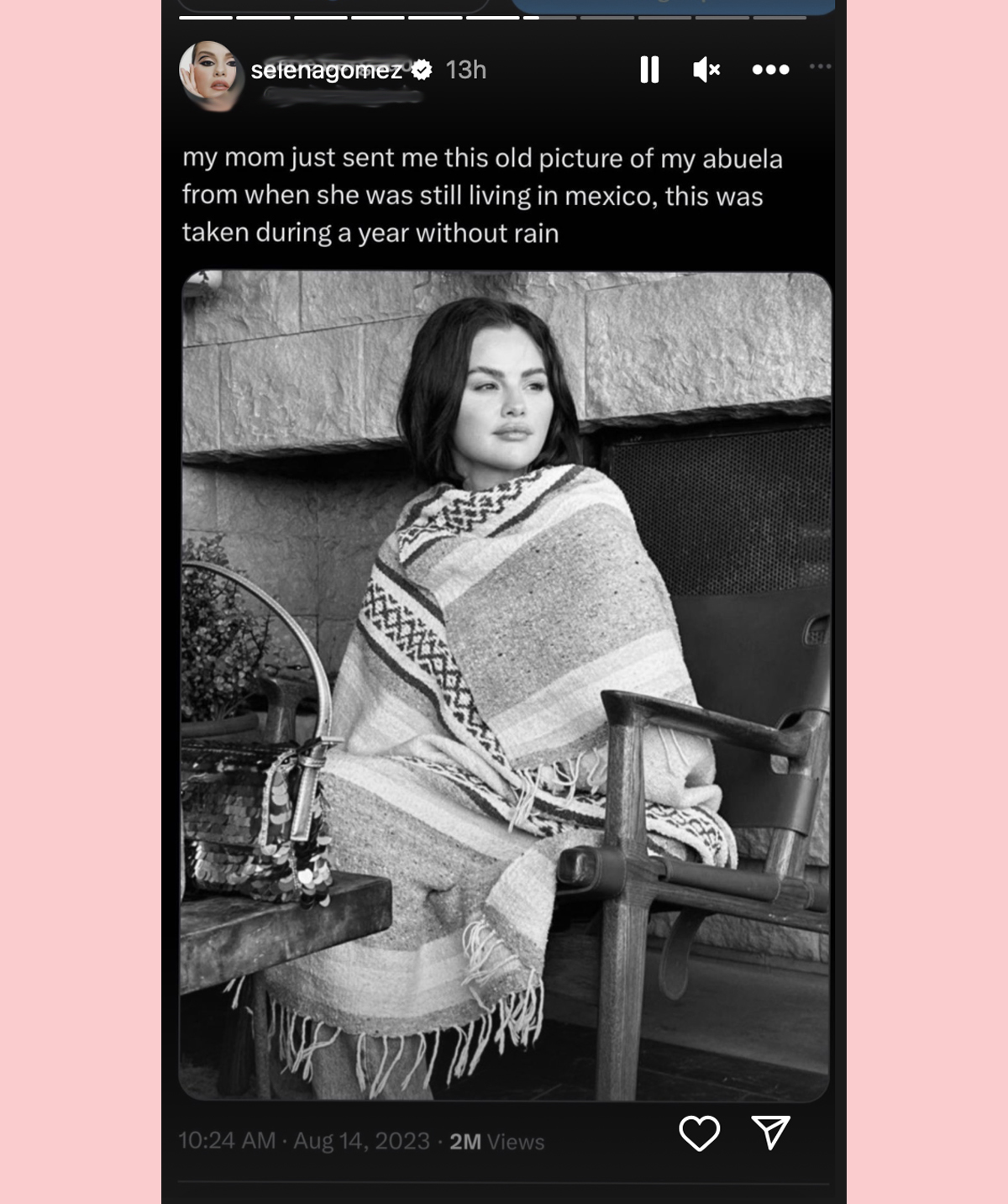 LOLz!!
Very clever. And very funny, too. And even funnier that Selena re-posted them! She clearly must have loved those jokes!!
Related: Inside Selena Gomez's Star-Studded Party For Her 31st Birthday!
Gomez wasn't the only one to meme the blanket pic, either. Once she essentially gave the go-ahead by re-posting those two snaps on her IG account, out came a flood of other funny reactions, too!
Like ones that made light of fans waiting on new music:
Me waiting for Selena Gomez to announce the single like pic.twitter.com/OhVJPib6wq

— ❤️ (@gomezorgohome0) August 15, 2023
And plenty more amusing takes on the star showing off while wrapped up and cozy:
"Rose after she got on the lifeboat knowing that there was enough room on the door for 2 people"

"Selena Gomez after realizing she built up her own empire coming from poverty and now being worth over $800 million at just the age of 31"

"me after my mom comes home and gives me a souvenir blanket from her trip to mexico"

"Literally ME when the ac is too cold in my house lol"

"Mexican mother watches as her sons open up the PS5 she told them she couldn't afford"

"Me saying my order to the waiter at a Mexican restaurant instead of just pointing at what I want"

"looking at my dad outside doing yard work on a Sunday morning"

"The evil mastermind in every korean political series"

"first morning of the 'friends weekend'"

"5 year old me waiting for my mom to choose what I'm going to wear after taking a bath"

"Me when I get up in the morning and I stare at infinity and beyond"

"Us thinking about pumpkin spiced everything"

"Me every time I go to any indoor establishment in the Summer. Outside is 989 degrees and inside is -69"
OK, that Titanic reference is amazing. And the final reaction about indoor establishments in the summer is too true! LOLz!! What about U, Perezcious readers?! Any meme-worthy reactions to Selena's snap??
Share 'em down in the comments (below)!
Related Posts
CLICK HERE TO COMMENT
Aug 15, 2023 09:35am PDT