Thursday marked disgraced TV star Todd Chrisley's 54th birthday — and he celebrated behind bars.
Of course, the reality veteran is in the beginning stages of a 12-year prison sentence after his and wife Julie Chrisley's shocking bank fraud and tax evasion scandal. He's going to be spending quite a few birthdays in the slammer, it would seem. And with this being the first, his kids are going all out on social media.
Related: Todd Chrisley's Son Kyle ARRESTED For Aggravated Assault!
Daughter Savannah Chrisley kicked things off Thursday morning with a touching carousel of family photos over on her Instagram account. The 25-year-old began with the celebratory statement:
"HAPPY BIRTHDAY DADDY!! I miss you more than you'll ever know"
Then, she got real with how hard it's been to not have her father around — both for herself, and for her momma Julie, who is also serving her own sentence in a separate prison:
"It's been 80 days… 80 days since I last received a 'goodnight my angel' text or and 'I love you more.' GEEZZZ how I miss them!! My parents have also been together almost 30 years… and in that 30 years never have they ever spent a birthday apart. So today… I'm imagining us all together in one bear hug circle!!"
You can see the full post (below):
Savannah definitely wasn't the only Chrisley kid to show up for their father's virtual party.
His son, 26-year-old Chase Chrisley, shared another carousel of family photos for his 1.4 million followers on Thursday morning, too. Chase pledged the Chrisley kids "will hold it down" on the outside while their father serves out the rest of his long prison sentence.
Chase also lamented how "we live in a broken world with a broken system" in the birthday message:
"Words can't describe how much i miss you, this will be the first birthday of yours and mine that we won't be together but we are together in spirit. I Love you and I'm beyond proud of the man, father and husband that you are! We live in a broken world with a broken system but i have faith that we will be together soon! Until then i love you and we will hold it down! Happy Birthday Boss"
See those snaps for yourself here:
And there was still more to come!!
Lindsie Chrisley also popped up on Thursday to celebrate her father. Sharing a single old photo to her IG Stories, the podcast host got religious in her appreciation. First, noting the throwback fashion showed in her posted pic, Lindsie wrote:
"Happy birthday to this man with the braided belt on. To know him is to love him."
Then, the 33-year-old added a Bible verse from the Book of John:
"This is the confidence we have in approaching God: that if we ask anything according to his will, he hears us. — 1 John 5:14"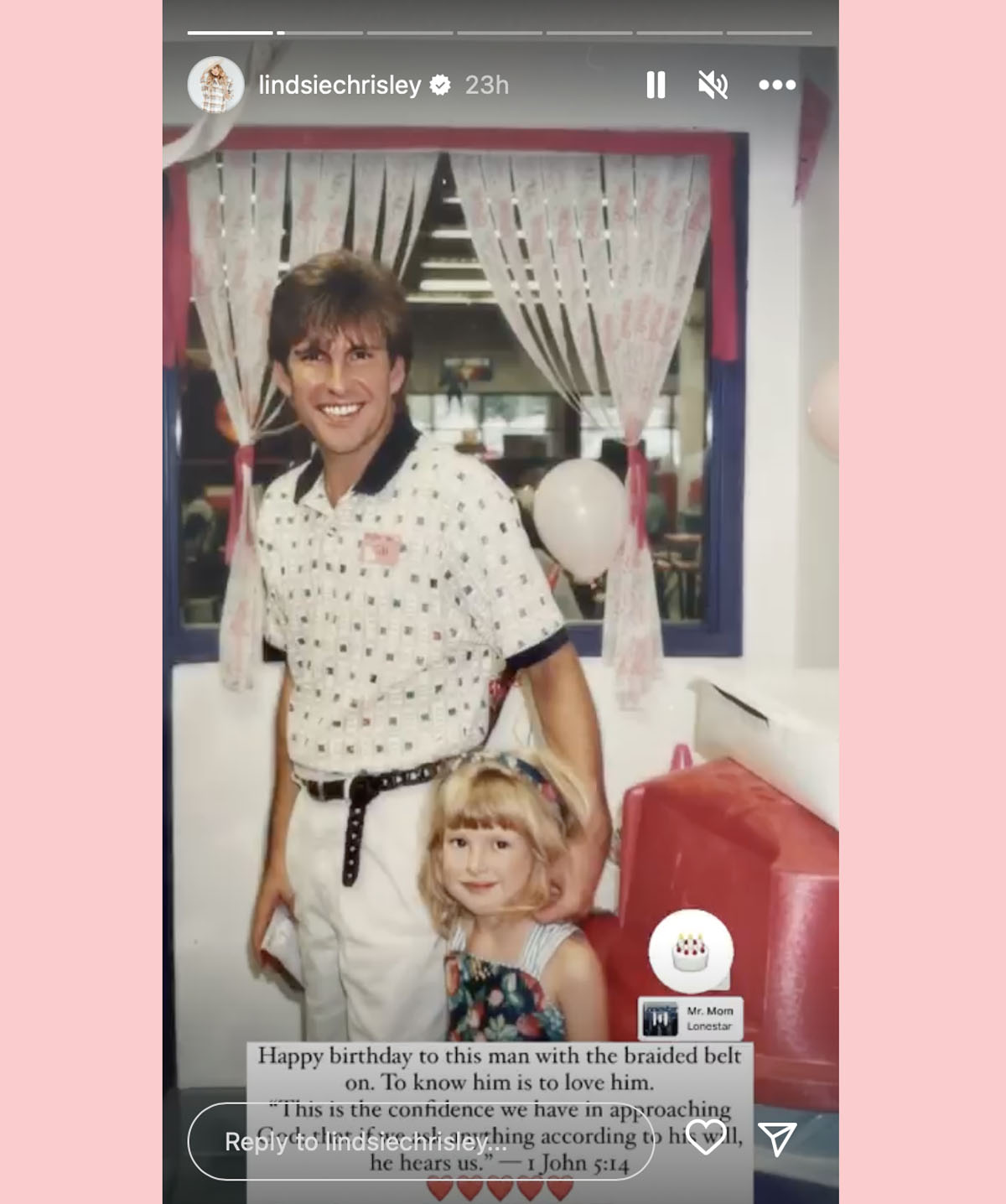 So there you have it!
Related: Flashback To Todd's Final Public Message Before Prison!
Of course, it sounds like Todd is doing OK in prison, all things considered. Lindsie dropped the dime on that earlier this week, in fact. On Wednesday, she spoke candidly about her dad on the Southern Tea podcast, noting how he has "made great friends" behind bars as he seems to be adjusting well:
"My last visit with my dad, I couldn't stop telling him how great that he looked. His spirits are great. He is really just embracing the process there and making the best of the process there with the people that are also there serving time with him."
That's nice,  we suppose. Still, there's no question Todd would probably MUCH rather be at home with his family for things like this birthday celebration than stuck where he is now. Ya know??
It's going to be a long few years…
Reactions, Perezcious readers?!
[Image via Chrisley Knows Best/YouTube/Chase Chrisley/Instagram/Savannah Chrisley/Instagram]
Related Posts
CLICK HERE TO COMMENT
Apr 07, 2023 08:50am PDT