Tom Brady doesn't need any fancy lingo to post some skin.
By now, we're sure you've seen the football legend's nearly nude Instagram Stories pic, in which he posed in his barely-there, self-titled Brady Brand underwear. As a refresher, take a look (below):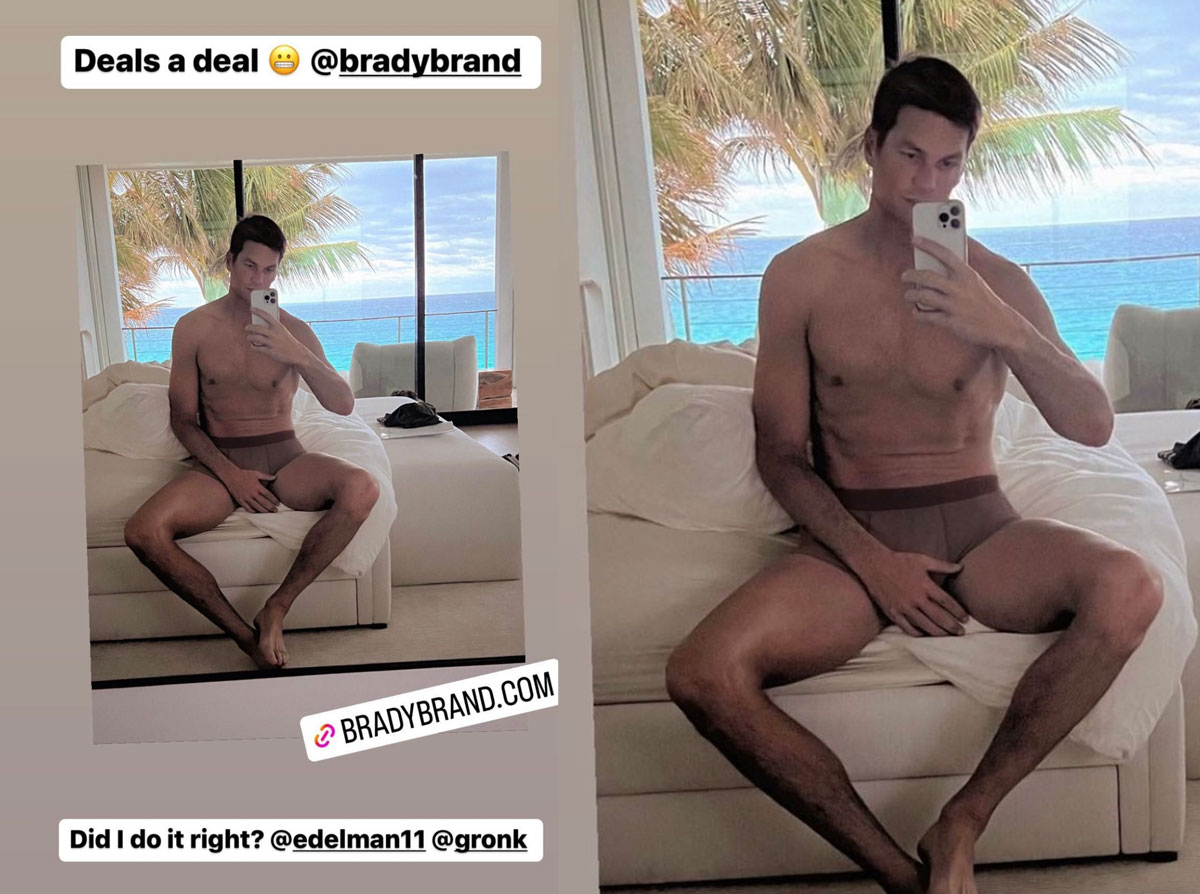 How could anyone forget?? The internet quickly dubbed the February 6 upload a "thirst trap" — a sexy post specifically designed to attract attention. We obviously don't have to explain the term to you. But believe it or not, the 45-year-old says he didn't know what it meant!
Related: Tom's & Gisele Bündchen's Valentine's Day Posts Are Quite Different From Last Year's…
During Monday's convo on his Sirius XM podcast Let's Go! with Tom Brady, Larry Fitzgerald and Jim Gray, the gen x-er admitted: 
"That's, I think, millennial verbiage. I actually even had to look that up, so I didn't even quite know what that meant. But, just thought it was a good picture with some underwear, nothing more than that."
Come on, Tom… You're not THAT old! LOLz! "Nothing more than that." He can try to sell that line about not looking for female attention all he wants, we ain't buyin'! As far as not knowing the terminology, well — he has been married the past decade plus. Maybe he really didn't?
As we previously reported, the NFL quarterback uploaded the photo after promising to do so if a tweet promoting his underwear line reached 40k likes. But come on! It's not just about sales… right? Actually… maybe! He asked in retrospect: 
"Did it motivate you to go buy some? That's what I really want to know. That's what the plan is. That's what it should be. Have the ladies and all the wives, it's Valentine's Day, go buy some. BradyBrand.com. Get your favorite underwear. They're actually amazing. I'm wearing 'em right now, and I promise not to share too many more of those photos. One's enough."
Well, he did lose a lot of money on crypto recently. Maybe he really is more interested in pulling more customers than raking in the DMs!
His co-host Jim Gray then poked fun at Brady, joking that it looks like he's found his post-retirement calling in being an underwear model. We'll see about that!! Watch the full podcast episode (below):
Does it surprise YOU that Tom wasn't caught up on "millennial verbiage" ?? Was he really just in it for the money? Should he post MORE thirst traps anyway?? Let us know all your thoughts in the comments down below!
Related Posts
CLICK HERE TO COMMENT
Feb 15, 2023 06:50am PDT