Bam Margera has turned himself in.
After several days on the run following an alleged altercation at his family's home in West Chester, Pennsylvania on Sunday morning, the Jackass alum has made contact with the Pennsylvania State Police. According to reports published Thursday, the troubled 43-year-old star turned himself in at the same precinct where this week's arrest warrant originated.
Related: Bam Margera Shows Off Face Tattoo Tribute To Son Amid MESSY Child Support War
Myles Snyder, a spokesperson for the Pennsylvania State Police, informed Page Six on Thursday morning that Bam walked into the Avondale substation to face the warrant for his arrest. Then, the MTV veteran was "preliminarily arraigned" by Judge Albert Iacocca in local district court. Bam's bail has since been set at $50,000, per the media outlet.
Per The Morning Call, Bam's attorney was also present at the moment the reality TV star turned himself in, and again at the arraignment. Hopefully, that means the star has wise counsel in his corner to help him make this situation right. Bam is currently not in custody, according to Page Six. His next court date, which will be a preliminary hearing on the assault, harassment, and terroristic threat charges from Sunday's incident, has been scheduled for May 25.
Obviously, considering Bam's Sunday decision to run from police, there is concern he could do that again. But Snyder told Page Six that cops are confident the Viva La Bam alum seems to "know the consequences of his alleged actions," and turning himself in on Thursday morning proves that. We sincerely hope so.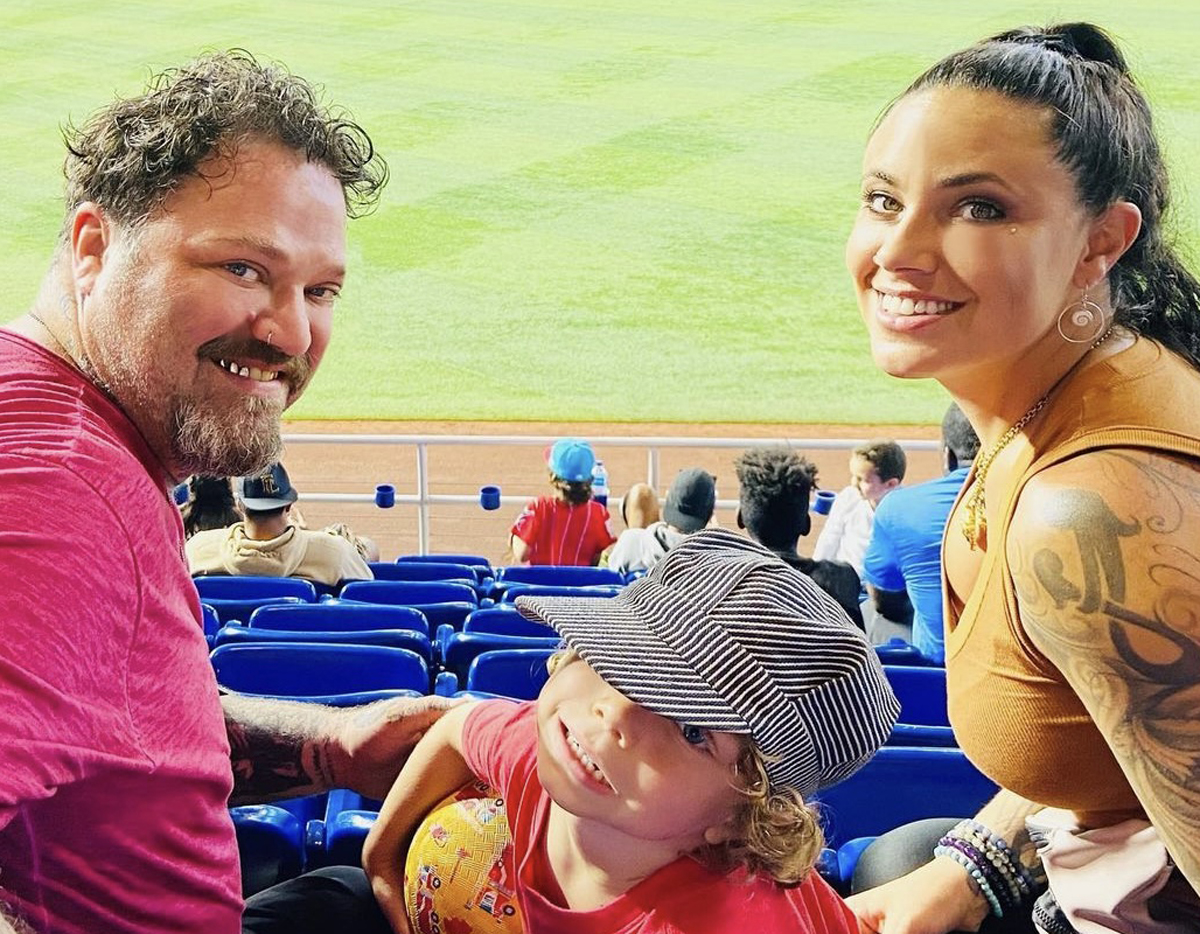 It appears Bam himself has also personally addressed his decision to come forward to the police. On Thursday morning, the longtime prank video star took to his purported (unverified) Instagram page with a picture of himself holding a possible legal document in front of a brick wall.
In the caption, he wrote about the deterioration of his relationship with his brother Jess Margera:
"I just got out of the courthouse with my lawyers. Everything went great and the false accusations of what my brother says are not true and he will be sued for defamation as well as being evicted from castle bam sooner than later. The reason this happened is because I read his phone saying he wants me back in California and he wants to find a way to 302 me. F**k him"
Per the state of Pennsylvania (HERE), a "302" is an involuntary commitment to a mental hospital:
"When an individual is experiencing a mental health crisis, the following service options are available to them: Voluntary admission (201) to a psychiatric unit in a community hospital. Involuntary evaluation and treatment (302) to a psychiatric unit in a community hospital. Mental Health Procedures Act Checklist."
You can see Thursday morning's new courthouse post (below):
Wow.
Thursday's interaction with law enforcement is obviously a major development in the ongoing saga involving Bam. This arrest and arraignment come on the heels of another newly-reported set of disturbing details, too. Earlier on Thursday morning, TMZ reported the skateboarder had been contacting loved ones for the last several days with "disturbing and aggressive phone calls" in which Bam was "blaming them for his struggles."
According to sources who spoke to the outlet before news of the arrest broke, those phone calls centered on Bam's apparent displeasure at being put in a Florida rehab center last year. He reportedly ranted on the phone about that treatment experience, as well as "accusing them of selling his home and stealing money."
Related: Bam Margera's Estranged Wife Nikki Boyd Says She & His Son Are Being EVICTED!
The phone calls were a major concern for family members for several reasons. For one, the messages were disturbing and aggressive, per the report. But even more worrisome was that cops had no clue where Bam was while he was making the calls. The TMZ report noted family members were "extremely worried" about Bam being a "loose cannon" who could do something unpredictable.
Now, by making contact with the police on Thursday, hopefully Bam is on a path to making better decisions. He'd apparently been on the run with his girlfriend and her 8-year-old daughter this week, and that situation sounded very disturbing, to say the least.
Sending love to Bam and his family as we continue to hope he gets the help he needs.
This is not an easy situation to go through — let alone to have it all play out in the public eye.
If you or someone you know is experiencing substance abuse, help is available. Consider checking out the resources SAMHSA provides at https://www.samhsa.gov/find-help/national-helpline or check out StartYourRecovery.org
[Image via Bam Margera/Instagram]
Related Posts
CLICK HERE TO COMMENT
Apr 27, 2023 09:46am PDT