Bam Margera is on the run reportedly with his girlfriend and her 8-year-old daughter after this past weekend's incident in Pennsylvania.
As we've been reporting, the 43-year-old Jackass alum is being sought by cops after allegedly attacking his brother Jess Margera at the family's home back on Sunday morning. Bam fled the scene before the Pennsylvania State Police could show up to assess the situation, and now, cops and family members are desperate to learn of his whereabouts.
Related: Bam's New Girlfriend SHUT DOWN Loved Ones' Intervention After Most Recent Arrest!
Now, Jess is speaking out about the situation. He first took to Twitter very late on Tuesday night to address the reported altercation he had with Bam. In an initial tweet about the lack of follow-up thus far from cops, Jess voiced his frustration at how there weren't any updates as to the MTV alum's whereabouts:
I mean I can talk to my lightbulbs. My car can back out of the garage and pick me up at the front door. Police should be able to track a phone right? Apparently I'm the asshole

— Jess Margera (@jessmargera) April 26, 2023
Then, in the comments, things got even more newsworthy — and even more unsettling.
Replying to one fan who shared well wishes for this difficult situation, the CKY dummer noted that "since his meth habit," Bam is "unrecognizable." Jess also claimed the initial assault allegation from Sunday morning stemmed from some type of unsettling hallucination Bam was having:
"I'm trying to stay positive. Bam really is the sweetest guy when he isn't messed up. But since his meth habit, hes unrecognizable & I really don't know what he's capable of. Seeing him screaming @ at a person that wasn't there, hallucinating. It's really scary & heartbreaking."
Ugh…
Then, when another Twitter follower queried Jess about his famous brother, the drummer revealed his beloved bro is with his girlfriend and her 8-year-old daughter right now while on the run from cops:
"His gf has her phone, I'm obviously very worried about bam but I'm extremely worried about that there is an 8 yr old child w them. I can't even imagine the environment in that car right now. I hope she's okay she is the sweetest kid, she doesn't deserve this unnecessary trauma"
Oh, no…
Jess then doubled down on that angle in a third reply. The rock musician asserted he hasn't seen his kids in several weeks because he doesn't want them around "an unpredictable drug addict that might hallucinate." And he slammed Bam's girlfriend for apparently not having that same outlook:
"it's a bummer because I haven't even seen my kids in 2 weeks because I am not going to put them in danger by being around an unpredictable drug addict that might hallucinate that they are something other than children or whatever. I wonder who bam was screaming at in the kitchen before he attacked me while making coffee. I wish bams gf took the same precautions but clearly she doesn't give one flying f**k about her daughters well being and that is sad af"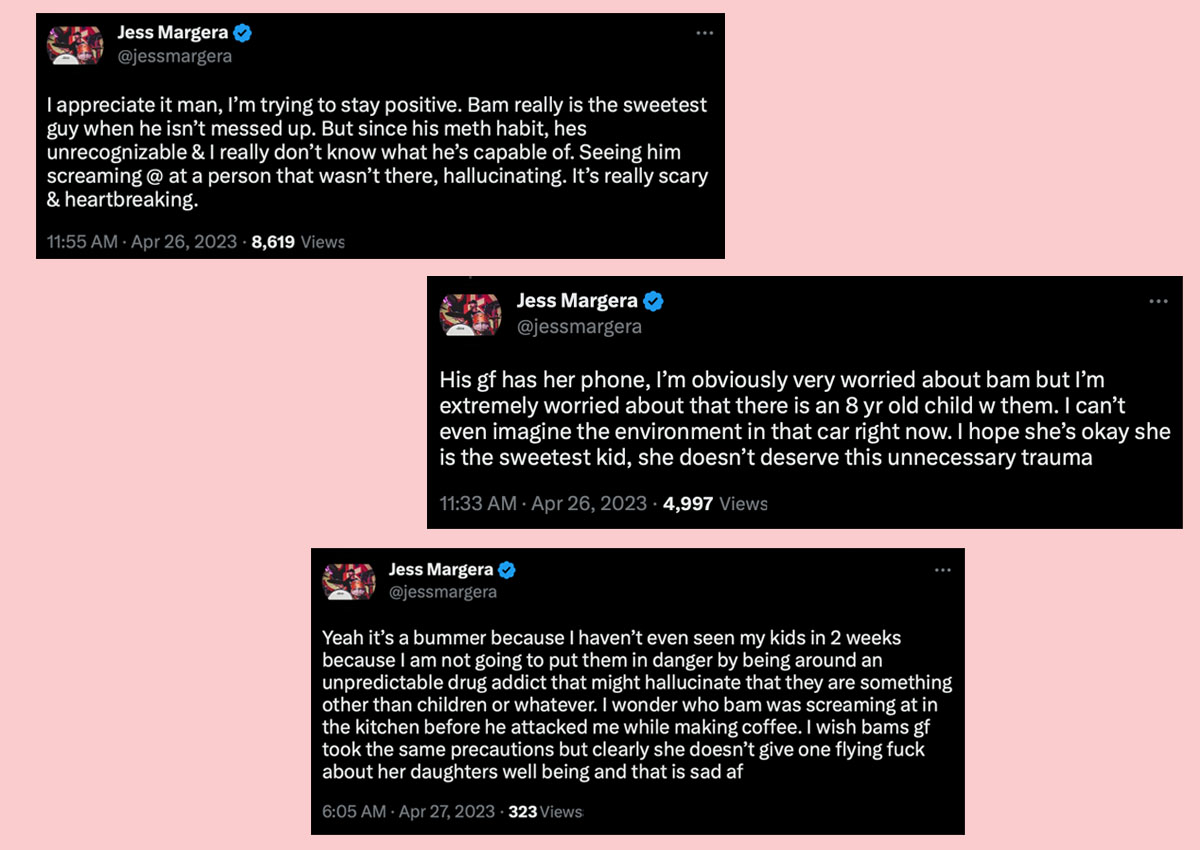 Oof. It sounds like a truly awful situation all around.
Related: Bam Margera Accused Of Threatening To Beat Man To Death For Noisy Sex!
Of course, Bam has been in the news several times recently for legal issues as well as child custody and support controversies with his ex Nikki Boyd. Without question, he has a lot of stressors in his life right now.
We hope he can get to a place where he can take care of these outstanding legal issues and, most importantly, get the help he needs.
Sending love…
[Image via Bam Margera/Instagram/Loudwire/YouTube]
Related Posts
CLICK HERE TO COMMENT
Apr 27, 2023 08:10am PDT