Bebe Rexha has had it with people commenting on her weight.
As Perezcious readers may know, the I'm Good singer has been going through it lately… From social media users commenting on her body, to having a cell phone hucked at her head while performing on stage, it's all been a lot. So you'd think that at the end of the day, she'd be able to go rest and let her guard down in the presence of her boyfriend, right? Well, maybe not…
Related: Sarah Brady Has 'PTSD' From Jonah Hill's 'Emotional Abuse'
The 33-year-old took to Instagram Sunday to expose a text message allegedly from her man, cinematographer Keyan Safyari, in which he appears to address her "changing" body. He started off his message by seemingly addressing a past argument they'd had:
"Hey. I never said you weren't beautiful and I never said I didn't love you. In fact I said how beautiful you are and how much I loved you. But I always said I would be honest with you and your face was changing so I told you it was… that was the conversation we were having and you asked. Because I care, would you rather I lied to you?"
The audacity!! He continued:
"You gained 35 pounds obviously you gained weight and your face changes? Should I just pretend that it didn't happen and that it's ok? Come on I gain 3 pounds and you call me chubbs and fat. Doesn't mean you don't love me."
Seriously? He's making it seem like it's NOT "ok" that she gained weight… And, like, he should have known better than to comment on it. She's made it known that it's a big insecurity for her!
Safyari continued his message:
"If you're trying to find reasons to break up this makes sense… but it's not the real reason. If you're unhappy with me/yourself/with life and don't see a future with us then that's ok and that's the reason. Don't use something like that to weaponize your anger or anxiety or any insecurity you may have. You know I always found you to be beautiful and loved you no matter what."
He concluded:
"I think it's important for you to think about things and write things down, speak to a therapist and do this retreat thing to get to the root of the problem. Let me know if you'd like to speak if you need more clarity. Love you."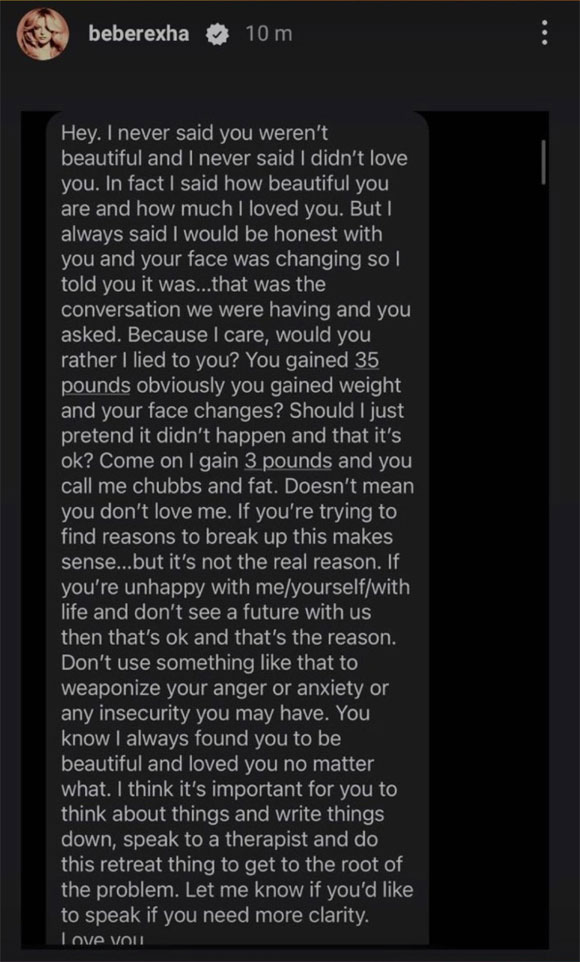 Related: Tom Holland Was 'Enslaved' To Alcohol Before Getting Sober
It sounds like Safyari does genuinely love Bebe, but at the same time, it seems like he's putting a lot of the blame on her for an upset reaction, when he should know full well what triggers her… This all comes just two months after the Grammy nominee opened up about a recent PCOS (polycystic ovary syndrome) diagnosis on The Jennifer Hudson Show in May. She shared at the time:
"I literally jumped 30 pounds so quickly, maybe a little bit more. But we gotta just be positive and just show people love."
See more (below):
Not the best time to bring up weight, Keyan… As of now, it's unclear if the two, who have been dating since 2020, are still together.
What are YOUR thoughts on the whole ordeal, Perezcious readers? And what do you think about the recent trend of celebs sharing personal text messages on social media? Let us know in the comments down below!
[Images via Bebe Rexha/Instagram]
Related Posts
CLICK HERE TO COMMENT
Jul 17, 2023 08:30am PDT