Britney Spears wasn't about to go without companionship for long!
The Lucky singer took to Instagram on Wednesday to introduce the world to her new furry little friend, Snow!
In a video set to Zazie's J'Envoie Valser, the newly-single bachelorette shared a glimpse of the tiny little floof — Brit first pointed the camera down as she stood in place while the puppy circled her feet before she picked the adorable thing up. The vid then cut to the Baby One More Time singer laying in bed as the latest addition to her furry fam sniffed her toes and crawled up her legs. Later in the clip, the adorable doggo appeared to be chewing on a pacifier. Awwww!
Related: Matthew McConaughey's Mom TESTED Camila Alves — Because She Wanted Her To 'Fight Back'
It's definitely safe to say to 41-year-old is treating her like fam! She captioned the post:
"Introducing Snow … the new edition [sic] to the family … it's her world and we just live in it !!!"
See (below):
We can already tell these two are going to be the BEST of pals!
This, of course, all comes just one week after news broke that the Toxic singer and her estranged 29-year-old husband Sam Asghari had filed for divorce after just 14 months of marriage and six years together overall. In divorce docs filed by Sam, he listed the age old "irreconcilable differences" as their reason for separation, which he noted was on July 28. He wrote on his IG story shortly after:
"After 6 years of love and commitment to each other my wife and I have decided to end our journey together. We will hold onto the love and respect we have for each other and I wish her the best always."
We all know how messy it's all gotten since, with cheating and domestic violence rumors flying, the actor threatening to release "extraordinarily embarrassing" details if Brit didn't agree to renegotiate their prenup, and much, much more, which you can read about HERE.
Related: Sofia Vergara Gave Joe Manganiello Her Dog In Divorce Because It Likes Him More!
As far as custody of all the dogs the exes shared together, well, that's already been taken care of. Tuesday afternoon, TMZ reported that the two have agreed to permanently split up their five pooches in the following way: Sam gets to keep their Doberman Porsha full time, while the Womanizer singer gets to keep their other four, which includes a Yorkie named Hannah, an Australian Shepherd named Sawyer, and "two other smaller dogs," according to the outlet. Brit was initially scared he'd try and take 'em all, per reports, but they're "both happy" with the agreement as is, so that's all that matters, right?
Seems like Brit still wanted five good boys tho, so, well, she made it happen!
Well, welcome to the bunch, Snow!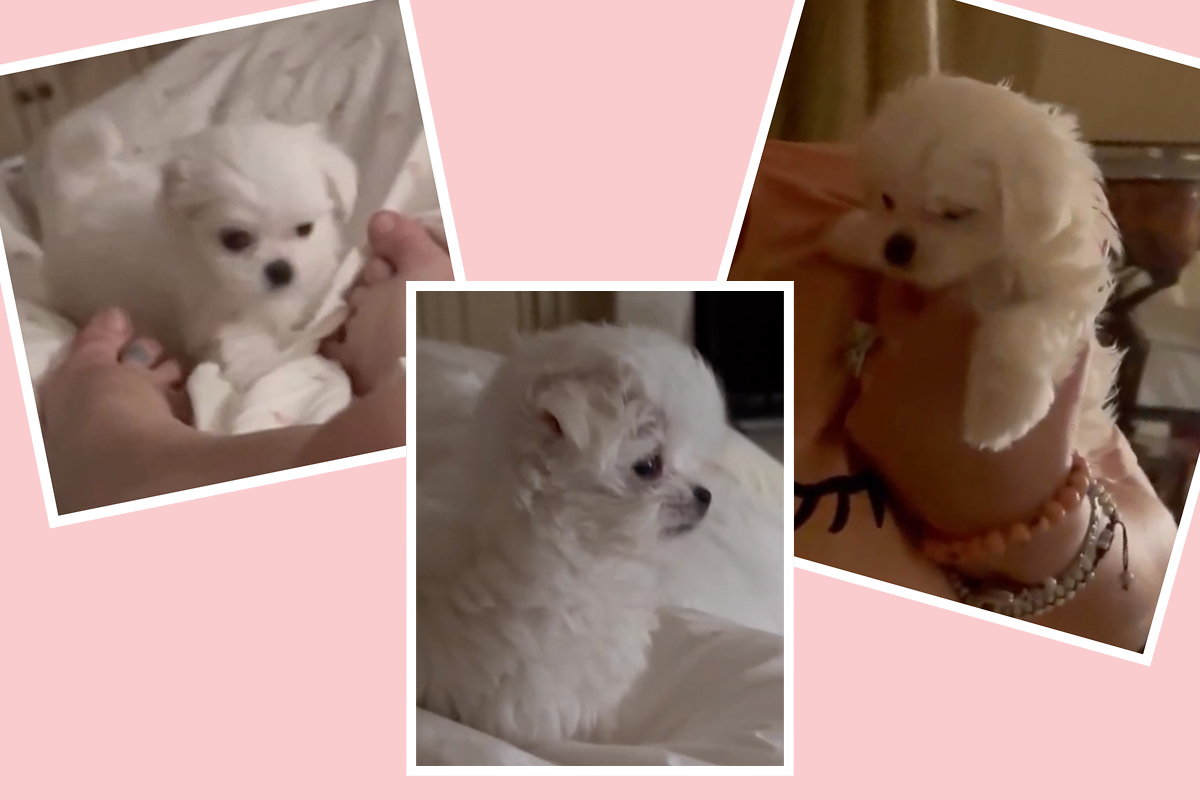 Reactions, Perezcious readers? Isn't Britney's new dog SO sweet? Let us know in the comments down below!
[Images via Britney Spears & Sam Asghari/Instagram]
Related Posts
CLICK HERE TO COMMENT
Aug 24, 2023 06:14am PDT