Ellen DeGeneres is definitely feeling the heat from her critics.
As you're likely aware, the daytime talk show host has been hit with several allegations in recent weeks which claim she is mean to staffers, guests, and is far from the nicest person on TV as she appears to be. According to an insider who spoke with Us Weekly recently, reality has sunk in and Ellen isn't handling this backlash well at ALL!
Related: Bryan Adams Apologizes After Backlash Over Horrific Coronavirus Comments
The insider shed light on what's allegedly going down behind the scenes right now:
"Ellen is at the end of her rope. She thought this was all just sour grapes from a few haters. But it's not a passing thing — the hits just keep coming."
Uhh, sour grapes?! Are we really that out of touch with ourselves, here? Let's consider what's come out about her lately to understand why people aren't buying her nice act anymore!
For starters, we've heard bad stories about the comedienne before — but there also was a viral Twitter thread in which people shared hundreds of alleged "Mean Ellen" stories earlier this year. Then, YouTube star NikkieTutorials came forward and accused the 62-year-old of being "cold and distant" when she appeared on The Ellen DeGeneres Show in January.
The drama continued last month when the actress drew ire for her comments comparing the coronavirus quarantine to being in jail. As you might have guessed, many found her words in poor taste considering she currently resides in a $27 million mansion. Additionally, Variety ran a report which stated her talk show employees had been left in the dark about their jobs and pay during the pandemic, with even her former bodyguard publicly calling her "cold" and "dehumanizing."
While it's her word against theirs, this is still pretty shocking to hear about a woman who tells everyone to "be kind to one another" on every episode of her show.
Thankfully for her, Ellen does have someone fighting in her corner!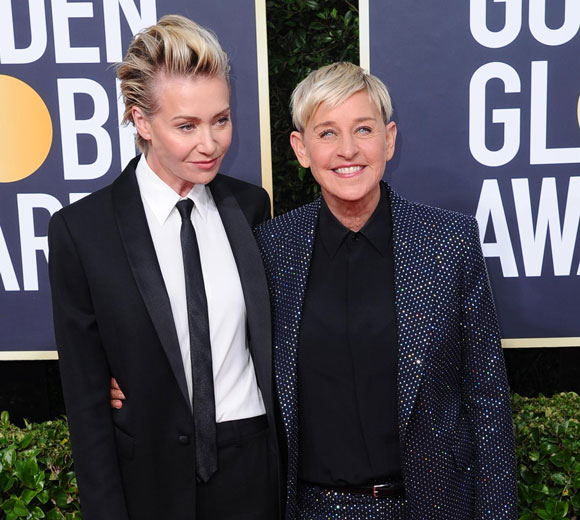 The star has been leaning on her wife Portia de Rossi and some trusted close friends, as the source noted:
"Ellen's so grateful to have Portia in her life as a soulmate and a sounding board, but that doesn't mean it's been easy. Their home life is strained right now. Her real friends never ask her to be funny or tell jokes. They accept her as is."
Maybe they should encourage her to take a long hard look in the mirror! Nobody's perfect. In fact, that kind of advice might be exactly what she needs to change. As DeGeneres' ratings continue to soar, she's apparently less concerned about the opinions of others than she is about remaining on the air:
"Ellen's been in our homes for so long, it'll take a lot more than a bodyguard and a blogger to change how people feel about her. Her best response is just being happy Ellen on the show every day."
But is that really the best response, though?
We understand the idea of taking the high road, but if there's legitimate feedback about poor behavior on your part not just from "haters," like guests and people who work on your show, wouldn't that be something to address? Even without a dip in ratings, isn't being authentic, KEEPING the trust of your audience, and being real more important??
We'd love to hear your thoughts on this, Perezcious readers. Are U as fired up as others are about Ellen's flippant attitude? Will U still tune into her show? Let us know (below) in the comments.
[Image via WENN/Instar]
Related Posts
CLICK HERE TO COMMENT
May 13, 2020 09:30am PDT