George Foreman Pays Tribute To Daughter Freeda Following Her Sudden Death At Only 42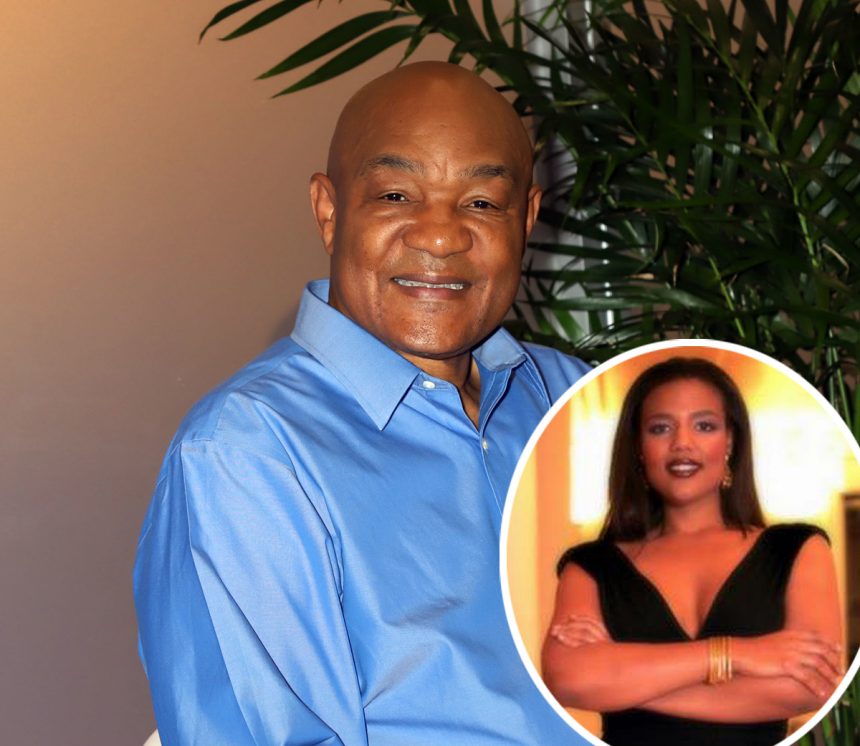 UPDATE 9:35 A.M. PST: Early reports are claiming Freeda died of an apparent suicide by hanging.
Per TMZ, a spokesperson for the Harris County Precinct 4 Constable's Office revealed the indications of asphyxiation, though the coroner has yet to reveal the official cause of death.
Our thoughts are with her family and loved ones during this difficult time.
———-
George Foreman is reeling over the loss of his daughter, Freeda.
The boxing icon took to social media over the weekend to share a heartbreaking memorial in honor of the 42-year-old, who passed away on Saturday.
According to TMZ, the former pro boxer was found unresponsive by a family member inside her home near Houston, Texas. Police say there was no foul play, but they are still waiting on a report from the coroner's office on the cause of death.
Related: Luke Perry's Fiancee Releases Heartbreaking Statement
Her father paid tribute to her the following day, writing on Twitter Sunday:
"Daddy I want to Box, 'Get an Education first' I said, well she brought The bacon home (degree) 2 Kids 3 Grands (Husband). First Sunday in 42 years without my Freeda."
Freeda went pro in 2000, following in her famous father's footsteps with a short but successful boxing career. 
George, who was two-time heavyweight champ, was not happy about his daughter's decision at the time — he even reportedly offered her $15,000 not to box professionally.
Related: Jennie Garth SLAMS Fans Trolling Her Over Luke Perry Tribute
But, she didn't listen. Freeda finished her year-long career with a 5-1 record with three knockouts. In 2001, she left the sport to focus on raising a family and pursuing other passions. Per her LinkedIn page, Freeda was studying studied criminal justice at Sam Houston State.
George, who is the father of nine other children other than Freeda — five sons all named George and four daughters — continued in his post:
"She's With her maker now. 10 kids forever. Just 1 more day I wanted okay 1 more year [1] more decade."
The boxer is survived by her husband, their two children, parents, and siblings.
Our hearts go out to Freeda's loved ones. Take a look at Foreman's social media memorial (below).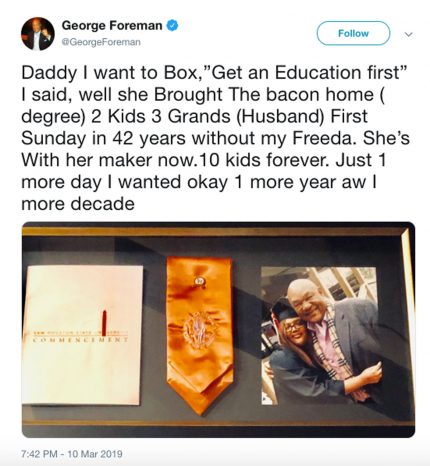 We'll keep you updated as more details come to light.
Mar 11, 2019 7:45am PDT