Gwyneth Paltrow is getting candid AF!
On Wednesday's episode of Call Her Daddy, the Goop founder opened up about some of her most famous romances — including who was better in bed! While reminiscing on her first whirlwind romance and engagement with Brad Pitt in the '90s, she said:
"Major love at first sight. It was crazy."
Aw!
Related: Terry Sanderson Considering Appeal After Losing Ski Crash Trial!?
The pair met on the set of Seven in 1995 and got engaged after two years of dating while on a trip in Argentina, she recalled:
"One night we were on the balcony of this house we were renting in this little town in Argentina. I wish I remembered exactly what he said, but he proposed, it was fantastic, I was thrilled. We had talked about it, but I was surprised in the moment, I remember that. I must have been 24."
Unfortunately, just six months later, they called it quits because she ultimately didn't feel ready for the next step:
"I had a lot of development to do, looking back in hindsight. In a lot of ways, I didn't really fully start to come into myself until I was 40 years old. And I had such a pleasing issue. I didn't really even understand how to listen to my instincts and act from that place for what was right for me. I was always trying to adjudicate what was right for everyone else."
She continued:
"When I look back I really was a kid, really more than most 22, 24 years old I meet now. I really had not explored who I was, what was important to me, what my boundaries were."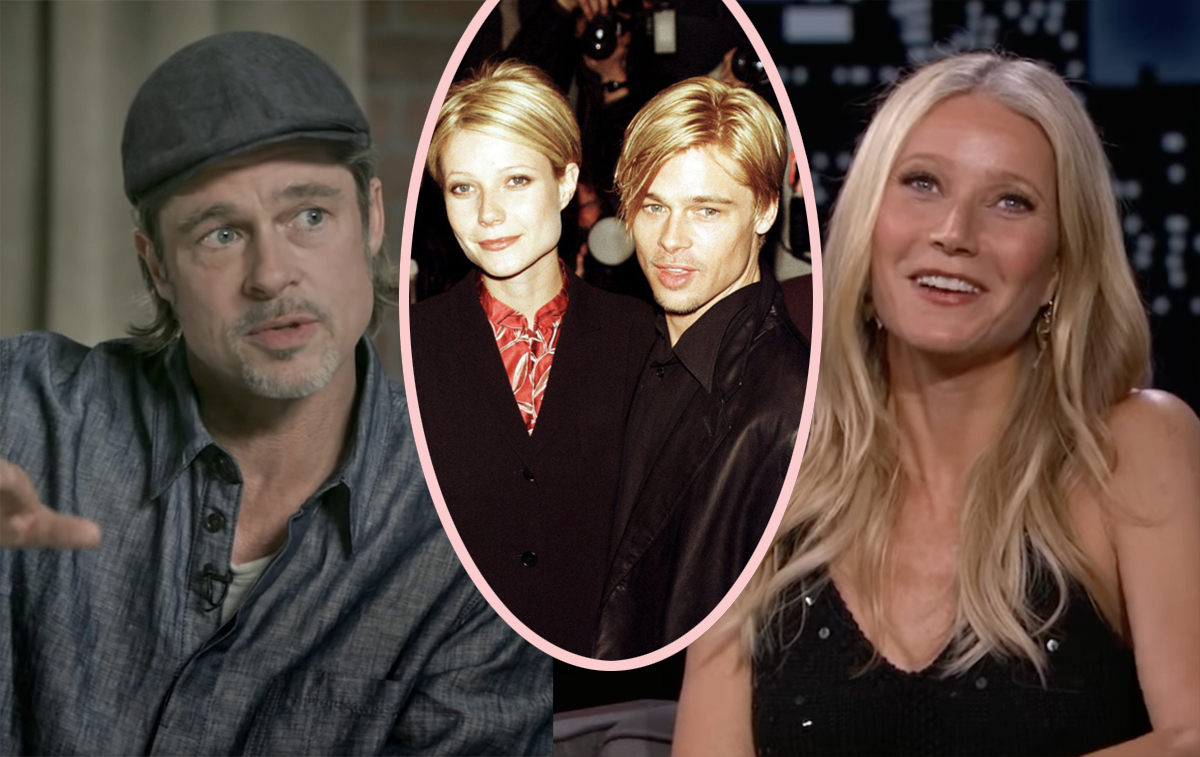 Despite knowing it was the right thing to do, she was "totally heartbroken when we broke up," she noted:
"It was the right thing at that time, but it was really hard. There were a number of things that had happened, he was nine years older than me so he was far more … he knew what he wanted, he was ready to do it and I was kind of all over the place, so it was really one of those difficult things, where I felt like, 'Oh my God, not only am I not ready, I'm not living up to the standards again.' It was a familiar refrain I felt about myself."
Remarkably, the performers have maintained a close friendship ever since, and she went on to say "he's a great guy," sharing:
"He's wonderful, I really like him a lot."
Later, host Alex Cooper asked the Iron Man star to play "Brad or Ben," in which she had to compare the Bullet Train star against Ben Affleck, whom she dated on and off from 1997 to 2000. After revealing they were both "good kissers," Gwyn was pressed to crown the best in bed, which she said was "really hard," musing:
"Brad was like the sort of major chemistry, love of your life, kind of, at the time, and then Ben was, like, technically excellent."
Alex then teased:
"God bless J.Lo [Jennifer Lopez] and everything she is getting over there!"
LOLz!
Related: Gigi Hadid & Leonardo DiCaprio Go To SAME Met Gala After-Party!
The Shakespeare in Love alum also played a round of "f**k, marry, kill," including Brad, Ben, and her ex-husband Chris Martin. Sweetly, of the Coldplay frontman, she said:
"I would do that all again."
Elsewhere in the podcast, she said of her marriage and the father of her children, Apple and Moses:
"I couldn't quite put my finger on it because it felt very different than my other relationships. And it's not so much that the relationship itself turned out to be, like, healthier than my other relationships, it's just that I think I had this deep calling on some level."
She went on:
"I knew he was going to be the father of my kids, maybe, or something."
Ultimately, she'd take Brad to bed and kill Ben, she teased, "God bless him." Hah! The mother of two also revealed another hawt suitor who once tried to get with her — Leonardo DiCaprio!
"Nope, never made out with Leo. He tried back in the day. But he was already like, you know, he was very loose with the goods from when he was 19."
LMFAO! After all these romances, the beauty guru found her match in Brad Falchuk, whom she married in 2018. What do you think of her walk down memory lane?? Let us know (below)!
[Image via WENN/SIDEWALK/Marcus Hoffman]
Related Posts
CLICK HERE TO COMMENT
May 03, 2023 07:30am PDT