Prepping for the big sale??
Kim Zolciak-Biermann took to Instagram on Sunday to share a fun moment of husband Kroy Biermann tidying up their Georgia mansion — just days after it was announced it will be sold off in an auction next month. And they don't seem to be too worried just yet! In the silly IG Story, the Real Housewives of Atlanta alum filmed the former NFL star as he vacuumed their 7-bedroom property in nothing but a pair of black underwear! She teased him, saying:
"Get yourself a man that does it all, folks, okay? Mhm…yes sir."
Does it all… except pay their bills… LOLz!
Related: Huge Boulder Slams Through Home & Misses Woman By INCHES!
Ch-ch-check out Kroy's NSFW cleaning attire (below)!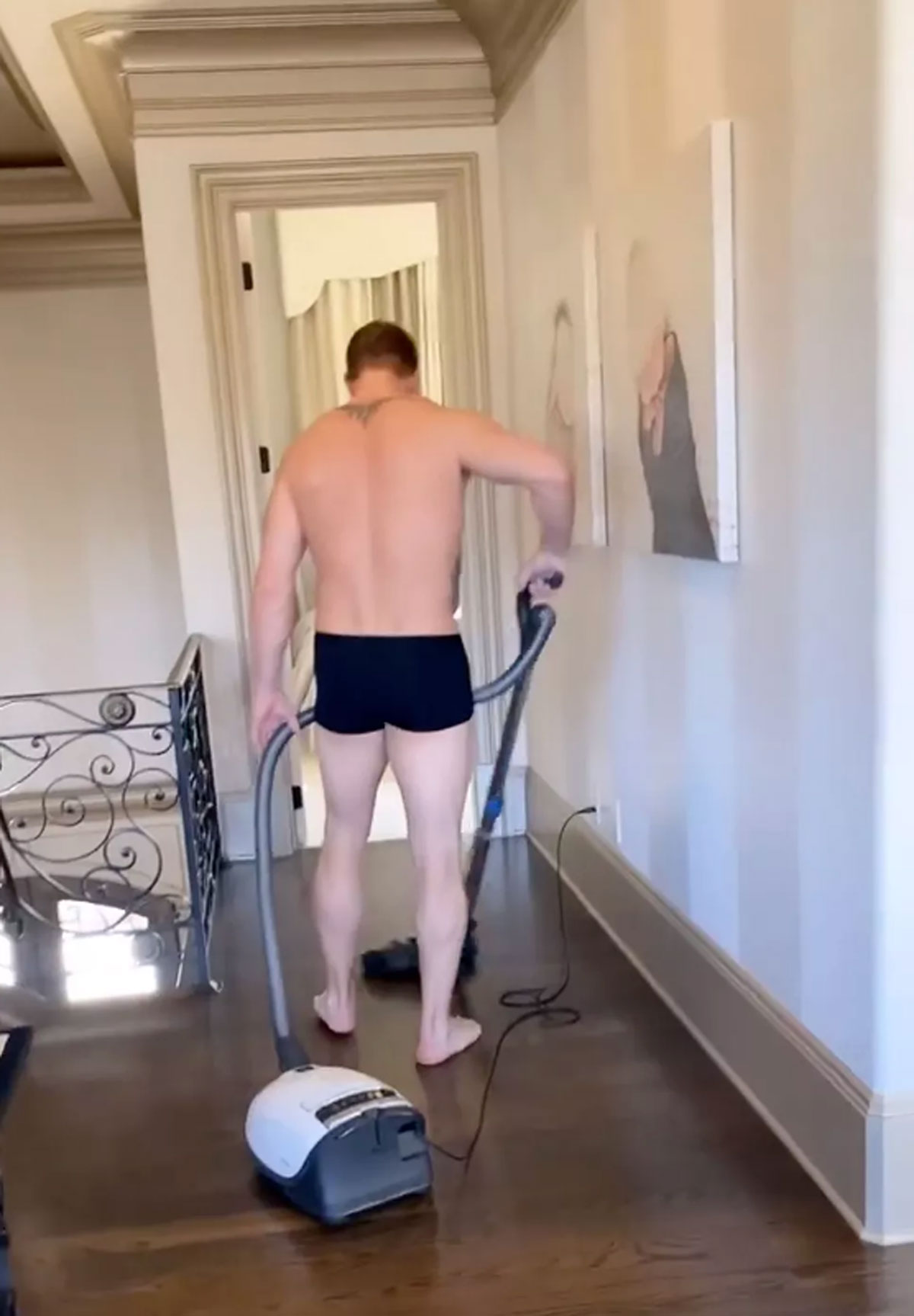 As we reported, a notice shared last week by Fulton County revealed that the couple's home is once again in foreclosure. After the duo failed to pay back $1.65 million worth of loans (plus taxes and fees), which they took out for the property in October 2012, Truist Bank has announced it will auction off the property to the highest cash offer on March 7 in front of the Fulton County Courthouse. After renovations on the property, the home is estimated to be worth about $2,540,300. It's going to be a very sad day for the family considering how much they've put into the mansion. Take a look at a tour Kim gave on her series, Don't Be Tardy, back in 2015:
The family purchased the home in 2012 for $880,000, taking out two mortgages to finance the residence, according to court records. It sits on the 18th hole in the Manor Golf & Country Club. Aside from the many bedrooms, it has a huge basement, six-car garage, and in-ground pool, as seen above.
Related: Prince Andrew BOOTED From Buckingham Palace — For Good!
Interestingly, this isn't the first time the 44-year-old singer has dealt with foreclosure rumors! Back in November, she clapped back at reports the family was about to lose the roof above their heads after they couldn't repay a $300,000 loan. At the time, the mansion was rumored to have sold for $257,000, but she denied the whole thing, saying:
"Ok you guys, my house has not sold for $257,000. If you guys think I would let my home that we've put millions and millions of dollars into go for $257,000, you're an idiot, okay? For real."
Taunting her haters, she continued:
"So, what are you gonna do, haters, when I'm here for Christmas, and I'm here for my birthday in May, and I'm here for all these amazing dates? I'm here until I f**king want to move, until I decide I don't want to live here anymore. So, enjoy the view, haters. You're going to be seeing it for quite some time."
And yet, if these rumors are true, it looks like she's going to have to leave very soon! So far, Kim and Kroy have yet to address the latest foreclosure chatter, but it seems like she's trying to subtly prove they're still happily residing in the fancy abode. At least for now! Thoughts?! Sound OFF (below)!
[Image via Bravo/YouTube & Kim Zolciak-Biermann/Instagram]
Related Posts
CLICK HERE TO COMMENT
Feb 20, 2023 15:00pm PDT