Meghan Markle isn't going to let her half-sister Samantha Markle win that easily!
The Suits alum's team was in court on Wednesday trying to convince a judge to toss Samantha's defamation lawsuit out — and it might have worked! As we've been following, Samantha is seeking $75,000 in damages from the actress and her husband Prince Harry for alleged lies spilled in their Oprah Winfrey tell-all and the 2020 biography Finding Freedom, which was written by Carolyn Durand and Omid Scobie. In particular, she's arguing her sis made false claims in a public setting that subjected her to "humiliation, shame and hatred on a worldwide scale."
As recently as last week, the 58-year-old managed to snag a pretty big win in the case when Judge Charlene Edwards Honeywell handed down a ruling ordering Meghan and Harry to sit for depositions "within the next few months," according to a DailyMail.com report. But Meghan's team requested the judge rule on their dismissal motion before the Sussexes sit for any testimony. Now, they're one step closer to getting the case thrown out!
Related: Harry Won't Attend Charles' Coronation If He Thinks It'll Be Like THIS Event!
In court on Wednesday, the 41-year-old's camp clapped back at Samantha's claims — poking a ton of holes into her case! According to TMZ, one of Samantha's arguments is that Meghan lied about being an only child. They both share their father, Thomas Markle, though they were estranged for much of their life. The Archetypes podcast host's team slammed the argument, insisting Meghan never said she was solo, but told Oprah she grew up as an only child.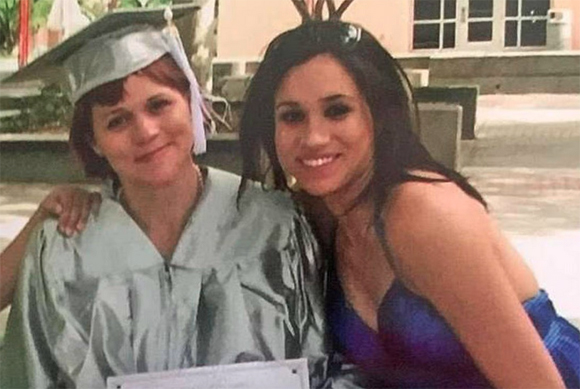 Similarly, Samantha claimed the Duchess of Sussex lied about her upbringing — and then when she was caught in the lie, she attacked her half-sister to cover up her own wrongdoing. To make this point clear, Samantha suggested Meghan's rags-to-riches narrative about her upbringing was all false since she came from a middle-class background. She also insisted their father paid for Meghan to do all sorts of things, like attend elite private schools and for tuition at Northwestern University, as well as dance and acting classes.
Related: Proof Princess Catherine IS A Hugger — Despite Meghan's Claim!
But once again, Meg's lawyers fought back, reiterating their client only ever stated her impression of her life growing up. A minor but perhaps very important detail. They then asked the judge to toss out the case because the claims are "offensive" and "inappropriate." While no decision has been made, it sure looks like the judge is leaning toward Meghan's side!
According to TMZ, Judge Honeywell said she was "struggling" to see how Meghan's statements were defamatory. The case is currently under advisement. Interestingly, this is not the first time the legal professional has suggested there may not be much weight to Samantha's arguments. Earlier this month in a "preliminary peek" at the case, the judge noted the whole thing may be "ripe for dismissal" but no decision has been made yet. Either way, this hearing seems to have leaned in Meghan's favor! Thoughts?! Do you think these claims were defamatory? Let us know (below)!
[Image via MEGA/WENN & Fox News/YouTube]
Related Posts
CLICK HERE TO COMMENT
Feb 16, 2023 08:00am PDT