We're sure when Michael Buble and Luisana Lopilato started making Instagram Live videos for fans, they never expected this kind of controversy. But before you could sing the first verse of Imagine, they were already facing some pretty serious backlash.
Many who watched the couple's interactions suddenly got the impression nice guy Buble was not so nice after all. His treatment of Luisana even led some fans to describe the behavior as red flags of domestic abuse!
Related: Rob Kardashian Accuses Blac Chyna Of Assault & Gunplay
Several posted messages directly to the Argentinian actress begging her to leave her marriage to the 44-year-old singer.
Here's what one viewer had to say, tweeting along with a clip of Friday's livestream:
"I don't know about you but I saw this and was outraged by Michael's treatment of Luisana, seriously WTF"
no sé ustedes pero yo ví ésto y quedé indignada con ese trato de Michael a Luisana , en serio quedé WTF pic.twitter.com/tuzyizgQTq

— Sol Agustina (@solciadler) April 10, 2020
Here's that entire IG video for context:
Concerned fans pointed to Michael seeming to elbow Luisana then yanking her arm, as well as other instances where they say he seems visibly angry at her over nothing.
The Canadian crooner has not responded to these comments — but he's likely gotten wind of them. While most of the videos the couple have been making were reposted to his YouTube channel, that particular one is absent. Hmm.
However, as more fans posted their concerns, Luisana hit back. She posted on her IG account Saturday:
https://www.instagram.com/p/B-3tD-fllFs/?utm_source=ig_embed
In English, that pic reads:
"Always do what's right and leave the consequences to God"
In the caption, she writes:
"It's incredible how some human beings are!! While we suffer this pandemic and we live moments of confinement, anguish, fear, loneliness and uncertainties of all kinds! Every day we go out with my husband to do lives to bring you a little joy, entertainment and we have to listen and see what malicious people publish without knowing anything about our family."
She isn't just defending her hubby, she's downright angry at people spreading these accusations!
"I want you to know that I have no doubts who my husband is and I would choose him a thousand times over!! It's not fair! These people are doing harm and taking advantage of this pandemic where people are suffering, dying to have fame and more followers."
She seems to be upset by the person who first started the Twitter thread about it, but she finishes by asking all her fans to stop spreading any of this:
"They are telling lies that I will not allow because they disrespect my family, so I ask you, who have trusted me so much over the years, that you do not allow it either! Without more to say and doing what I think is right when they mess with my family, I leave the consequences to God! The world needs more than ever 'love, hope, values, unity and solidarity' NOT these types of people."
The controversy did NOT end there.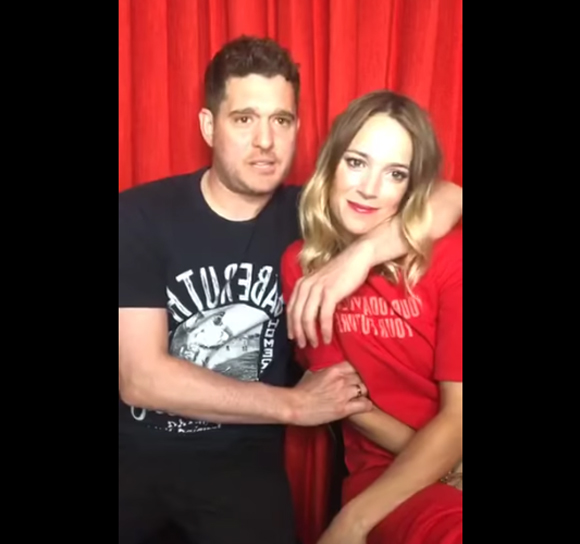 That post served as a lightning rod for concerned fans, who wrote (almost entirely in Spanish) comments like:
"Are you kidding? He treats you like an a**hole in all the videos, there's no joke or anything funny in it. No one assumed anything because the videos speak for themselves"

"Not only the mistreatment towards her, but the submission of her asking for forgiveness in two languages ​​while looking down. It gave me a horrible feeling."

"Girl, TAKE A HINT!!!!! He gets mad at you take for being late to a IG Live. Because you translate when he did not wanted to. He hit you. Get out of there. That is violence!!!!"

"The girl who uploaded the thread saw what you don't see, as it usually happens. It wasn't just one video, there are many and the abuse is in plain sight, nobody is making it up. You do not see it and it is understandable (we assume), but it's not fair to say that she did it with a bad intention because she only tried to show MB's violence towards you. Many women suffer violence and these acts are signs that this could just be the beginning of something worse."
Luisana didn't post again but did respond to all these comments in yet another video at Michael's side. She said:
"I've seen your messages over the weekend and I am very thankful. Thank you for worrying. It's very important that we pay attention to these problems that have been mentioned and that I am lucky not to suffer. But it is important to pay attention to be able to help women that are going through it. Thank you. But it's not in my case."
Here's that vid, which is on Buble's YT channel:
Fans still don't seem to believe Luisana, despite her protests.
What do YOU make of this situation, Perezcious readers??
Related Posts
CLICK HERE TO COMMENT
Apr 14, 2020 12:30pm PDT