Pink is getting more flack for posting a new picture of her kids on Instagram!
After recently slamming the "parenting police" before they could even get a chance to mommy-shame her over a snap of her children, Jameson, two, and Willow, eight, running through sprinklers, the songstress has become the target of their hate once again.
Related: Pink Reveals She Suffered A Miscarriage At 17
On Sunday, Pink shared an IG carousel of pics from her time in Berlin, Germany, including one of the kiddos running through the Holocaust Memorial. Some commenters criticized the shot, with one user writing:
"Τhis place is not definitely a hide and seek place,dear Pink"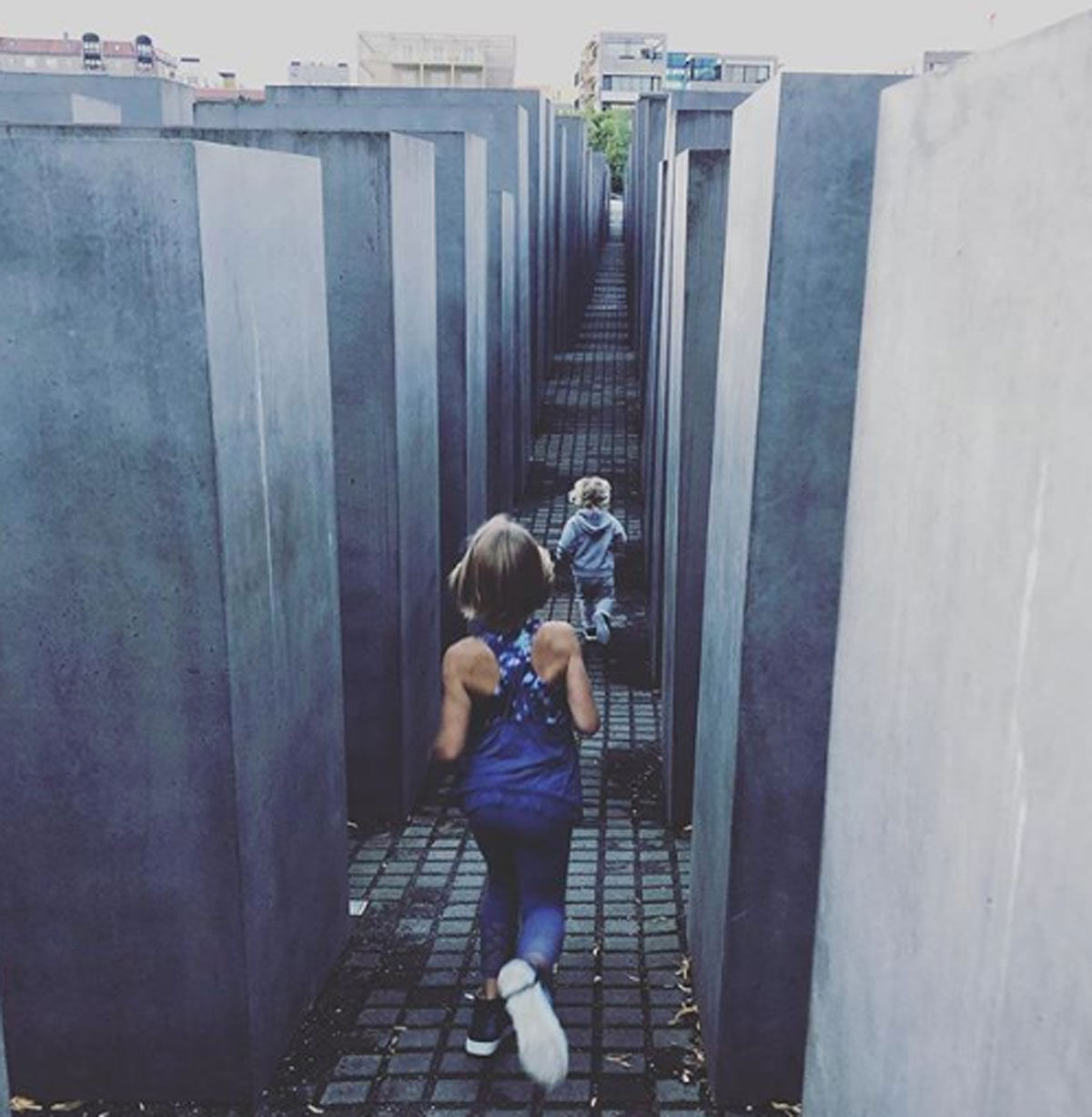 Like any momma bear would, the 39-year-old musician defended her offspring in the caption of her post, sharing:
"And for all of the comments; these two children are in actuality Jewish, as am I and the entirety of my mothers family. The very person who constructed this believed in children being children, and to me this is a celebration of life after death. Please keep your hatred and judgment to yourselves."
Thankfully, she had the support of many of her fierce fans in the comments, too.
See some of what they had to share (below):
"I think this is a naturally beautiful photo of children being children, being free..that purity and freedom hasn't always been a guarantee so let's just embrace it shall we."

"guys, the holocoust memorial in berlin has tons of information about the people and families who died – a memorial where children can learn about the atrocities that took place but please don't imagine for one second that the people who died in that massacre wouldn't want the sound of children's laughter to surround the space outside because it is SO HEAVY inside. rightly so. and there are legit teenagers who do the same. y'all should figure out why pink would post this if she didn't already know half the friggin world would freak out about it – the woman has immense respect and reverence, and a sensible head on her shoulders so y'all need to take a chill pill. ??"

"Peter Eisenman (the architect) said he wanted visitors to the memorial to behave freely, and has said he can imagine it as a place where children play between the pillars or picnic on the fringes. He has made it clear that he wants it to be a part of every day life rather than a holy place. -DW.com
On another note this site is not where any of the atrocities happened. So no one is jumping on anyone's actual graves. On a final note these are children behaving freely and spontaneously as children often do. Without judgment."
Even Selma Blair came to her friend's defense, commenting:
"I love Berlin too. I love that what happened is not being forgotten. I love this celebration of life. I love you."
Ch-ch-check out Pink's full post (below):
It was nearly three months ago the Just Give Me a Reason artist announced she was done posting pics of her kids to social media after getting attacked online over one photo where she had taken off her son's swim diaper.
The momma of two told Ellen DeGeneres at the time:
"People went as far as saying someone should call child services because he didn't have a diaper on and how dare I… some of the nastiest things. I cried so hard after that because I like to share my family. It's my proudest moment. I'm prouder of my kids than anything I've done in my whole life. I just won't share them anymore. I won't do it. I'm not posting pictures of them anymore."
It was completely understandable why she would want to stop sharing that aspect of her life on Twitter or Instagram, but we're so glad she's returned and is giving a big "F-U" to the haters!
[Image via WENN]
Related Posts
CLICK HERE TO COMMENT
Jul 15, 2019 07:02am PDT