This is unexpected!!
Prince Harry and Meghan Markle just extended a seemingly well-received olive branch to King Charles III — and it could be the first sign of real reconciliation on the way.
Despite getting snubbed from his father's 75th birthday celebration, the Duke and Duchess of Sussex still made an effort to show their appreciation for the king on Tuesday by giving him a call to wish him a happy birthday! According to The Telegraph on Wednesday, the couple chatted with Charles on his special day — a phone call that marked a "turning point" in their relationship. They also got the kids involved by having Prince Archie and Princess Lilibet sing Happy Birthday to their grandfather in a pre-recorded video. Sweet!
Related: Harry & Meghan 'Learning To Lighten Up' After Rough Few Months
Proving things could be looking up for the estranged family, the outlet made a point to note the conversation was "warm" and marked a "notable shift in tone" between the father and son. As we all know, things have been rough for the pair ever since Harry moved with his wife to California and began spilling royal secrets in various bombshell interviews and his book, Spare, leaving him estranged from his relatives.
Earlier this month, there were no signs of improvement when British tabloids made it seem like the Invictus Games founder would be skipping Charles' b-day party — only for Haz's spokesperson to reveal he wasn't even invited! Oof!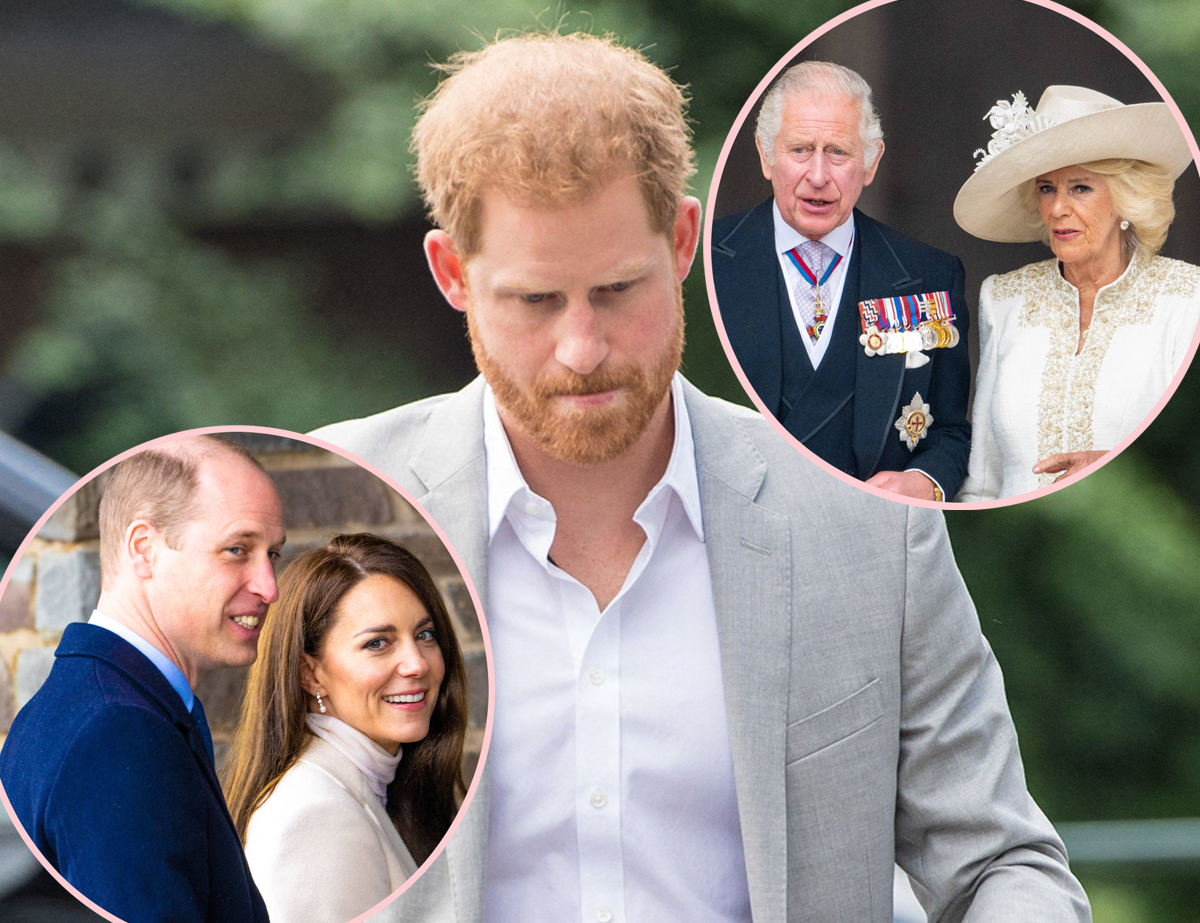 It's certainly good of Harry to be the bigger man and still wish his dad well on the milestone day. And even better? It sounds like this wasn't a one-time call! While things between Harry and Prince William aren't improving at all, royal author Omid Scobie, longtime friend of the Sussexes, told People on Wednesday that the Archewell co-founder gets along better with the patriarch, explaining:
"A striking difference between Charles and William when it comes to their relationships with Harry is there is still a warmth with Harry and Charles. With Harry, there's a reluctant acceptance that this is just who his father is."
As for the calls, the writer of the upcoming book Endgame added:
"He would rather have that in his life than to cut it off completely. Hence, when they talk, it is often [Harry] reaching out. And I was surprised to learn that even Meghan has some sort of correspondence with Charles, sending over photos of the children, although they're not directly to him. So there is a willingness there."
This is certainly better than no communication at all!
And there's MORE good news!
After getting publicly exiled from the royal family, the 39-year-old was actually included in The Firm's official birthday post for Charles! On Tuesday, they posted a compilation video of photos throughout the monarch's life, and Princess Diana's secondborn was included! Ch-ch-check it out (below) — though we have to warn you, blink and you might miss him. LOLz!
To go from not being on speaking terms to all to this is a pretty great improvement, and we could be seeing more of it. Last month, a former palace staffer told the Daily Beast:
"Ultimately Charles has not just a personal but also a strategic need to resolve the issue. […] It's not sustainable for the king, who is the national symbol of unity, to be on such bad terms with his son."
We'll cross our fingers and hope this is true! Reactions? Sound OFF (below)!
Related Posts
CLICK HERE TO COMMENT
Nov 15, 2023 11:53am PDT