WWE Stars Mourn Hall Of Famer 'Mean' Gene Okerlund, Dead At 76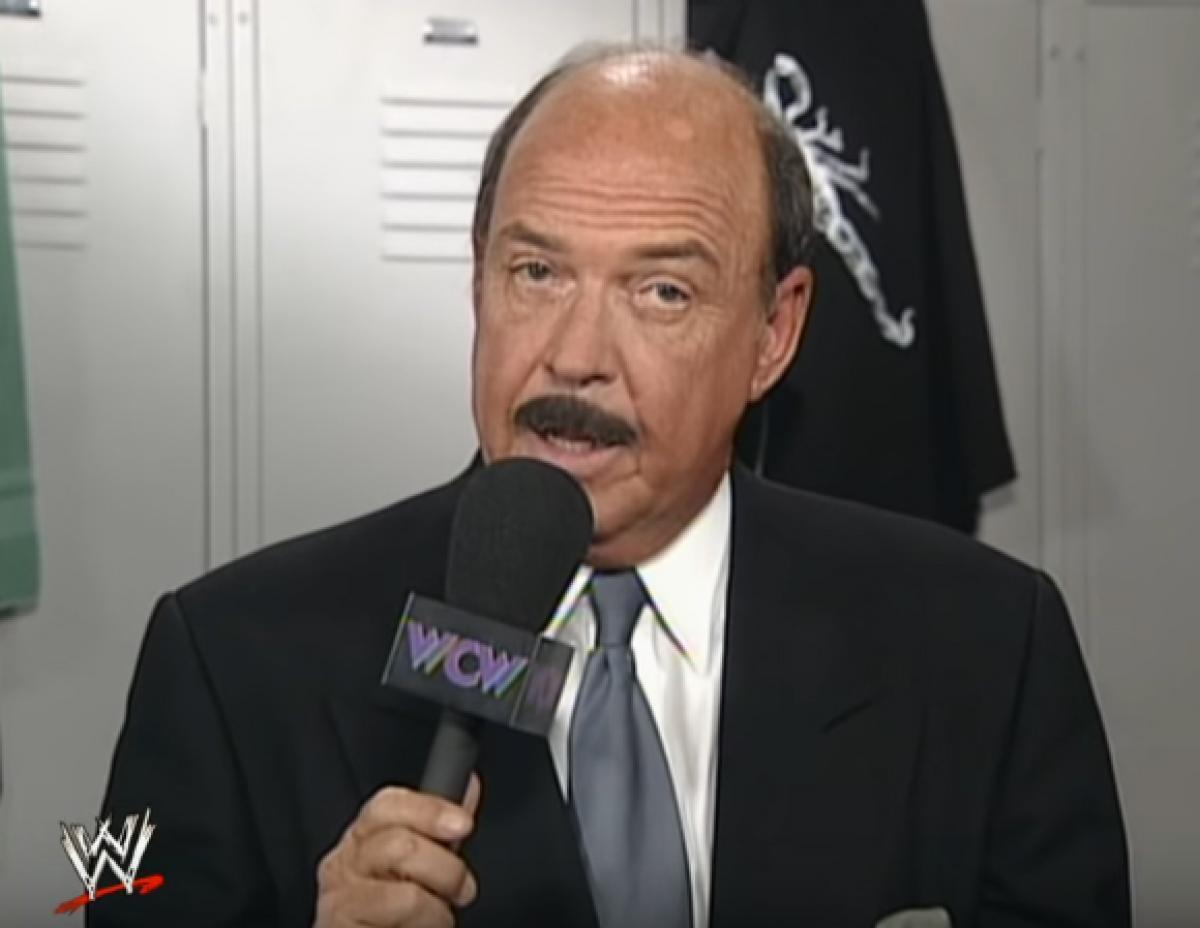 We are so sad to report the loss of a legend in the pro wrestling world.
"Mean" Gene Okerlund has passed away at the age of 76 after numerous health battles, per a statement released by the WWE.
Okerlund began his career as a wrestling announcer way back in 1970 with the American Wresting Association then moved to the WWF (which eventually became the WWE) in the '80s. He was inducted into the WWE Hall of Fame in 2006.
As a backstage interviewer, Okerlund was the ultimate straight man, possessed of the rare talent to keep a poker face while giants like Macho Man Randy Savage and Nature Boy Ric Flair flexed and screamed in his face about what they were going to do to their opponents.
Immediately after the news hit, tributes came pouring in on Twitter from stars of the industry past and present. See just a few of the countless final messages to Mean Gene (below):
One Of My Closest Friends Since 1972 Until This Very Sad Day In 2019. Not Only The Greatest Voice And Personality In The History Of Announcing, But A Man Who Touched Everyone's Life Who Were Fortunate Enough To Know Him. Rest In Peace Knowing No One Will Ever Replace You. pic.twitter.com/i7illbxQgw

— Ric Flair® (@RicFlairNatrBoy) January 2, 2019
Just heard Mean Gene Okerlund has passed away. As an interviewer, pitch man, announcer, or host, he was untouchable. Simply the best. Total professional with quick wit, sarcasm, humor, and that golden voice.
Condolences to his friends and family.

— Steve Austin (@steveaustinBSR) January 2, 2019
Super bummed about Mean Gene. Literally JUST sat down last week to do an interview about his legacy. He was the most iconic backstage interviewer in wrestling history in my opinion. #RIPMeanGene

— Seth Rollins (@WWERollins) January 2, 2019
A voice and sound track to an entire era of our industry. He was the star of some of @WWE's most memorable segments. "Mean Gene" was beloved by all who got to work with him. Our thoughts are with his family at this difficult time. https://t.co/9ddj6372eE

— Triple H (@TripleH) January 2, 2019
Gene Okerlund was an incredibly rare talent. He made everything and everyone better. #ThankYouMeanGene for all the incredible memories. Our condolences to his family and loved ones. https://t.co/IxpjiLo9UN

— Stephanie McMahon (@StephMcMahon) January 2, 2019
Quick wit, comedic timing, complete entertainer,boadcasting legend and an awesome guy! #MeanGene #RIP 🙏 pic.twitter.com/DcwIhSd6Wf

— TAZ (@OfficialTAZ) January 2, 2019
So sad today to hear of the sudden passing of my dear friend @TheGeneOkerlund

I just saw Mean Gene in North Carolina at WrestleCade.

It's so true that our tomorrow's are never guaranteed.

Say hello to Jan, Mean Gene. 🙏 pic.twitter.com/PQ4ZZGmXnx

— Jim Ross (@JRsBBQ) January 2, 2019
RIP MY BROTHER GENE MEAN. YOU PUT ME OVER LIKE NOBODY. I LOVE YOU AND YOUR FAMILY SINCE THE MINNESOTA. GIVE MY BROTHER NIKOLAI BUG HUG. GOD BLESS YOU. CAMERA MAN ZOOM IT. pic.twitter.com/5k0VRXbKMI

— The Iron Sheik (@the_ironsheik) January 2, 2019
So sad to hear of the passing of our friend, Mean Gene Okerlund.
I'll always remember Gene with a smile on his face and a drink in his hand and always wanting to help. His was "The Voice" of @WWE RIP Gene. pic.twitter.com/tgS1Yy3VpA

— Jerry Lawler (@JerryLawler) January 2, 2019
WWE universe has lost one of its greatest announcers and truly one of the nicest guys you'd ever know. "Mean" Gene Okerlund, RIP my friend pic.twitter.com/u3bS6pePmY

— Ted DiBiase (@MDMTedDiBiase) January 2, 2019
Of the very few regrets I harbor in my career, one was never getting to scream "Mean Gene" when answering the queries of a man who presence was larger than life and ingrained in the better memories of my childhood.
RIP Mean Gene.
My condolences to the Okerlund family.

— Samoa Joe (@SamoaJoe) January 2, 2019
RiP Mean Gene. I will miss you. #thebestever pic.twitter.com/Z0Dd59peb3

— Eric Bischoff (@EBischoff) January 2, 2019
The voice of my youth. Condolences to his friends and family. https://t.co/NoRha36c9k

— Mustafa Ali / Adeel Alam (@MustafaAliWWE) January 2, 2019
RIP MEAN GENE pic.twitter.com/y38g1VtN6z

— Zack Ryder (@ZackRyder) January 2, 2019
The world lost an incredible man today. The very BEST at his role in our industry. On-camera—quick wit, great hype, pro's pro; off-camera— a gentleman's gentleman. The phrase of "often imitated, but never duplicated" is very appropriate for my friend. RIP 'Mean' Gene Okerlund

— Jeff Jarrett (@RealJeffJarrett) January 2, 2019
Thanks for the memories Mean Gene RIP🙏 @WWE #Legend #friend pic.twitter.com/FIaFxHjTyR

— Brooklyn Brawler (@brawlerreal) January 2, 2019
[Image via WWE/YouTube.]
Jan 2, 2019 10:24am PDT