Alicia Keys found herself dealing with a whole lot of backlash this week…
The 42-year-old singer took to Instagram on Monday to post a picture of herself in a green jacket. But the photo is not what caught social media users' attention. Instead, it was the caption that had many people's eyebrows raising and blood boiling. She wrote:
"What would u do if you weren't afraid of anything??? Tell me your truth … I've had my eyes on paragliding"
The caption wouldn't normally have anyone infuriated. However, due to the ongoing conflict between Israel and Hamas, many believed Alicia was being antisemitic and voicing her support for the terrorist group's attack on the Jewish community. Why? It all comes down to the paragliding reference.
Related: Gigi Hadid & Family Receiving Death Threats Over Support For Palestine
When Hamas terrorists infiltrated Israel, they paraglided into the country and murdered hundreds of people at a music festival before killing countless more in a nearby town. So between the paragliding reference and wearing colors reminiscent of Palestine's flag, many on social media believed Alicia supported the attacks in Israel. She quickly faced backlash online, with even the nonprofit StopAntisemitism saying on social media:
"In a now deleted tweet, Alicia Keys shares an IG post about trying paragliding if she wasn't afraid. Is this some sick ode to the Hamas terrorists that infiltrated Israel, killed over 1300 people, beheaded babies, raped women, and kidnapped Holocaust survivors?"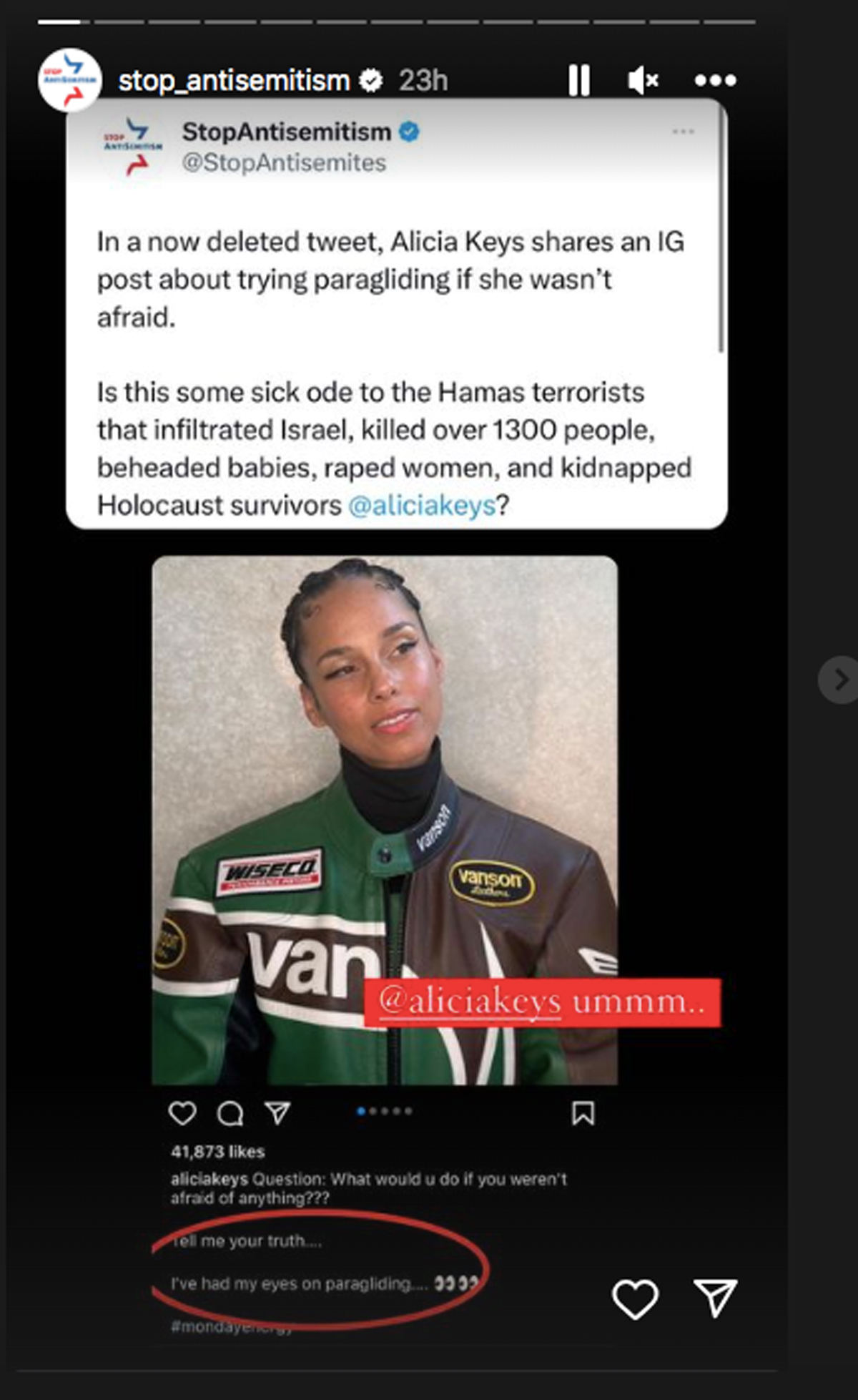 The Fallin' songstress deleted the post after everyone's reactions — but that did not stop the call-outs. The criticism reached the point where her manager, Guy Oseary, came to Alicia's defense, insisting she was not antisemitic. He wrote in a lengthy post on Instagram:
"There's talk of an antisemitic post that my dear friend Alicia Keys had up on her instagram. I can confirm to anyone in my community that needs to hear it: it's NOT true. There was a specific word in her post that our community at this very painful time find very triggering, but it was absolutely not connected in any way. I spoke to Alicia and she was horrified to learn what the word implied and immediately took it down. Alicia has always been a fighter for all human rights. I've had a front row seat for over a decade of seeing her positive influence in the world. Her humanitarian work reflects her empathy and her heart."
Hmm…
Her husband, Swizz Beatz, hopped in the comments to further clarify she was talking about a paragliding school near their home:
"Thank you guy we love you ! We have a school outside of our home and that's what she was talking about getting rid of her rear for heights . I wish peace and love"
However, many still called for Alicia to speak out for herself. See the reactions (below):
"She needs to prove it herself. She needs to speak up against Hamas after appearing to be winking at them. I'm sure her heart is good. But she can't be silent after this slaughter, mass rape, baby beheadings…."

"Tell your bestie to issue a statement/clarify her intent."

"She should put up a post correcting it – it came across very, very differently from what you're saying. Respectfully: Just deleting in the era of screenshots isn't an apology, nor is having a Jewish friend step forward on your behalf."

"I love you Guy, but I have NEVER seen someone refer to paragliding – and NOW that's what she's hinted to want to try?? she's should publicly apologize herself"
Well, Alicia heard what everyone had to say. She issued a statement on the post on Instagram Stories, saying she meant no harm by her initial post:
"The post I shared earlier was COMPLETELY unrelated in any way to the recent devastating loss of innocent lives. My heart has been breaking … I pray for and stand for peace."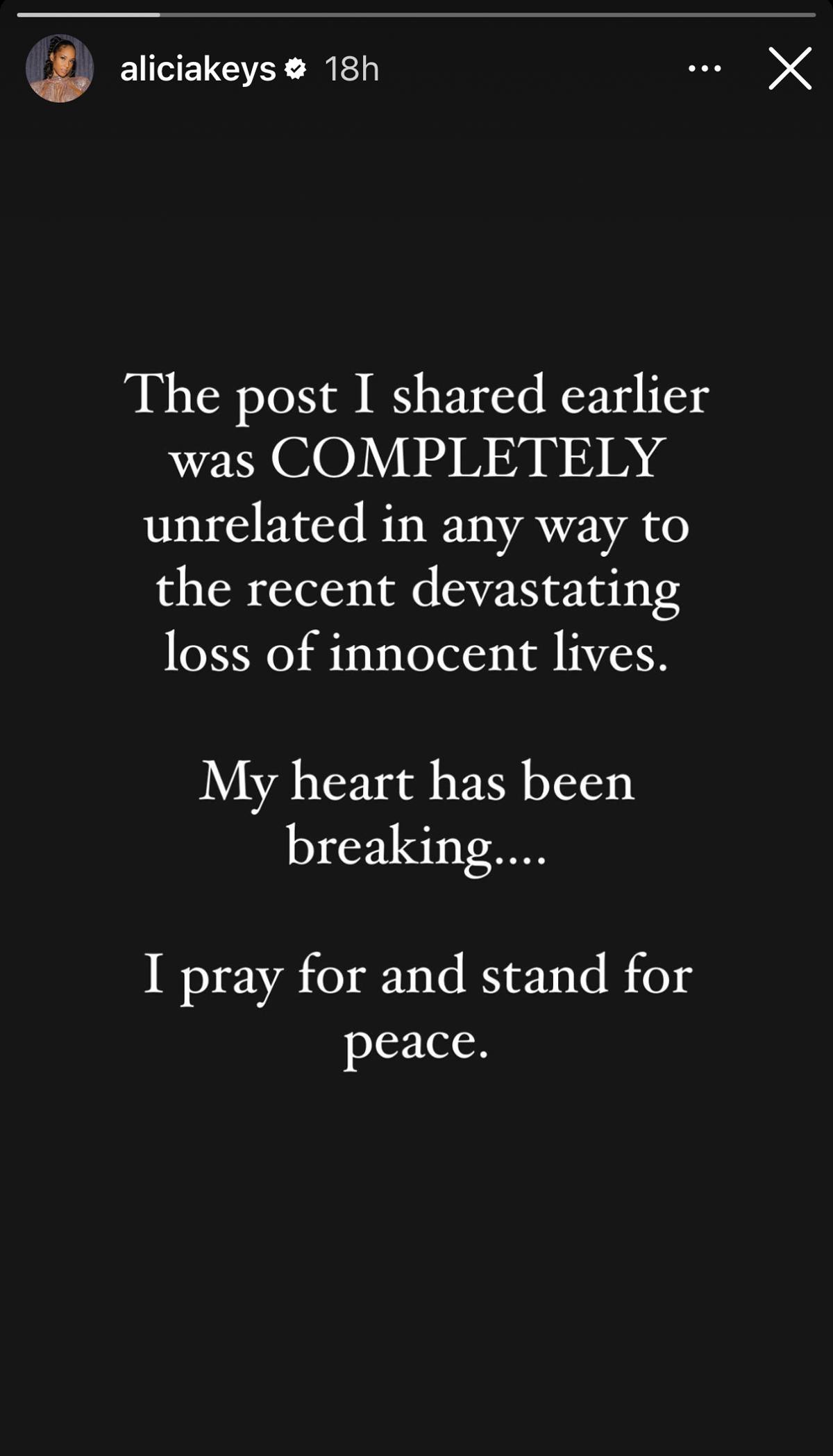 This is such a sensitive and painful time for many people, so we cannot blame anyone for feeling hurt by the post at first. But what are your thoughts on the controversy, Perezcious readers? Let us know in the comments below.
To learn more about antisemitism and how you can help fight it, check out https://www.adl.org/. 
[Image via MEGA/WENN]
Related Posts
CLICK HERE TO COMMENT
Oct 17, 2023 15:58pm PDT