Amy Schumer Reveals Why She Joked About Her Husband's Autism Diagnosis In New Netflix Special!
Amy Schumer is growing… and not just because of her pregnancy!
The I Feel Pretty star stopped by Late Night on Wednesday and explained to Seth Meyers how she's grown emotionally since her husband Chris Fischer was diagnosed with autism, and also addressed why she talked about the diagnosis in her new Netflix comedy special.
Earlier this week, some critics got upset after an Amy Schumer Growing promo clip showed the comedienne joking about her husband's symptoms, with many accusing her of exploiting Fischer's condition for comedy material.
But during her Late Night appearance, the 37-year-old, who is pregnant with her first child with the chef, made it clear they "both" wanted it to be discussed in the special — so others with similar struggles would be more comfortable getting diagnosed themselves!
Related: Jessica Simpson Has Given Birth!!
She explained:
"We both wanted to talk about it because it's been totally positive. I think some people resist getting diagnosed… because of the stigma that comes along with it. But the tools we've been given have made his life so much better and our marriage and our life so much more manageable."
AH-Mazing! She's using the stage to spread the good word!
In the special, the actress reveals that Fischer recently found out he has high-functioning autism, or what used to be called Asperger's syndrome. She told the crowd:
"I knew from the beginning that my husband's brain was a little different than mine. I have to start this over because I really want to get this right because I love him very much… My husband was diagnosed with what used to be called Asperger's. He has autism spectrum disorder. He's on the spectrum. And there were some signs early on."
Schumer went on to explain that Fischer can't tell a lie — which, for her, is both a blessing and a curse — and exhibited several characteristics that made her go "huh" early in their relationship.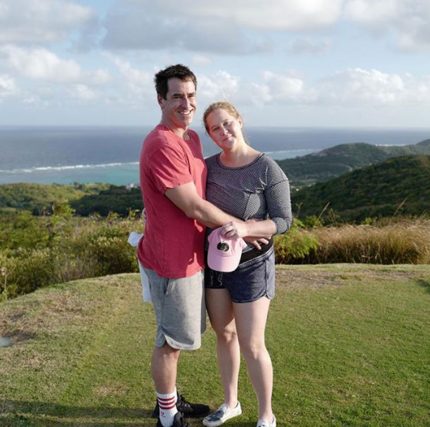 But after learning Fischer is on the autism spectrum, the couple picked up tools that have helped make their lives MUCH more manageable.
And Amy hopes her special will inspire others do the same! She told Meyers:
"I just wanted to encourage people to not be afraid of that stigma. I think a lot of people with autism who go undiagnosed when I think their life could be better if they got those tools."
Reiterating what she shared in her stand-up special, Schumer said the characteristics that make it clear her husband is on the spectrum are actually all the reasons she fell in love with him in the first place, adding:
"And I wouldn't trade him in for anybody."
Awwww!
Ch-ch-check out the clips to hear Schumer talk about her husband (above) and her difficult pregnancy journey (below).
Also, watch her come out from backstage wearing an enormous fake baby bump:
LOLz!
Mar 21, 2019 3:17pm PDT