'Bachelor' Colton Underwood's Exes Put Him In The Hot Seat On 'Women Tell All' Special!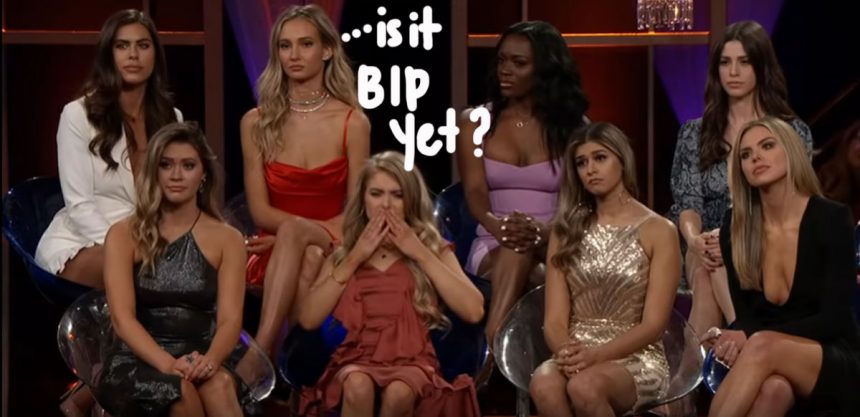 Right after the most DRAMATIC moment of the season (did you see that fence jump?!), the Bachelor producers reward us with a timely break before the show's finale.
We're talking about the Women Tell All episode, which aired Tuesday night on ABC, where the show's leading man Colton Underwood has to sit in the hot seat and face his already eliminated exes from the season.
Related: 'The Bachelor' Gets Put Through The Ringer During Hometowns!
Some of the ladies used this reunion time to hash out their differences one last time, while others made a solid case to lead the show's female-led companion show The Bachelorette.
We'll spare you the catty back-and-forth and get straight to the good stuff. Here's what really went down on The Bachelor: The Women Tell All special.
Onyeka vs. Nicole
These two were practically chomping at the bit to get the last word out about their feud during their time on the show. Nicole Lopez-Alvar sticks by her claim that Onyeka Ehie bullied her and preyed on the fact that she's a sensitive person.
Onyeka claps back with a vocabulary lesson about bullying and demands examples of when she bullied the Miami native.
When Nicole tries to give her one, Onyeka interrupts with a timely but tacky "thank you, next."
Anyone else yawning here? Moving on!
Katie's Confession
One of the most anticipated moments of the night was finding out who Katie Morton was talking about in her warning to Colton when she left the show. Let's not forget, it was that same message Caelynn Miller-Keyes claims affected every other relationship with Colton in the house.
Katie takes the floor and claims Caelynn and Cassie discussed being the next Bachelorette on the bus from the airport to the hotel in Singapore. Caelynn tries to correct the record and claims what she actually said was:
"Cassie, if it's me at the end of this, I pray that you're the Bachelorette, you find your person, because that's what best friends do."
Caelynn goes even further and says she spoke to Katie after the show aired and that Katie confirmed her story.
Yikes!! That is not the explanation we were expecting there.
Demi vs. Courtney
It was truly only a matter of time before Demi Burnett and Courtney Curtis came for each other's necks again. Their short-lived but petty beef was rehashed on stage in the most boring and immature way possible. We saw more of the same, Courtney calling Demi immature while the 23-year-old fired back one-liners, seemingly unbothered.
It seems like things were going to settle down for a second after Demi half-heartedly apologizes for calling Courtney "the cancer of the house." Instead, she clarifies, "you were more like bed bugs. Like, I forgot you were there and then you just kept annoying the s**t out of me."
This is when Courtney proves that she is more than just talk when she marches across the stage and shoves a pacifier in Demi's mouth!!
It's been a minute since we've seen any sort of true physical "violence" in this franchise so this was pretty shocking, TBH! Felt a bit more Jerry Springer Show than we're used to, but we're here for it.
Sydney Calls Out Colton
NBA dancer Sydney Lotuaco took it upon herself to speak up and ask what many people in the room were thinking: is Colton still a virgin?
The Bachelor wouldn't dare spoil his own season, so we don't get a clear cut answer from him, though it's clear from Chris Harrison's quick poll that most of the women aren't buying his purity story anymore.
Guess we'll have to wait until Colton says it for himself!
Hannah Auditions To Be The Bachelorette
At the end of the day, it's no secret that many of the women on that stage knew this episode would be their last chance at making their case to be the next Bachelorette.
Miss Alabama Hannah B. really stole the audience's heart when she sat down with Harrison and opened up about her journey and transformation since leaving the show.
She admits:
"I thought my life was going to be this certain way. I grew up in Alabama. I was gonna marry the guy who I dated for so long right out of college, start spitting out babies. Ultimately, I just thought that was gonna be okay for me. But it is not okay for me. I want so much more, and I deserve so much more… and this experience and the relationship that I have with Colton just allowed me to see myself in a different way; and be vulnerable with who I am and who I want to be and what type of love I want to have and receive."
Her heartfelt moment definitely won us over! It's already highly buzzed about on Twitter and by reality TV blogger Reality Steve that she is a shoe-in for the spot.
And there you have it, y'all! After what we saw last night, anyone else excited for Bachelor In Paradise yet?
Tune in next week for the aftermath of the epic fence jump and to see how Colton recovers from his monumental breakup with Cassie Randolph.
[Image via Bachelor ABC/YouTube.]
Mar 6, 2019 7:50am PDT