Big Bang's Seungri Quits The Music Industry Amid Prostitution Scandal Allegations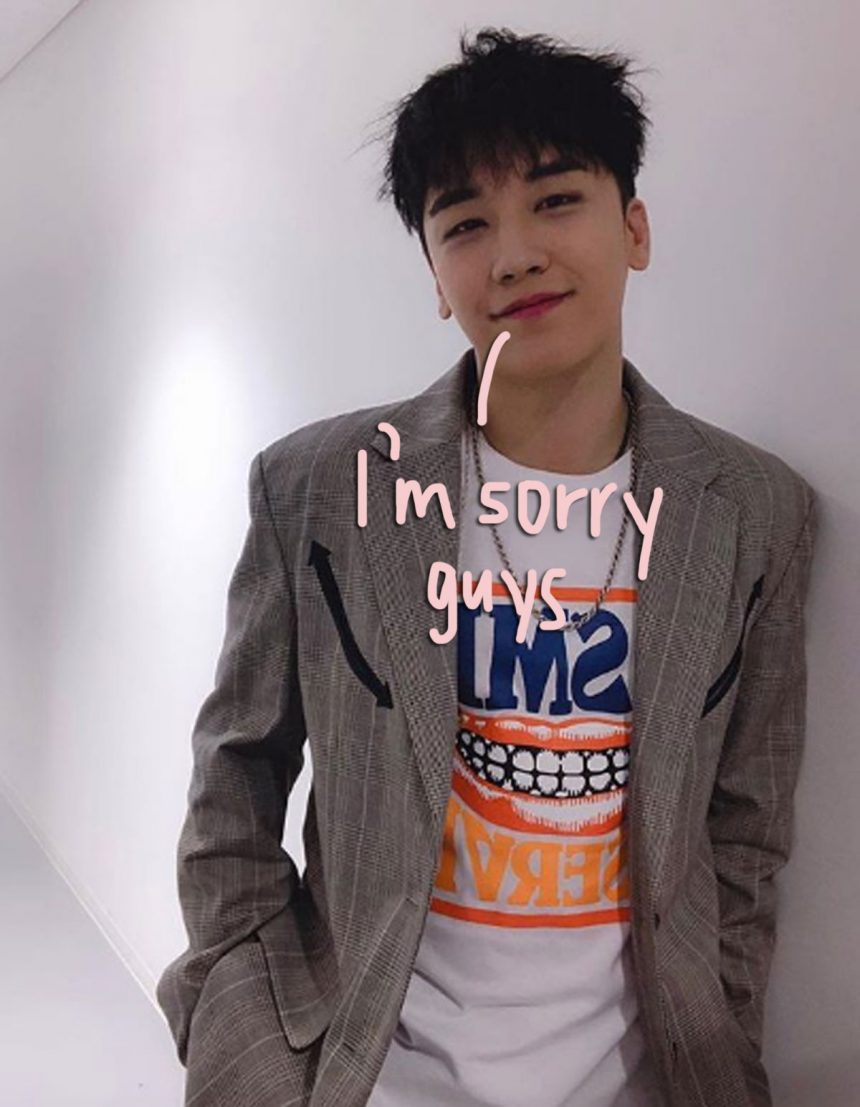 Singer Seungri is quitting K-Pop band Big Bang… and the music business altogether!
For those who may not know, the star has been plagued with scandal after scandal, and is now currently under police investigation for allegedly offering prostitutes to investors at the night club Burning Sun.
Related: R. Kelly's Legal Team Reacts To Alleged Third Sex Tape: 'It Is Not Him'
The announcement came early Monday morning, straight from the star's Instagram page. See the English translation and post (below), where Seungri gets straight to the point about why he's retiring:
"This is Seungri. At this moment, it seems like it would be good for me to retire from the entertainment industry. I've decided to retire from the entertainment industry because of the huge social controversy that has arisen. I am under investigation, and I will receive investigation with sincerity so that the building suspicions can be revealed. 

During the past month and a half, I have received criticism and hate from the public and been in a situation where every investigative agency in this country is investigating me. I just cannot accept causing pain to those around me just for my sake."
The star's post ends with a thank you to his band mates, his management with YG Entertainment, and a sincere apology to the fans who've supported him through it all over the last 10 years:
"I would like to sincerely thank all of the fans both in and out of Korea who have shown me love for the past ten years. For the sake and honour of Big Bang and YG, [my career is] ending here.

I would like to apologize one more time. Thank you for everything throughout the years."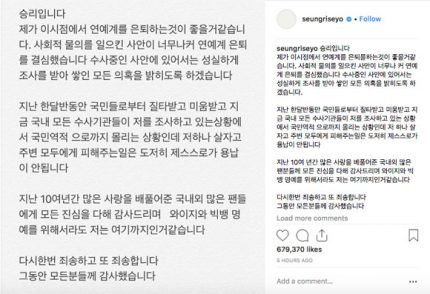 This news is surely a disappointing blow for Seungri's career. He recently released his first solo album titled The Great Seungri and planned to start this year with a world tour. Unfortunately for him, that all had to be scrapped once he became the prime suspect in the Burning Sun investigation. 
The 28-year-old's single Where R U From (below) was already a hit among fans, too:
But he isn't the only band member with a less-than-perfect track record.
Back in 2017, Big Bang member T.O.P. was at the center of his own scandal after police found him guilty of using marijuana, which is illegal in South Korea. The 31-year-old was sentenced to a 10-month suspended jail sentence after publicly apologizing and expressing remorse.
Band leader G-Dragon was also investigated for smoking marijuana in 2011, although he was released without indictment.
Many of the greatest bands in history had to deal with controversy at one point or another.
Still Seungri is reportedly scheduled to enlist in the military on March 25, despite the ongoing investigation.
Have U been keeping up with the scandal?? Sound OFF in the comments (below)!
[Image via Seungri/Instagram]
Mar 11, 2019 8:50am PDT