We're sad to say things between Britney Spears and her sons, Sean Preston and Jayden James, have not improved at all.
According to insiders, the teenage boys haven't seen their mother in "well over a year," and it doesn't sound like they have any interest in changing that! In the new documentary TMZ Investigates: Britney Spears: The Price of Freedom, out on Monday night, TMZ producer Katie Hayes claimed:
"By the end of the summer [2022], tensions got so bad that the boys weren't even responding to her texts. And she was furious."
Whoa… So Britney has been cut off completely?? That's so sad.
Related: The Truth Behind Britney Spears' Life Post-Conservatorship!
As Perezcious readers know, the singer's relationship with her sons got very complicated last year after Jayden publicly criticized her parenting skills, saying in an ITV interview via DailyMail.com:
"I think Mom has struggled giving us both attention and showing us equal love; I don't think she showed enough to Preston, and I feel really bad for that."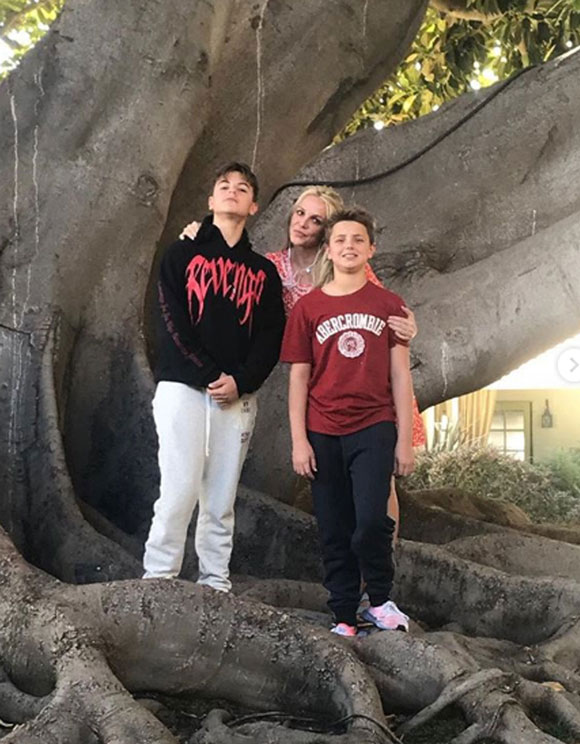 His father Kevin Federline also suggested the Baby One More Time vocalist's decision to post nude photos online wasn't helping, saying:
"I try to explain to them, 'Look, maybe that's just another way she tries to express herself.' But that doesn't take away from the fact of what it does to them. It's tough. I can't imagine how it feels to be a teenager having to go to high school."
Confirming what was revealed in the documentary, a source told Page Six the last time the 17-year-old and 16-year-old saw Brit was at "the very beginning of 2022," before her wedding to Sam Asghari, which they chose not to attend. Around this time, Kevin put Britney on blast by releasing videos of her arguing with the kids, seemingly in an attempt to make her look like a bad mother. The video was reportedly recorded without her consent.
Related: Britney's Book Delayed?! Celebs Threatening Legal Action Over Spilled Tea!
In the new film, the dancer's attorney, Mark Vincent Kaplan, opened up about this scandal, noting:
"He did that. I suspect that he wishes he had not. He really felt at some point in time he had to stand up about what was generated about them by Britney's side."
Innerestingly, some believe there might still be hope for the family — even after everything that's gone down. TMZ's Charles Latibeaudiere revealed:
"Recently, there have been occasional texts between Britney and her kids, so maybe the ice is thawing a bit."
The lawyer also insisted the whole family has a lot of "love" for one another, despite the drama, he shared:
"They love their mother, and they hope that the relationship will improve going forward so that everyone is comfortable, but right now, that is a dynamic that doesn't seem to be in existence."
The thought they might reconcile seems like very wishful thinking right now, especially when you hear this bombshell news! It's about to get a lot harder for Britney and the boys to make amends — because they're preparing to leave Los Angeles!
On Tuesday, sources told TMZ that Britney's ex-husband and his attorney sent a letter to her lawyer, Mathew Rosengart, asking for permission to let the teens relocate to Hawaii full-time with their dad and stepmom, Victoria Prince. According to those in the know, Victoria was offered a job at a university in the tropical state and Kevin has DJ opportunities on the island. Sean Preston and Jayden are eager to move, and since they've been living primarily with Kevin and Victoria for much of their life, it won't be that disruptive to them.
Apparently, the couple has given the pop star until the end of the week to respond. If she objects, Kaplan will take the matter to court and request permission from a judge — and it's a battle they think will be won easily considering Britney hasn't seen the boys in so long and because they want to leave Cali. The outlet was told it's unlikely that the case will end up in court and that Britney is expected to agree to the move, even if she's not very happy about it. If all goes to plan, they will head to Hawaii in July. Jayden will continue taking classes remotely but Sean Preston will have already graduated high school by that time and it's unclear what his next plans are.
We have to imagine it'll be hard for Britney to see her sons move far away when they're already in a bad spot. That said, her hubby clapped back at the "disgusting" documentary ahead of its release, urging fans not to believe what's said about them. So, take everything with a grain of salt. Thoughts? Let us know (below).
[Image via FayesVision/WENN & Britney Spears/Instagram]
Related Posts
CLICK HERE TO COMMENT
May 16, 2023 07:21am PDT