Things have not been smooth sailing at Burning Man this year.
For those who haven't been keeping up, a massive rainstorm left Nevada's Black Rock Desert completely flooded over the weekend, thus stranding more than 70,000 attendees. Local officials asked festival-goers to "shelter in place" due to the inclement weather and conserve their food and water. Organizers even have requested anyone traveling to Burning Man to turn around and head back home. Per the festival's traffic page on X (Twitter) on Saturday, they have shut down the Black Rock City gates and will not allow any cars on the grounds except for emergency vehicles:
"The gate and airport in and out of Black Rock City remain closed. Ingress and egress are halted until further notice. No driving is permitted except for emergency vehicles. If you are in BRC, conserve food, water, and fuel, and shelter in a warm, safe space."
Related: Sandoval Gets Caught In Heated Altercation During VPR Filming!

As of Sunday, the gates are still closed, and organizers told guests right now to "stay safe." This means thousands of people are still stranded in the desert, and it is unknown when they will be given the all-clear to return home since more heavy rainfall and thunderstorms are happening throughout Sunday. Sadly, a press release from the Pershing County Sheriff's Office also revealed there has been one casualty, which happened "during this rain event," per a Saturday press release from the sheriff's department.
Awful.
But two people who managed to escape Burning Man? Chris Rock and Diplo. The 58-year-old comedian had been in attendance and documented the experience of being trapped at the festival on Instagram Stories. Per Entertainment Tonight, Chris shared in a since-expired post that "because of the flooding, the port-o-potties reportedly can't be emptied," adding:
"And because the gates are closed, people can't get in to fill generators or deliver supplies."
Later on Saturday morning, he shared a video of the heavy mud making it almost impossible to walk around the camp area. This sounds terrible! However, it appears Chris eventually made it out – with the help of Diplo.
The DJ took to the 'gram to share a video of him, the actor, and other people in the bed of a pickup truck leaving Burning Man. According to Diplo, they had walked for six miles before a fan ended up offering them a ride. He told fans in a caption of the clip:
"I legit walked the side of the road for hours with my thumb out cuz i have a show in dc tonight and didnt want to let yall down. Also shoutout to this guy for making the smart purchase of a truck not knowing it was for this exact moment."
In the video, Diplo noted that "all Chris could think about was a f**king cold brew" following their escape. You can see the post (below):
Wow. They got very lucky. The group then got a ride with "hippies with a van in the next town" and made a deal with them to "give [them] a two-hour ride to the airport." See (below):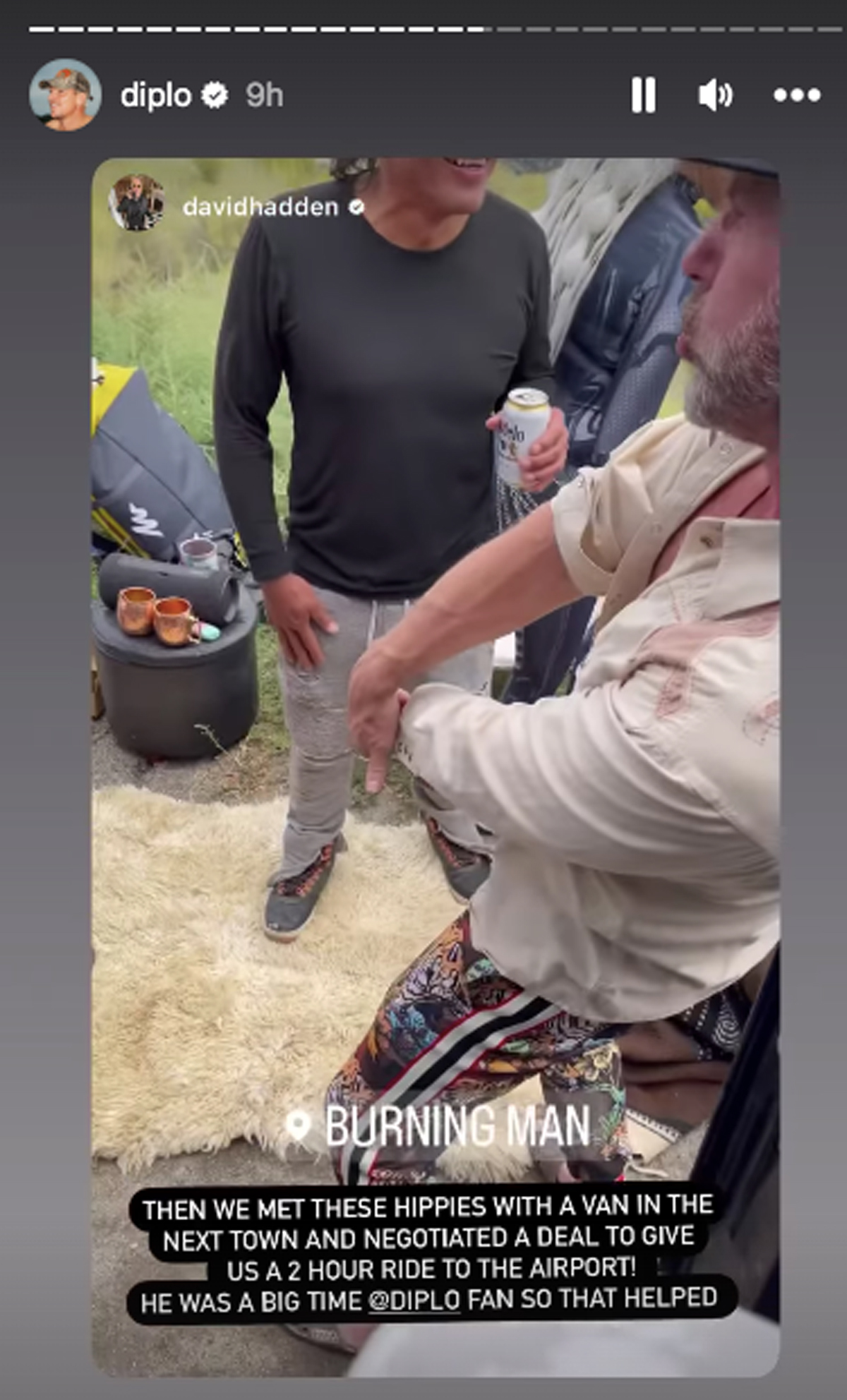 He later added on IG Stories that they officially got out:
"They didn't believe we would walk six miles in the mud. No one believed we would get to DC for the show tonight. But God did."
We're hoping everyone who is trapped at Burning Man remains safe. Reactions, Perezcious readers? Let us know in the comments below.
[Image via Nicky Nelson/WENN, MEGA/WENN, Diplo/Instagram]
Related Posts
CLICK HERE TO COMMENT
Sep 03, 2023 11:07am PDT