Coachella 2019: Kendall Jenner & Hailey Bieber Do It Big After Justin Bieber's HILARIOUS Throwback Pic!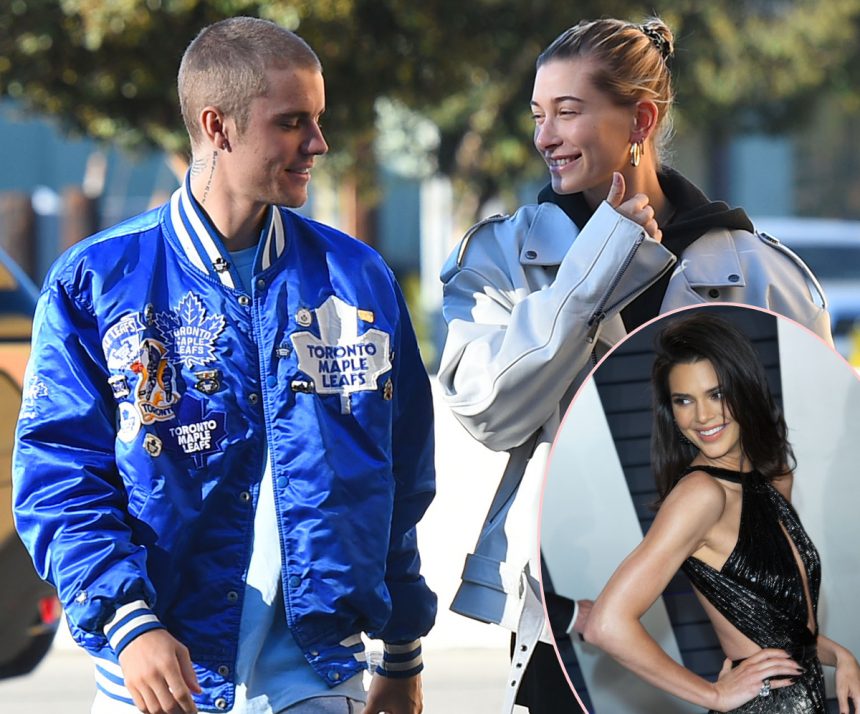 Kendall Jenner and Hailey Bieber are truly living their best life right now!
The friends are doing their thing at Coachella out in the desert this weekend, celebrating and partying the days away while watching shows at the festival stages and rubbing elbows with, oh, about a hundred thousand of their closest friends. Lovely!
Related: Khloe & Kendall Defend Their Sketchy Endorsement Deals…
Both fans and paparazzi cameras have been spotting Hailey and Kendall all over the place in Indio — first, on Friday, walking arm-in-arm after enjoying the Kacey Musgraves set before eventually watching pal Jaden Smith and his younger sister Willow hit the stage. (Oh by the way, Perezcious readers, CLICK HERE to see who ELSE joined Jaden and Willow on stage yesterday!)
Hailey, 22, was also seen wearing a diamond-encrusted "Bieber" necklace… which is quite the way to say 'I love you' from afar! Ha!!
Ch-ch-check out some fan video of the long-legged, lovely young pair from the desert music fest yesterday (below):
Awww! Living their best life, they truly are!
Now that looks like a TON of fun! Talk about FOMO!!
Related: Hubba Hubba! Look Back Through Kendall Jenner's Sexiest Instagram Shots HERE!
All this comes just a day after Justin himself posted a truly HIGH-larious throwback picture of him and Kendall at an earlier Coachella, complete with his long, long hair from back in the day — and Kendall with a younger, slightly more round face that clearly comes from years before her high-end modeling days.
Ch-ch-check out the amazing throwback Justin pulled out from the archives (below):
Amazing!!! Clearly, the Biebs is more than cool with his wife hanging out in Palm Springs with Kenny… because he's already been there, done that, and lived to tell the tale! What a funny picture!!!
Anyways, it seems like Kenny and Hailey are going to have quite the weekend together out in the desert! We'll keep you updated if more celebs join 'em along the way, because that would make for quite the squad!!
Related: Look Back At This Full Timeline Of Justin & Hailey's Relationship — Up 'Til Today!
What are your reactions to all this, Perezcious readers?!
Liking the weekend getaway for Hailey and Kendall out at Coachella?? Looks like so much fun — really makes us wish we were there to live it up!!!
Sound OFF with all of your opinions about the celeb sightings and goings-on at Coachell this weekend with your take in the comments (below)!!!
[Image via WENN]
Apr 13, 2019 3:49pm PDT