Hailey Bieber and Kendall Jenner have some THOUGHTS on all those feud rumors!
Last week, fans feared for the worst when they realized the models were on separate trips to France at the same time — and didn't appear to get together at all or post any pics together during the vacations! Pretty odd for two besties! Naturally, the word on the street was that they were feuding — but they are now setting the record straight!
While hanging out together over the weekend, the Rhode founder took to her Instagram Story to share a selfie of the pair suntanning with the puppy face filter on. She then poked some fun at the online buzz, captioning the pic "feuding" with a few heart emojis. LOLz!
Related: Hailey Bieber Supported THIS Selena Gomez Post?! Maybe Feud IS Over!
Ch-ch-check out the post (below)!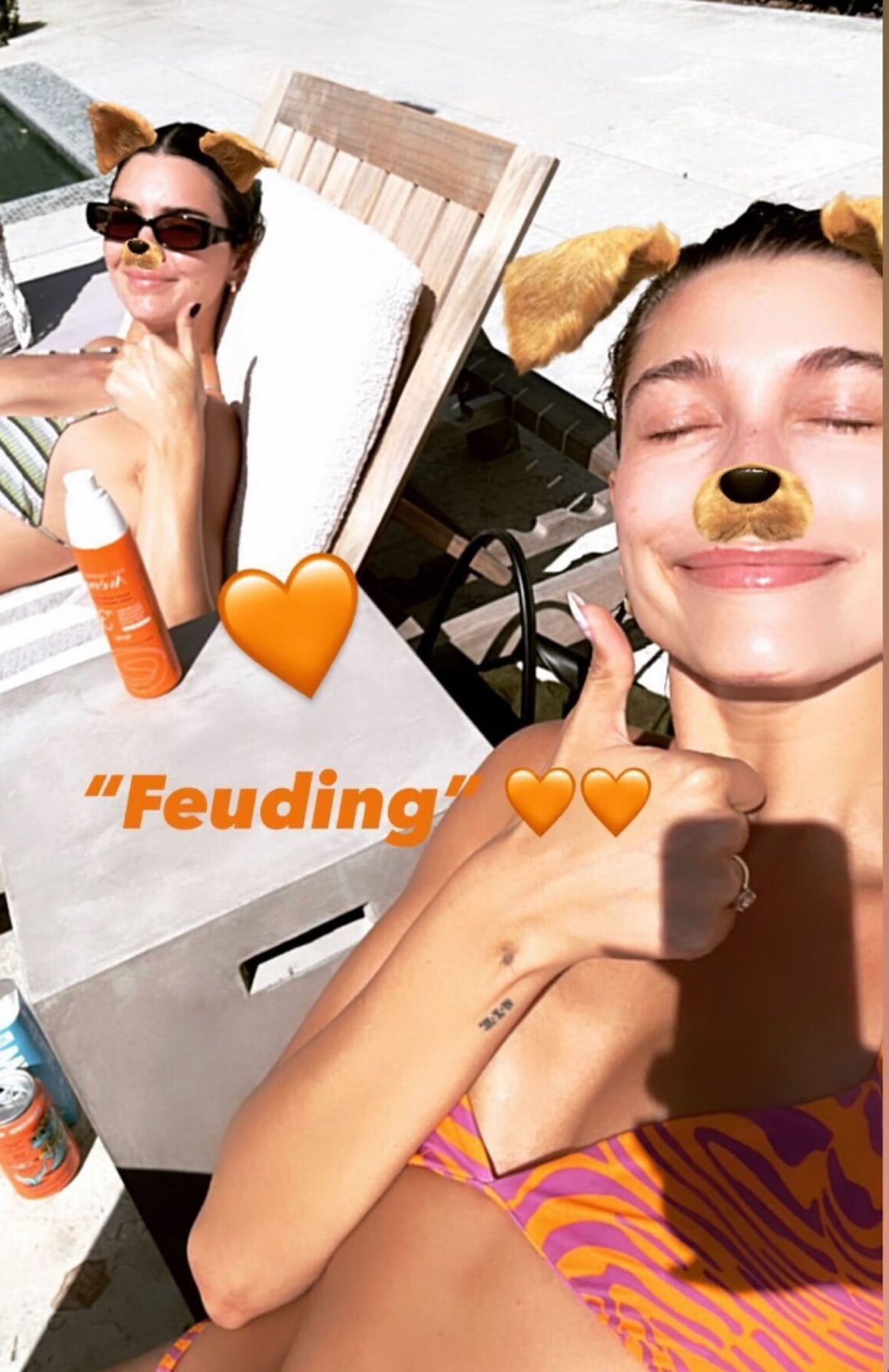 Looks like their friendship is alive and well!
If you didn't know, the beauty icons have been friends for years after they met at The Hunger Games premiere in 2012 and knew each other through Kylie Jenner. During a 2021 episode of Hailey's YouTube series, Who's In My Bathroom, they reflected on their instant connection. Justin Bieber's wife said of the sisters:
"I love you both. But you and I became much closer because you started modeling and coming to New York all the time, and I lived in New York and you needed a friend. And boy, did we take that city by storm."
While they are most frequently spotted out on the town, sitting courtside at basketball games, or attending fancy events, they insisted most of their downtime together is spent doing very low-key activities, the 26-year-old continued:
"What's funny is I think that people actually think that we have this abnormal friendship—abnormal like we do all this, like, crazy s**t together. When the reality is, like, we just sit at home and drink wine or watch movies. Like, it's so normal people don't even understand how normal it is."
They're SOOO normal… for millionaires! LMFAO!
Related: Kylie & Timothée Chalamet FINALLY Photographed Together Amid Romance!
The Kardashians star went on to reflect on what makes them such great friends, sharing:
"I think the best part about us is that we're like, I know it's corny to say, but like yin and yang. Like we're so opposite that we almost balance each other out in a way."
They've also always been there to support the other — in the best and worst of times. Hailey teased:
"I was crying in this girl's guest bedroom for like two years straight."
Aw! Kendall then got sappy, expressing:
"I feel like both you and I have experienced—whether it be business, like self, love, like whatever it is—like, I feel like we've both seen each other, like, thrive at different times than others, do you know what I mean? And we've been there for each other through it all and not, like, let it get in the way of our friendship, which I think is really, like, special and important."
It's good to know there's no beef!! You can check out their full conversation here:
Reactions!? Why do you think they didn't vacay together if everything's A-OK? Send us your guesses (below)!
[Image via Hailey Bieber/YouTube]
Related Posts
CLICK HERE TO COMMENT
Jun 05, 2023 09:20am PDT