Something smells fishy!
Sources have insisted one of the big reasons Joe Jonas broke up with Sophie Turner is that she's a partier and he prefers to stay home… but is this even true?! A resurfaced TikTok Q&A video from 2020 now threatens to change the narrative!
In the clip, the then-happy couple is asked who "the homebody in the relationship" is, and the Jonas Brothers singer quickly points at the Game of Thrones alum! She even agrees, smiling and pointing at herself, too! Ch-ch-check it out!
Wow! Both seem pretty confident in their answers, too! This isn't even the only time they spoke on this topic either. During the pandemic, Sophie sat down with Conan O'Brien and discussed how much she was enjoying quarantine, saying:
"I'm loving it. I'm an introvert, I'm a homebody. If I could stay at home all day, I would, so this is great for me."
Doesn't exactly sound like an extreme partygoer to us…
Related: Travis Scott Was At Concert Where Kylie & Timothée Were Making Out!
She went on to say the only reason she'd leave the house at the time was to walk her dogs once a day. That said, she did let slip that she liked getting a buzz, noting to practice social distancing, "all you have to do is stay at home and get drunk." As for how Joe was handling the isolation, she called the Disney Channel alum "a real social butterfly," explaining:
"I struggle to kind of, lock him down and have him just spend time with me. It's like prison for him but it's great for me."
She also said when he was doing IG Live DJ sets for fans during the lockdown, he was the one asking for shots of tequila. Plus, the musician is the co-owner of the alcoholic beverage company Ohza! So he enjoys a good drink! This sounds like the exact opposite of what sources are peddling now!
So what happened? Did their habits suddenly change once COVID restrictions were lifted? Or after having a second child? Well, there's some proof Sophie may have decided to become more social recently. Just days before Joe filed for divorce (after supposedly finding some shocking security cam footage), the 27-year-old was seen taking shots at an arcade bar in England. It's believed she was celebrating wrapping production on her upcoming show Joan. Is this proof she has a partying problem? Not exactly. But it doesn't look good amid the rumors either!
Also, an unnamed friend also claimed she is trying to have "carefree fun with friends" after realizing she missed out on that when she was younger since she got married and had kids in her early 20s. So, this is definitely in line with sources' takes on the split!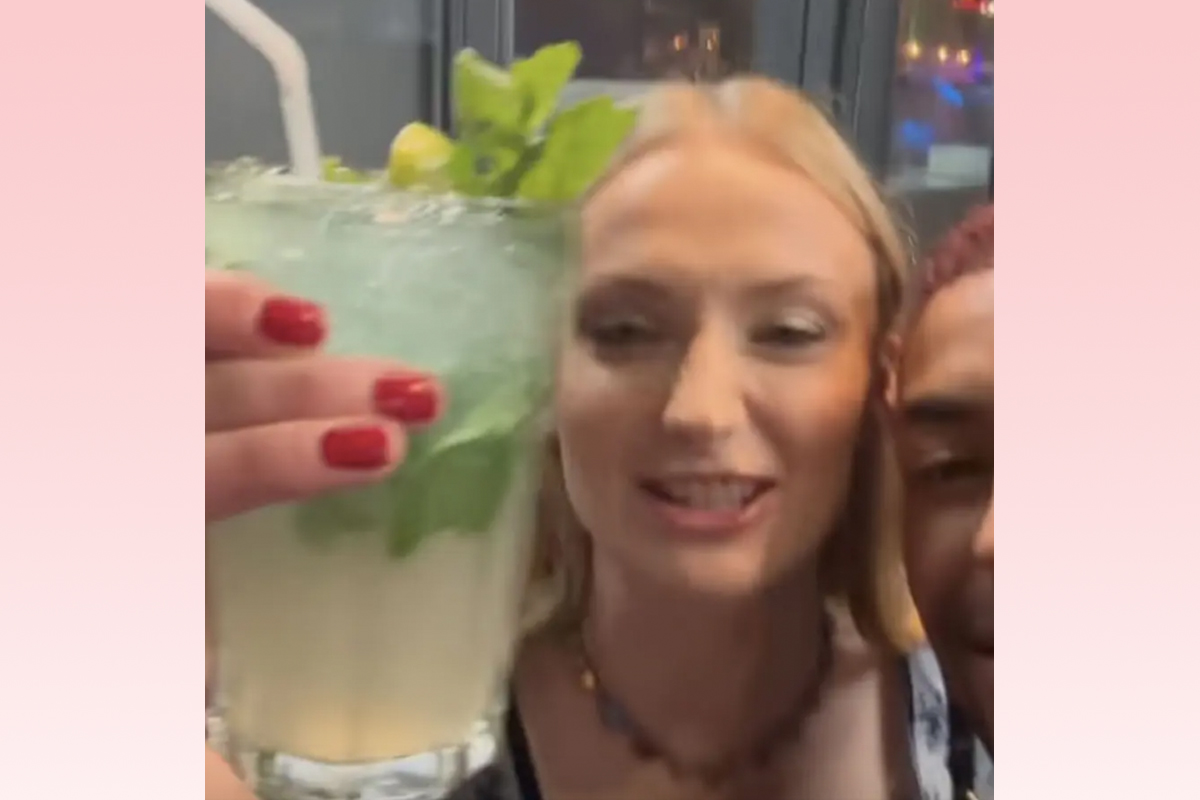 Is it possible she changed so much? Is that where the friction in the relationship is coming from??
Well… Diehard fans of Jophie aren't buying everything that's being said about the breakup. Because of the resurfaced TikTok, many internet users think the DNCE frontman's team has been running a "smear campaign," arguing on Reddit:
"This smear campaign against her is so sad and insidious! love to sophie right now"

"Sophie is beloved and adored by all of her fans, celebrity friends and colleagues. She has always come off so sweet and genuine in all of her interviews. You know what's not a good look? A man talking crap about the young mother of his young children."

"Smearing the mother of your children is NEVER a good look, but ESPECIALLY one as generally liked as Sophie"

"She is Sansa Stark [her character in GoT]. He and his team should tread lightly before the smear campaign has the opposite effect he is looking for lol."
LOLz! He's been warned, we guess!
It's certainly confusing to see sources saying one thing and hearing a very different version of events from the stars themselves…  But then again, that was three years ago…
What do U think is the truth, Perezcious readers? Who's the partier and who's the homebody? Sound OFF (below)!
[Image via British Vogue/YouTube & MEGA/WENN]
Related Posts
CLICK HERE TO COMMENT
Sep 06, 2023 12:35pm PDT