Did fans simply jump to conclusions when they noticed some troublesome energy between Michael Bublé and his wife Luisana Lopilato on Instagram Live this week?
The 44-year-old singer's rep definitely thinks so and spoke to E! News on Wednesday about the now widespread claim that Bublé has a history of problematic behavior towards his wife, categorically denying the allegations as nothing but a little fandom frenzy.
Related: Did Nicki Minaj Leave Her Registered Sex Offender Hubby Kenneth Petty?!
The rep said any allegations of abuse circling online are "a failed effort of cyber bullying" against the couple, noting:
"Anyone who watches them on Facebook live every day can see that this is a beautiful partnership filled with love."
Whether it's on FB or IG live, people still had a LOT to say about how the Haven't Met You Yet artist treated his spouse.
As we reported, many who watched the pair's interactions over the weekend pointed to Michael seeming to elbow Luisana then yanking her arm, as well as other instances where they say he seems visibly angry at her over nothing. Some were quick to point out these could be serious red flags and subtle signs of domestic abuse.
Those comments really gained traction online, with fans begging Luisana to leave her husband, and it wasn't long before the Argentinian actress was forced to address the speculation! She slammed followers for looking for something to complain about while the two were just trying to spread "a little joy, entertainment and we have to listen and see what malicious people publish without knowing anything about our family."
"I want you to know that I have no doubts who my husband is and I would choose him a thousand times over!! It's not fair! These people are doing harm and taking advantage of this pandemic where people are suffering, dying to have fame and more followers."
But again, fans cited more examples of Bublé getting irrationally angry at his wife, including an IG live session recorded on March 23 where he seemed ready to call it quits because Luisana was running a little late. He told the camera at one point:
"Honestly, I can't wait till you get to see the divorce on this. Cause honestly, I'm telling you right now, if you think this is an act, it's not an act. My God."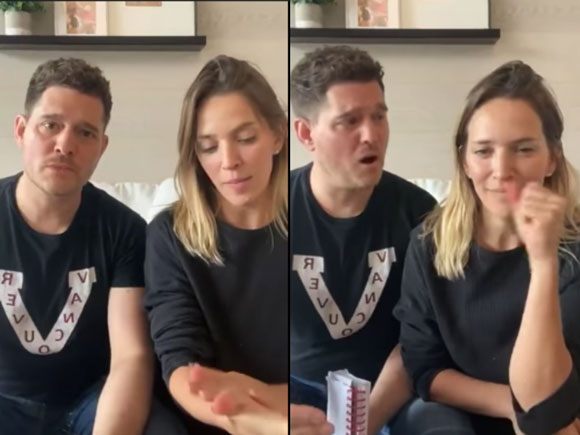 In the same video, as she hurried over to their live stream, he detailed the numerous "lies" he tells people when she's running behind. Michael added:
"You're so dead to me."
Ouch. Pretty harsh!! If you're interested, check out the clip in full (below) starting at the 2:30 mark:
Despite what seems to be crystal clear to concerned viewers, Lopilato previously wrote to her fans and insisted she is not among the women out there who are actually suffering from domestic violence:
"I've seen your messages over the weekend and I am very thankful. Thank you for worrying. It's very important that we pay attention to these problems that have been mentioned and that I am lucky not to suffer. But it is important to pay attention to be able to help women that are going through it. Thank you. But it's not in my case."
What do YOU make of this situation, Perezcious readers??
[Image via Luisana Lopilato/Instagram]
Related Posts
CLICK HERE TO COMMENT
Apr 16, 2020 07:52am PDT