Twitter Reacts To Notre Dame's Roof Collapsing As Massive Fire Destroys Cathedral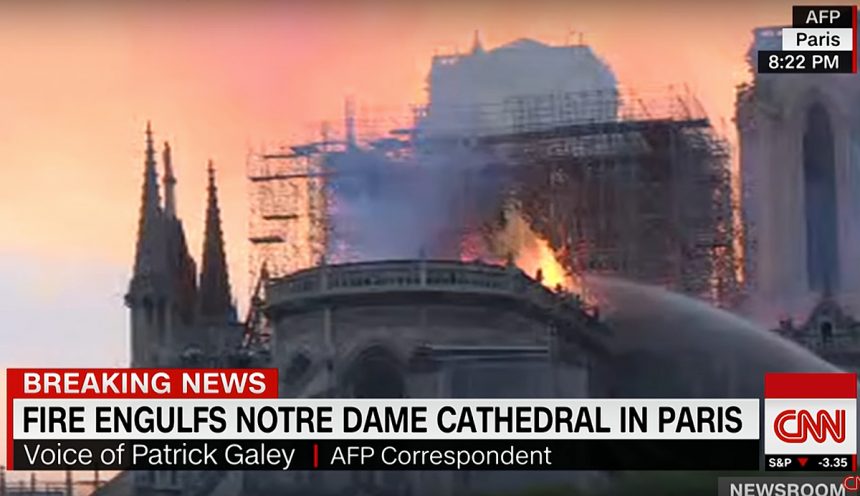 Twitter is battling complex emotions as a fire threatens to completely destroy Paris' Notre Dame Cathedral.
On Monday, the spire at the top of the historic cathedral had collapsed during a massive blaze. According to officials, the structure, which was surrounded by scaffolding, leaned to one side and then collapsed on the burning roof as the fire rapidly spread and engulfed the cathedral in flames.
Related: Twitter Reacts To #GameOfThrones Premiere
There have been no confirmed deaths, and French police say there have been no injuries reported. Reuters reports that the area surrounding the cathedral, Paris' Ile de la Cite, was in the process of being evacuated.
First photos/videos emerge on social media #NotreDame

MORE: https://t.co/OmXn0Zm5j4pic.twitter.com/QZdG5XOUaD

— RT (@RT_com) April 15, 2019
Local firefighters are telling news outlets that all efforts are being directed towards saving the priceless artwork at the back of the cathedral and preventing the collapse of its northern tower. Per the Ministry of the Interior for France, four hundred firefighters were working to put out the blaze.
Jean-Claude Gallet, commander general of the Paris Fire Brigade, said it was "crucial" the fire was contained before the cathedral's great bells collapsed — otherwise, the entire structure would plummet to the ground. He told reporters on the scene:
"There's a risk that the great bells fall. If the bells fall, it's the tower that collapses. There are firefighters inside and outside. The next hour and a half will be crucial."
Thankfully, a Paris fire official has since told the AP that Notre Dame's main structure is "saved and preserved."
Naturally, people far and wide are gutted by the news, due to the historic and religious significance of Notre Dame: its foundation stone was laid in 1163 by Pope Alexander III, and the cathedral was completed in the 13th century.
Crowds are still gathered near the cathedral as firefighters scramble to prevent more wreckage. A few hours into the chaos, onlookers started singing hymns together, with many falling to their knees in prayer.
The fire also sparked a huge reaction on social media, with many Twitter users sending their thoughts and prayers to the people of Paris:
Notre Dame is one of the world's great treasures, and we're thinking of the people of France in your time of grief. It's in our nature to mourn when we see history lost – but it's also in our nature to rebuild for tomorrow, as strong as we can. pic.twitter.com/SpMEvv1BzB

— Barack Obama (@BarackObama) April 15, 2019
My thoughts are with the people of France tonight and with the emergency services who are fighting the terrible blaze at Notre-Dame cathedral.

— Theresa May (@theresa_may) April 15, 2019
wow. Let's hope such an iconic and historic building can survive this fire. #NotreDame #notredamefire #notredamecathedral #paris #france pic.twitter.com/j4qpcriCIy

— Andrew Curry (@andrewcurryla) April 15, 2019
As fire engulfed the Notre Dame cathedral, Catholics across the world reacted in horror and disbelief.
This is so hard to see, 700 years existence and only 10 min to burn?? #NotreDame pic.twitter.com/YeGtCM91ca

— SportCentre (@SportCentre8) April 15, 2019
People praying in front of #Notre_Dame_cathedral_fire pic.twitter.com/Lf3BiFKXFf

— Fadhel Alyunis Post (@fapost) April 15, 2019
somehow Disney predicted the fire of Notre Dame. pic.twitter.com/kd7cMJlYea

— Inês 🇵🇹♋️ 📱🏹 (@ines_2761989) April 15, 2019
Truly overwhelming. I can't imagine how #Paris is feeling tonight, loosing such a magnificent landmark.#NotreDame #Fire pic.twitter.com/pmzoNeAZKD

— Deys Eez (@0l0l0i0) April 15, 2019
Others were adding their own two cents as to how officials could put out the fire — like President Donald Trump, who advised firefighters to use "flying water tankers" to put out the flames:
So horrible to watch the massive fire at Notre Dame Cathedral in Paris. Perhaps flying water tankers could be used to put it out. Must act quickly!

— Donald J. Trump (@realDonaldTrump) April 15, 2019
In response, French civil security agency Sécurité Civile insisted that Trump's suggestion would surely "result in the collapse of the entire structure," writing:
"The drop of water by air on this type of building could indeed result in the collapse of the entire structure. The weight of the water and the intensity of the drop at low altitude could indeed weaken the structure of Notre-Dame and result in collateral damage to the buildings in the vicinity."
#NotreDame @PompiersParis Hélicoptère ou avion, le poids de l'eau et l'intensité du largage à basse altitude pourraient en effet fragiliser la structure de Notre-Dame et entraîner des dommages collatéraux sur les immeubles aux alentours.

— Sécurité Civile Fr (@SecCivileFrance) April 15, 2019
Our hearts go out to the firefighters and the people of Paris at this devastating time.
[Image via CNN]
Apr 15, 2019 2:23pm PDT