Prince Andrew may have avoided jail time and gotten his sexual assault settlement paid from out of the royal coffers — but he's not exactly counting his blessings.
We've heard for months the Duke of York was desperate to get his full status as a working member of royal family back — first with mum Queen Elizabeth and now with King Charles. We've also heard there's no chance! As royal expert Nick Bullen put it, under his brother's reign:
"A role for Prince Andrew just doesn't exist anymore. He won't be given any of his military titles again. He's not going to be a working royal again."
Ouch!
Related: Harry & Meghan Director Slams Palace For Attempt To 'Discredit' The Doc!
But that isn't stopping him from trying! According to DailyMail.com's Richard Eden, the disgraced Royal is telling friends privately that his name is about to be cleared, at least somewhat. Per Eden's sources, out on the skeet shooting range, Andrew is talking a big game:
"He says that details are about to be made public which will change people's perceptions of him. He says that it will happen next month."
Details about his close association with billionaire sex trafficker Jeffrey Epstein and confederate Ghislaine Maxwell?? Or more specifically the accusations by Virginia Roberts Giuffre, who has maintained for nearly a decade that Andrew had sex with her multiple times while she was being trafficked by Epstein, including when she was just 17 years old?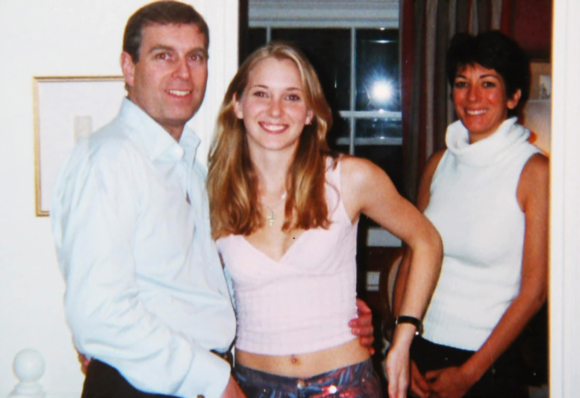 According to DM, Andrew has apparently been trying to get legal representation to try to reverse the multimillion dollar settlement — and even get an apology out of his accuser! He was reportedly inspired by the fact Giuffre dropped her lawsuit against Alan Dershowitz, even making a public statement that she "may have made a mistake in identifying" him in exchange for him dropping his own countersuit.
But let's be frank here, Andrew is no Alan Dershowitz — a well-known law professor who famously helped get O.J. Simpson stay out of prison. Just because Dershowitz was able to figure out how to get out of his suit doesn't mean Andrew can. The last time he thought he had a good media strategy, it was about the most disastrous interview we've ever seen. His inane excuses only made the public think he was more guilty!
Still, he'll probably never stop fighting. He was convinced the Queen would let him be a royal again after she allegedly treated him with kid gloves. And then Charles giving his military title to Queen Camilla, that was just too much! Per Bullen's sources:
"He says that Her Majesty [Queen Elizabeth] gave him her word that stepping down was only a temporary measure. He says that he wasn't told in advance that he was about to be booted out, nor, obviously, that Camilla would be replacing him. He says that he just heard about it 'in the media'."
Does he really have something brewing that's going to change hearts and minds? Or is this more "I temporarily was unable to sweat"? What do YOU think, Perezcious readers??
[Image via BBC/WENN/Florida Department Of Law Enforcement.]
Related Posts
CLICK HERE TO COMMENT
Jan 25, 2023 14:02pm PDT