It's been a sad few days for Tom Sandoval and Ariana Madix, but this time, the tears have nothing to do with Scandoval.
Over the weekend, the exes mourned the sudden loss of their close friend, Ali Rafiq. Sandoval took to his Instagram account on Sunday with a series of photos with his pal, grieving:
"Ali The love I have for you is way beyond words I will carry u forever in my heart. Always cherishing the beautiful memories, uncontrollable laughter, and epic experiences we had together. You were My best friend, my brother. I'll catch u on the next sunrise… 5min/5hour 5or500"
Sounds like they were such great friends.

Related: James Finally Talks Altercation With Tom Sandoval At VPR Reunion!
The TomTom co-owner shared a series of photos spanning their long friendship to go along with the sentiment, too. Take a look:
Similarly, Ariana also paid tribute to her friend in her IG Story, expressing:
"I keep wanting to text you. it feels like this can't even be real. we were just planning your trip to LA. talking about our futures and all the things we were looking forward to. i miss our talks about life. i miss sending each other cat memes. i miss geeking out over food. or dj videos. i miss you bringing your turntables over. i miss us both wanting to go home but still staying out and having fun. i miss cut copy and chromeo songs"
So sad!
Related: Ariana Madix Already 'Falling In Love' With Rebound Daniel Wai?!
The Bravo personality acknowledged she knew Ali "won't be seeing this," but she hoped "somehow" the message would make it to him. She added:
"I love you always and forever. i'm grateful for the moments we spent together and for the love and friendship you showed me over the last ten years. You are so loved and you are so missed. i am proud to be able to say i know ali the great. because you ARE and will always be the greatest."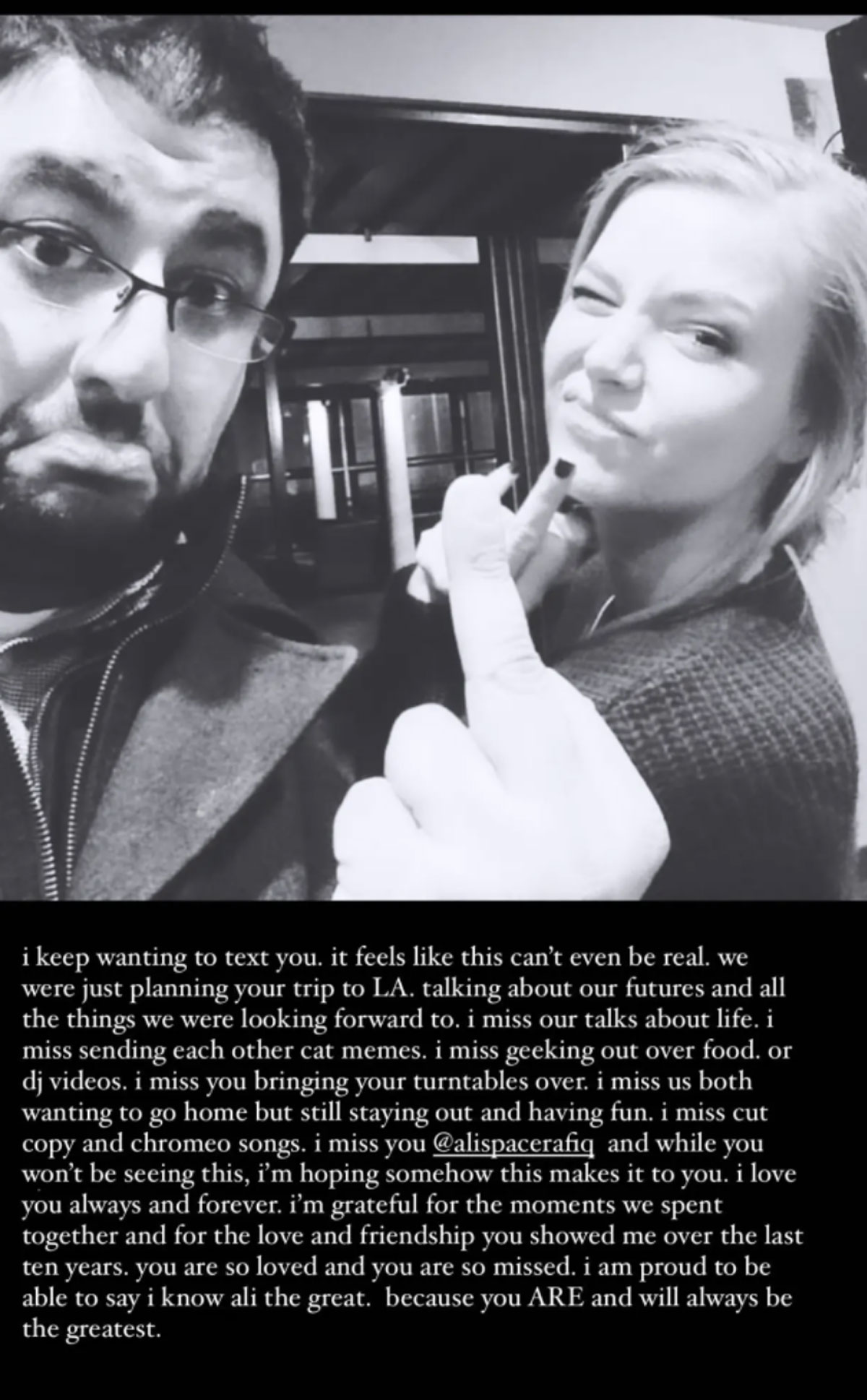 Aw! It's never easy to lose a friend — especially without any warning. Just a few days ago, Ali was reminiscing on his time with Ariana when he posted the same throwback photo from Vanderpump Rules, writing:
"Started from the bottom now we here @arianamadix #pumprules #2014."
Oof. So sad.
At this time, Ali's cause of death is still unknown. After the family held a funeral service on Saturday, his sister, Rabia, said on her IG Story:
"It's human nature to ask, what happened, how did he die? The truth is, we don't know how he died, we just found him and he was already gone. We won't have any answers from his tests for weeks, so we don't know."
Our hearts go out to all Ali's family and friends as they mourn his passing. This heartbreaking loss comes months after Sandoval and Ariana called it quits following the bar owner's affair with Raquel Leviss. It's too bad they won't be able to lean on each other as they mourn their friend. May he rest in peace.
[Image via Tom Sandoval/Instagram & Bravo/YouTube]
Related Posts
CLICK HERE TO COMMENT
May 22, 2023 10:40am PDT