Why was Bill Gates so friendly with Jeffrey Epstein when the convicted pedo made his wife's skin crawl? We may finally have an answer… According to a bombshell new report, Epstein blackmailed the Microsoft founder — using an alleged affair with a much younger Russian woman as ammunition!
A new report published by the Wall Street Journal on Sunday claimed Gates first met a Russian woman named Mila Antonova — who was then in her early 20s — at a bridge tournament in 2010. Here she is giving a talk about bridge around that time:
In the vid, she provides a pic she took with Bill — and says she took the pic after playing "at the same table at the National Bridge Tournament in Washington, DC." Rock solid proof they met when WSJ's sources say: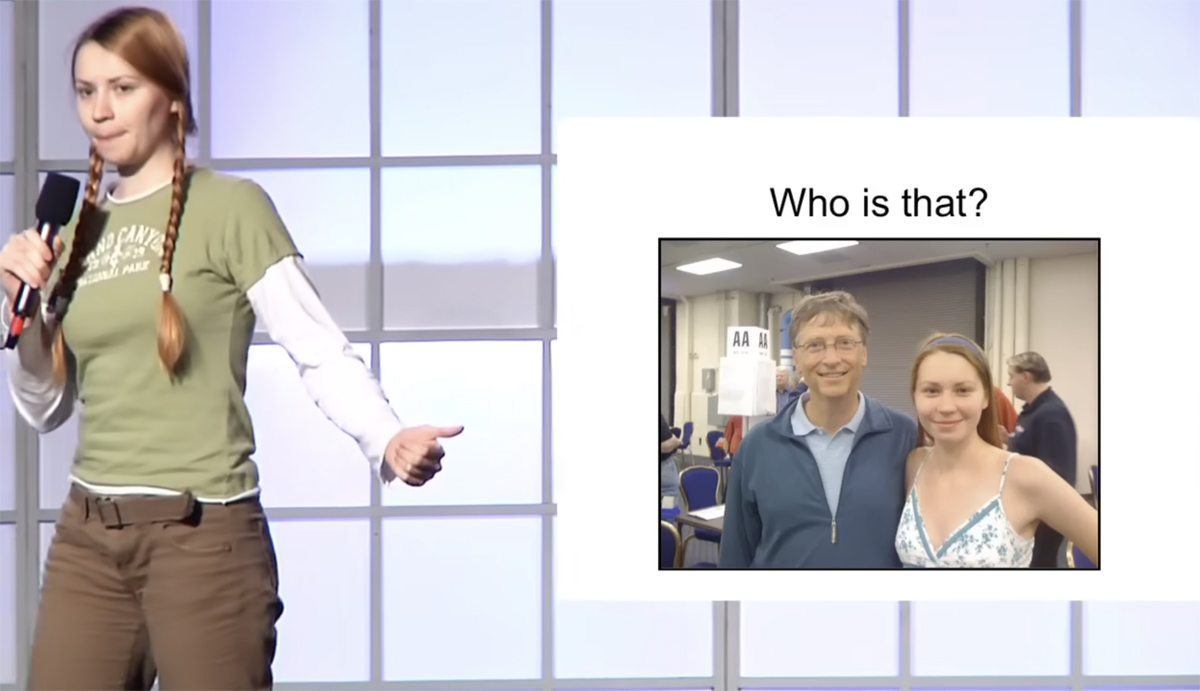 BTW, Bill would have been 54 at the time, with teen daughters at home. The WSJ alleges Gates then had an affair with Antonova while he was still married to now-ex-wife Melinda Gates.
Related: Bill Gates Is Dating Again — And She's ALSO Super Rich!
The affair alone isn't the root of the report, though. The controversy in question here actually comes up three years later, in 2013, when the late Epstein met Antonova. The woman, who grew up in Russia and been a competitive bridge player for much of her early life, was in the United States to study software engineering. So, per the report, Epstein allegedly paid Antonova's coding school fees.
The gesture didn't go off without a hitch, though. Four years after that, in 2017, Epstein approached Gates and asked the famed tech founder to reimburse Antonova's school fees to him. When the Microsoft exec balked at doing so, Epstein allegedly tightened the screws.
Per the report, Epstein sent Gates an email about reimbursement which strongly "implied he knew of the affair." Epstein also hinted he may "expose" it should the tech pioneer not either reimburse the school costs or donate to a then-fledgling charity fund run by the now-deceased financier. Gates reportedly turned down both options, per the outlet.
Meanwhile, Mila was hoping to have Epstein help her set up an online business to teach people how to play bridge. The WSJ report claims she approached Epstein — to whom she'd reportedly first been introduced by one of Gates' advisors — with the dream of raising $500,000 for that project. Epstein did not invest in it, though, and Antonova turned her full attention to software.
Related: Bill Gates' Daughter Has The BEST Response To Racist Comments About Her Rumored BF!
The Journal spoke to her in the new report this week. She denied ever knowing about anything that was "exchanged" via the two men, and instead explained how Epstein helped her merely out of the goodness of his own heart:
"Epstein agreed to pay and he paid directly to the school. Nothing was exchanged. I don't know why he did that. When I asked, he said something like, he was wealthy and wanted to help people when he could."
Hmmm…
In her comments to the news outlet this weekend, the Russian-born card shark added that she had no idea about Epstein's jaw-dropping underage sex trafficking allegations and sordid legal history when they became acquainted:
"I had no idea that he was a criminal or had any ulterior motive. I just thought he was a successful businessman and wanted to help."
As for the 67-year-old technology pioneer, he has denied paying any fees to Antonova or Epstein for any reason. A spokesperson for the computer expert told the news org on Sunday:
"Mr Gates met Epstein solely for philanthropic purposes. Having failed repeatedly to draw Mr Gates beyond these matters, Epstein tried unsuccessfully to leverage a past relationship to threaten Mr Gates."
Wait – "Epstein tried unsuccessfully to leverage a past relationship to threaten Mr Gates" — are they confirming the existence of this email? And that Epstein did, in fact, try to blackmail Gates?? Just that it didn't work, and nothing happened? Hmm.
Now, Gates has previously admitted to having "several dinners" with Epstein over the years. However, the Microsoft vet has long asserted he "didn't have any business relationship or friendship" with the controversial late man. Obvi we can't ask Epstein anymore. As Perezcious readers will recall, the accused sex trafficker died suspiciously while incarcerated in a New York jail cell in August of 2019 ahead of his sex trafficking trial.
You can read the full WSJ report HERE.
[Image via IgniteNYC/YouTube/Rocky/WENN/New York State Sex Offender Registry]
Related Posts
CLICK HERE TO COMMENT
May 23, 2023 12:13pm PDT