Sometimes, you just have to do your own thing.
So it goes for Julianne Hough right now, apparently, considering the fact that she's spent the better part of the last six weeks social distancing far away from her husband, Brooks Laich, amid the ongoing worldwide coronavirus pandemic. But while many of us might see that as a sign of trouble in the relationship, Hough calls it "a magical time" in a new interview! Hmmm…
Related: Soooo What's Up With That Hunky New Man, Then, Julianne?!
Speaking about her social distancing experience with Oprah Magazine, the 31-year-old opened up about what it's like to be down in California the whole time while her hockey-playing husband does his thing at their property in Idaho. And to hear Hough tell it, well, maybe absence really does make the heart grow fonder?
The Dancing with the Stars icon said:
"I'm really enjoying this time where I can connect to what's really important in my life. Being on tour for three months and traveling and starting a business … it's a lot. So to be able to be home, and stop and pause, and look inward, and connect back to myself has been glorious. I've been on my own. My husband is in Idaho doing lots of yard work… and so we're kind of doing our separate things right now. But it's really been a magical time."
Wow! Interesting to hear her cheery outlook over their long quarantine separation. To be fair, though, Hough did also tell the mag how she "feels alone" while away from Laich, so…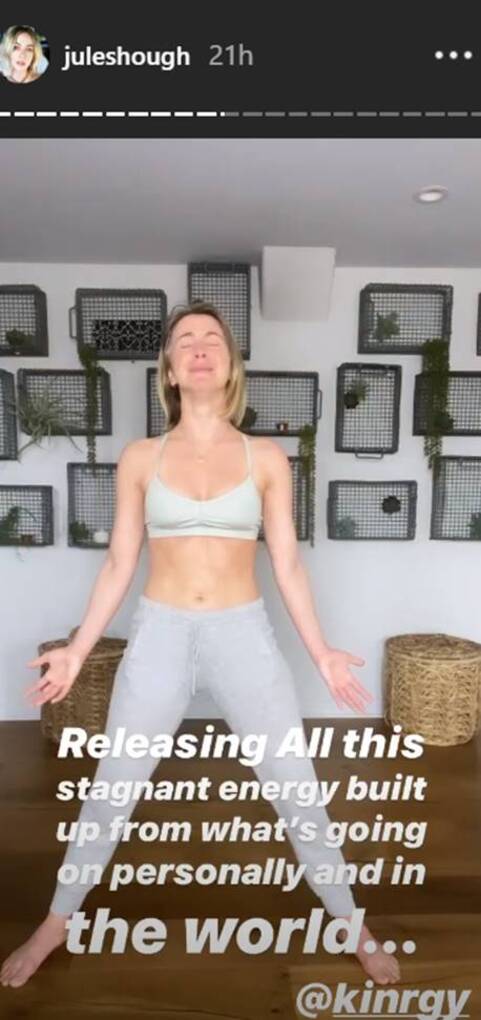 Still, it's clear the dancin' queen has used her time away to reflect on her life and her feelings. She explained it further, saying:
"I think in my 30's, I've always been around people, and I'm always trying to create and do a lot of things … but this is new, it's a little different. I don't feel lonely, but I definitely feel alone. I think there's a big difference. I feel alone … I miss people a lot, I want to hug them and talk to them, but I'm really enjoying this time where I can really connect to what's really important in my life and look forward to when we get out of this [coronavirus pandemic]. Who do I want to step into? Who do I want to arrive in this new world as?"
Very mature and self-reflective of her, indeed!
Of course, Laich himself has also recently gone on record to walk back any relationship controversy. Just the other day in a podcast interview he chimed in about loving his time up in Idaho being outside every day clearing up the couple's property. Hey man, whatever floats your boat!
Related: Brooks Credits Julianne With Helping Him Explore His Sexuality More!
Still, with rough patches between 'em in the recent past, isn't it right to be a little skeptical of these two spending so much time apart?? Or are we overreacting after hearing Julianne's words in this new interview, Perezcious readers?!
Are y'all worried about the future of these two as a couple or not?? Sound OFF with your take about it down in the comments (below)…
[Image via WENN/Avalon]
Related Posts
CLICK HERE TO COMMENT
Apr 23, 2020 08:47am PDT